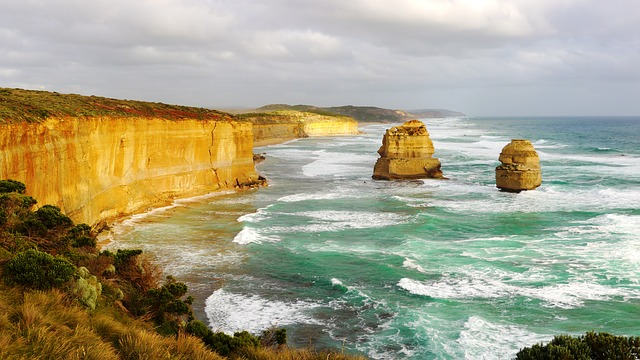 Let's be honest, if you have the opportunity to visit the Land Down Under there is little to no chance that you would miss it even if you don't really know what awaits you there. However, having a clue as to what are some of the must-visit sights in this beautiful country can make your trip a lot more fulfilling and not to mention interesting. So if you are in need of further convincing on why you need to pay Australia a visit here are some great wonders that await you there.
Just some tips before you go
Just a few things to consider before setting off. You should check if you need a visa and get all the paperwork done so that you can travel with ease. Don't forget to have your travelpapers with you at all times and consider getting quality travel insurance that covers possible issues that you might encounter there. Finally, don't overpack, you can always get what you need there just make sure don't forget sunscreen and your bathing suit. Let the adventure begin!
Beaches, beaches and more beaches
Believe it or not, this amazing country offers over 11,000 beaches for you to choose from. Overwhelming isn't it. It all depends on what you want to do. Surfers tend to gravitate towards The Pass at Byron Bay in New South Wales. The Byron Bay area offers several beaches that are great for surfing, but The Pass at the end of Clarkes Beach is the one that is consistently ranked as one of the best surf spots in Australia. A close second is definitely the Cactus Beach, South Australia, it boasts an untouched wilderness and is not to be taken lightly especially during the winter months.
Now, if it is a relaxing beach day you are looking for with swimming and playing on the beach, you should definitely consider paying a visit to Point King, Mornington Peninsula in Victoria. The two hidden beaches at Point King are ideal for swimming and having a magical day surrounded but clear turquoise water.
Finally, it would be a shame to visit Australia and not go scuba diving at the Great Barrier Reef. Considering that it is slowly dying who knows if you will get another chance.
Amazing nature
No no, don't immediately think about the dangerous critters hiding around. There are so many beautiful animals to see in this unique country, not to mention that you will have your pick out of over 500 National Parks scattered around the entire country. Ones that definitely require a visit are Port Campbell National Park and Daintree National Park, The first one combines the ocean with spectacular rock formations. And as it is located on Victoria state's Shipwreck Coast so you can get to learn a lot about shipwrecks. In addition, from there you can drive the Great Ocean Road which is a definite must.
On the other hand Daintree National Park is the perfect location who those who want to experience untouched nature of a rainforest. This national park houses the oldest rainforest in the world, so you can imagine the beauty that awaits you.You can take a guided night walk through the jungle looking for Australian wildlife or, if you are feeling adventurous, cruise the Daintree River looking for crocodiles. Either way, you are bound to have a great time.
Modern metropolis
Cities like Sydney and Melbourne attract millions of tourist each year. Fantastic sights, great food and energetic nightlife won't leave you indifferent. So let's start with Sydney, one of the most visited cities in the world. Before you arrive make sure you find quality short term rentals in Sydney, that way you can hit the ground running. There are a lot of great and fashionable apartments available near the Sydney CBD, and that is one of the best connected parts of Sydney, so you will have plenty of transport choices. And If you really want to get the feel of this spectacular city consider staying at least a week or two. You'll want to spend the first few days doing the regular touristy stuff, so visit the Australian Museum, take a few pictures at the Sydney Opera House and enjoy some of the fantastic harbour cruises. Then it is time to really immerse yourself in the life and culture of this place. Take the time to walk the streets, find some interesting restaurants that offer local cuisine and enjoy the numerous city parks. You are bound to fall in love with this truly magical city.
Don't worry we haven't forgotten about Melbourne. One of the most coveted university cities in the world, Melbourne is bursting with youthful energy. Apart from the regular sites that await you here you should also consider visiting the local wineries, this region is quite famous for its fantastic wine, so it would be a shame to miss out on that. Don't forget to save a day to visit Werribee Open Range Zoo where you can have your very own African adventure on over 200 hectares of beautiful natural surroundings. This fantastic guided safari tour is simply breathtaking.
Amazing food
If nothing else you need to visit Australia to get a taste of all that fantastic food. Start with pavlova, this combo of crisp and soft meringue, topped with freshly whipped cream and tangy fruit is a must try. Now, if you ask people who have been to the Land Down Under, they will tell you you should definitely ask to try the famous Tim Tams, chocolate biscuits unlike any other in the world, they come in all sorts of flavours and can tempt even the strongest willed tourist. Now on with the savory. Next up is the Melbourne's famous avocado smash. Avocado is mashed with feta cheese or goat cheese along with chili and other spices mixed it, then served on rye toast under a poached egg. And finally, don't be surprised by the lot burger. When ordering it you might expect the typical western trio of pickles, lettuce and tomato, however, the Aussies have their own twist on it, it includes a fried egg and pickled beetroot, and it's not uncommon to find a big chunk of grilled pineapple in there too.
These and many more reason make it impossible for you to skip this country on your travel bucket list. There is something for everyone and you are bound to enjoy your stay. Just keep in mind that once you visit once you are almost certain to keep coming back for more. And that's ok, Australians are one of the friendliest hosts in the world and you will always feel at home in this amazing country. So start packing, Down Under awaits!