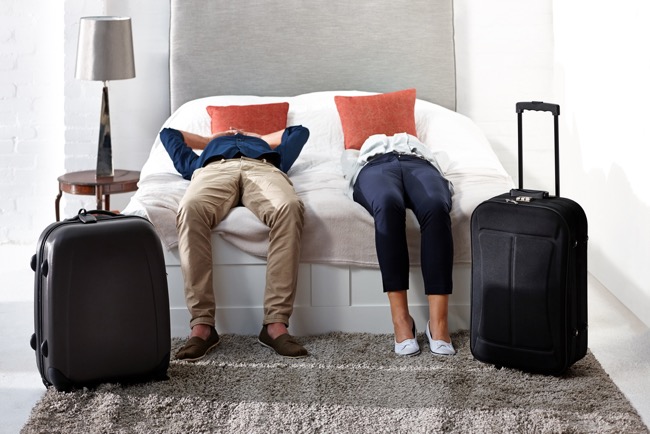 Traveling may just be one of America's favorite past times. Seeing new sights, trying new foods, meeting new people—what could be better? It's no wonder Americans spent an estimated $972 billion on travel in 2019. We truly love to travel.
But traveling isn't all sunshine and flowers. There's no way around it: traveling can be downright stressful! Between security lines, airplanes, and jet lag, some parts of traveling are not so nice.
Keep your travel stress to a minimum with these 4 ways to destress after a long day of traveling.
1. Stretch
After spending a number of hours crammed into an uncomfortable airplane seat, your body likely feels less-than-ideal. Your chest and shoulders may feel tight, your neck may feel cramped, and your arm may be sore after several hours of fighting with your neighbor over the armrest.
Once you've settled into your accommodations, the first thing to do is drop everything and stretch. Stretching helps loosen tightened muscles and protects you from muscle strain and damage. It also releases tension held in the body and just feels good!
For a comprehensive post-flight stretch, stretch out your hamstrings, lower back, neck, and shoulders. Hold each stretch for 30 seconds. Once you've finished, you'll feel refreshed and limber. Plus, you lower your risk of waking up in the morning with a kink in your neck.
2. Meditate
Traveling can feel downright overwhelming, especially when you're traveling by air. Between bustling airports, crowded security lines, and the drone of the airplane's engine, it's totally normal to feel absolutely maxed out by the end of the day.
Give your brain a break by spending 10 minutes meditating after your flight. Meditation doesn't just give your brain much needed quiet time, but it changes your brain's chemistry and exercises your mind, too.
When we're stressed, our brains release the stress hormone cortisol. As a result, chemicals known as cytokines are released into our brains. These cause inflammation and can disrupt sleep and promote anxiety.
It turns out that regular meditation can actually reduce the inflammation caused by stress. An 8-week study of regular meditation showed that regular meditation and mindfulness lowered the effects of stress on our brain's inflammation.
Meditation seems overwhelming, but it's actually quite easy. The simplest way to meditate is to seat yourself in a comfortable position, set a 10-minute timer, and quietly follow your breath until the 10 minutes are over. If you'd like a bit more guidance, you can find plenty or guided meditations online or in your phone's app store.
3. Eat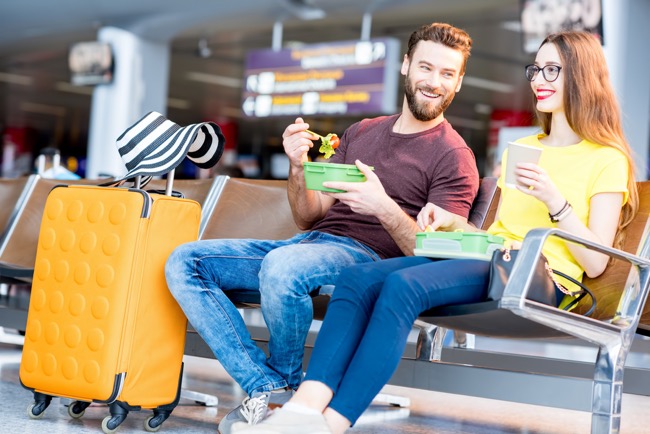 Are you feeling particularly low energy after a long flight? Ask yourself, "When's the last time I ate something nutritious?"
Between the stress of flying and the less-than-healthy snack selection available on most airplanes, it's likely that you haven't eaten a nutritious meal yet today. It may be that your blood sugar is low, and your body is screaming for some fuel.
If you can, get yourself a meal that offers a good balance of protein, fresh fruits and veggies, and carbohydrates. A veggie-packed sandwich or a salad with protein can quickly take you from downtrodden to upbeat. There's also evidence that magnesium-rich foods can calm the nervous system. Look for a banana or, better yet, dark chocolate!
4. Sleep
Sometimes, there's only one thing that can fix you at the end of a long day of travel: sleep.
Sleep is absolutely essential to your body's functioning. It gives your brain time to store important information and discard the irrelevant. It also allows your brain to repair your neural pathways and refresh your cognitive functioning. If you were unable to sleep on the airplane, your brain is probably craving sleep.
Of course, sleep can get complicated when you're traveling for more than 8 hours to a different time zone. The first and most important step is to know your body. Are you an airplane sleeper or do you find it impossible?
If you're a strong airplane sleeper, then it's best to catch a flight that arrives at your destination in the morning. You can sleep on the plane and when you arrive, you'll be on-schedule for your new time zone.
If you're a poor airplane sleeper, you have a few different options. For one, you can look for a sleep supplement that can help you get some shut-eye on your flight. CBDfx vape pens for sleep are a great option, as CBD help lull you to sleep without leaving you feeling impaired. Or, choose a flight that arrives at your destination in the evening. That will give you just enough time to settle at your accommodations and tuck in for the night. Wake up in the morning and, viola, you're on schedule!