Florida is a popular tourist destination for families though it is typically not camping that brings throngs of tourists to the state. It turns out however, that Florida offers many great camping options in a variety of settings. When considering camping during a vacation, Florida has a lot to offer. From beaches to caves, check out these amazing camping sites in Florida for the whole family.
Florida Caverns State Park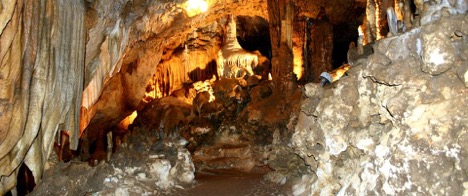 [credit:floridastateparks]
If you are interested in exploring a cave, this is a great place to check out; it is the only state park that offers cave tours to the public. Located west of Tallahassee in the panhandle, the park offers an approximately 45 minute cave tour that will give you the chance to see stalactites, stalagmites, soda straws, flowstones and draperies. Outside of the cave, there are plenty of other things to do like hiking, swimming, fishing, and canoeing, boating, biking and horseback riding.
The park has 38 campsites and is located at 3345 Caverns Road in Marianna. Camping costs $20 per night and reservations can be made at ReserveAmerica.com. Restrooms and hot showers are available. Bring your wood burning camp stove and enjoy a relaxing meal outdoors after a unique adventure.
Hontoon Island State Park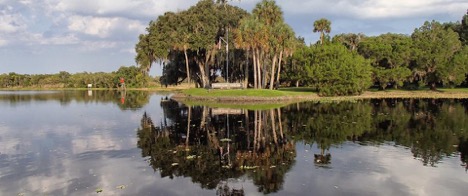 [credit:floridastateparks]
Located near DeLand, Hontoon Island State Park is a real island in the St. Johns River. The park has 11 primitive campsites as well as cabins. Pack your camping cooler; since it is on an island, you have to bring all that you need with you to camp by ferry or private boat, adding to the feeling of adventure.
There is plenty to do on the island, from fishing, swimming, kayaking, canoeing, hiking and biking.
The park is located at 2309 River Ridge Road and campsites can be reserved on ReserveAmerica.com for $18. The park's ferry runs from 8am until one hour before sunset. Sites have a ground grill, though you may still choose to bring your camp stove.
Fort Wilderness Resort and Campground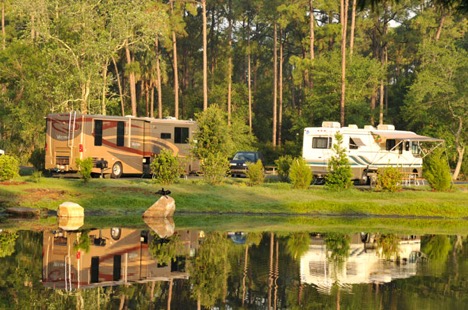 [credit:themagicforless]
When reading tips and guides on camping it is likely not the Fort Wilderness Resort and Campground that you envision. For a very different camping experience than those discussed above, visit Fort Wilderness Resort and Campground in Walt Disney World. Fort Wilderness is a far cry from primitive camping and is its own experience. Fort Wilderness is a relatively affordable option for those looking for accommodations close to Disney World; campsites start at $52 per night and tent and RV camping are available.
The resort is on 750 acres and in addition to offering several swimming pools, visitors can enjoy archery, canoeing and horseback riding and evening entertainment. There are dining options available at Fort Wilderness and visitors can take a bus or water taxi to other places to eat in the Magic Kingdom Resort area. It seems there is plenty to do at this resort and campground, without ever having to set foot in the Magic Kingdom.
Fort Clinch State Park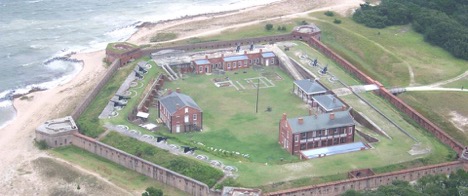 [credit:floridastateparks]
Located on Florida's Amelia Island, Fort Clinch State Park consists of over 1,400 acres. The park includes a 3 mile shoreline as well as a half mile long fishing pier. While visiting the park, there are plenty of things to do; swimming, fishing, snorkeling, biking, hiking, and hunting for shells and shark teeth. While camping on the island you can check out historic Fort Clinch and watch reenactments of life during the Civil War. The fort has many rooms to explore and the park offers the opportunity to learn how the soldiers lived and worked.
The landscape includes coastal grasslands, freshwater ponds and salt marsh and visitors should keep their eyes out for gopher tortoises, deer, raccoons, bobcats and alligators. There are 69 campsites that can be reserved on ReserveAmerica for $26 per night. Showers and restrooms are available.
Bahia Honda


[credit: bahiahondapark]
Located on the remote island of Bahia Honda Key is Bahia Honda State Park. The park offers gorgeous beaches (2.5 miles of Atlantic coast beach and a small portion of Gulf coast beach) and sunsets and excellent snorkeling opportunities. In addition to snorkeling, visitors can fish, kayak, or just relax on the beach. Kayak and snorkeling equipment can be rented and scuba diving opportunities are available. Visitors should keep an eye out for wildlife; it is possible to see bottle-nosed dolphins, ghost crabs and birds.
The park offers six cabins, 30 tent only sites and 42 sites that can be used by RV's or tents. The campsites are spread in three different areas. Reservations can be made on ReserveAmerica starting at $36. The campgrounds include showers and restrooms.
The five camping places described above are just the beginning of what Florida has to offer those that are interested in camping. While water may be the main attraction, there are great opportunities for adventures on land.
What are some of your favorite adventures in Florida? Where have you most enjoyed camping in the state?