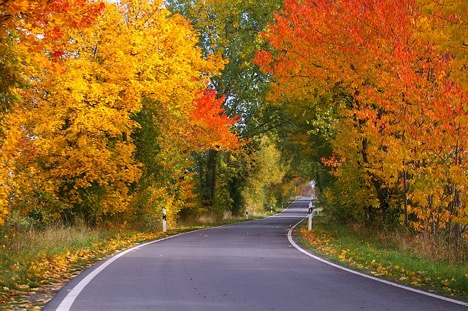 As summer comes to an end, it is time to look forward to another beautiful fall. Autumn is a gorgeous season, loved by many. Sometimes considered a time for a fresh start, the coinciding crisp air certainly gives a desire to get out and enjoy life. Need some suggestions? We asked U.S. travel agents, including our local LBF Travel guru, to list some of their favorites, and here are their suggestions.
New England
New England seems the obvious choice for a fall visit, and so is frequently overlooked or saved for a "maybe one day in the future" trip. However, it is an experience that simply cannot be missed. Comprised of five states, the region offers plenty to do and see; and because the states are relatively small, it is easy to drive to and from different areas for day trips. Places of particular interest are Acadia National Park in Maine, Mount Monadnock in New Hampshire, the annual bike tours from Stowe to Woodstock in Vermont, and the Berkshires in western Massachusetts.
Alaska
While Alaska is beautiful and temperate in the summer, the fall brings lovely color without the round the clock daylight. Denali National Park is just one of many places to visit. Snowy mountains can be viewed alongside beautiful rivers and lakes, green grass, bright blue skies, and all of the colors of autumn. Busses are available to drive into the park so that you can sit back and relax while enjoying the views. Aside from fall colors, the Northern Lights, or Aurora Borealis, are a spectacular sight.
Outer Banks, North Carolina
The beaches of the Outer Banks stretch for many miles. Once the summer crowds leave and the off season hits, the Outer Banks is the place to be. The sand and water are still warm enough for swimming during the day. At night, throw on a sweatshirt and take in the stunning sunsets from one of the fishing piers. While you won't see much of the colors of fall, autumn in the Outers Banks is the perfect place for someone who loves the beach, but wants to avoid crowds of people and hot, humid days.
California
Wine Country. Wine country and the splendor of fall. It almost speaks for itself. When fall comes to Napa Valley, harvest is in full swing. Enjoy watching fruits as they are picked in their prime and readied for the oak barrels and bottling. There are various family friendly festivals, bike tours, gondola rides through the foliage, and scenic drives.
New Mexico
Want to add a little bit of spice to your fall season? Try New Mexico at the foot of the Rocky Mountains. There is an 85-mile circular drive that takes you through various mountains, ranches, and canyons. A vintage railroad train is another option, taking you through scenic passages, gorges, and higher elevations with excellent views that you can fully enjoy without the responsibility of driving. For hiking enthusiasts there are plenty of trails to explore at your own pace…or try a bit of everything!
Wherever your travels take you, have a wonderful autumn season!