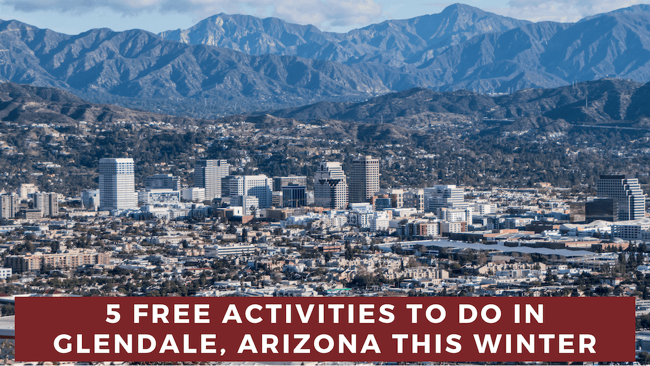 If you're ready to go on an adventure and make memories in a new city, check out Glendale, Arizona.
Sure, this city has terrific accommodations and an impressive entertainment district. But there are plenty of free activities to try here, as well.
For example, if you love history, you should check out Deer Valley Petroglyph Preserve. And if you're looking for historic charm, talk a stroll around Downtown Glendale.
Fall and winter are the best times of the year to visit. It's much cooler toward the end of the year, which makes adventures more enjoyable. Outdoor activities are a lot more fun when you're in 70-degree weather instead of 100-degree weather.
So if you're going to be in the area this winter, keep reading. Here are five free things to do in Glendale during wintertime:
1. Historic Downtown
Even though historic Downtown Glendale has lots of shopping, you don't have to spend money to enjoy it. Just walking around and seeing the sights is fun by itself!
This area is home to everything from quirky antique shops to unique landmarks. Most of the buildings have a bungalow style from the 1920s, which makes Glendale a very interesting city.
You could spend an entire day just marveling at the architecture and soaking up the environment!
2. Thunderbird Conservation Park
Wintertime is a lot more pleasant in Glendale than it is in some other parts of the country. Here, you can actually hike, bike, and do other things that are relegated to the summer months in the rest of the U.S.
There are several places to enjoy nature. One area, in particular, is the Thunderbird Conservation Park.
Located in the Hedgpeth Hills, this 1,185-acre park is one of the only conservation areas in the state. It's a perfect spot to enjoy the beauty of the natural world.
In the park, you can do just about any outdoor activity you like, including:
– Hiking
– Jogging
– Horseback riding
– Picnicking
– Mountain biking
– Birdwatching
There are roughly 15 miles of public trails, which is more than enough to keep you occupied. The park is open every day from sunrise to sunset, but it might take you 2 or 3 days to see all of the trails!
3. Tolmachoff Farms
Tolmachoff Farms is a staple in the Glendale community. This produce stand, corn maze, and pumpkin patch has been entertaining families and providing fresh food since the early 1900s.
It's free to visit, but we can't promise that you won't be tempted to buy some tasty fruits and veggies! People love heading to this farm because fresh produce is the way to go!
Even if you don't buy anything, exploring this four-generation farm is still fun. You can walk around with the family and enjoy the holiday events that take place on the property. The Halloween corn maze is a blast, and kids under 2 get in FREE!
4. Xeriscape Botanical Garden
If you're in the mood to visit a garden, then check out Xeriscape Botanical Garden. It's a free park that's open from dawn to dusk.
The garden is home to more than 1,000 cacti and trees. Plant experts and students come from all over the country to study and marvel at the Garden's collection.
If you have your own garden at home, consider taking a class at Xeriscape. The City of Glendale offers courses where you can learn to raise a garden using very little water. There are always ways you can take care of the earth, and these classes can help get you started.
For a self-guided tour, be sure to stop by the Glendale Main Library to get set up with some audio. Then, you can walk around the park with headphones on and learn about the plants you're looking at.
5. Deer Valley Petroglyph Preserve
Did you know that there are rock drawings in Glendale that date back thousands of years?
Well, there are!
You can find these incredible petroglyphs at Deer Valley Petroglyph Preserve.
We have to warn you, visiting this place makes you feel like Indiana Jones. It's not too often you get to uncover artifacts like this.
It costs money to enter the museum, but there's a quarter-mile trail that you can explore for free. You can see the petroglyphs, animals, and native desert plants, all without buying a ticket!
The Preserve also offers guided tours and lectures at the site. Going on a tour will no doubt help you learn more about this special area. Embrace your inner history buff and check it out!
In Conclusion
There are a lot of costly activities anywhere you go. But if you're resourceful, you can find free events that are just as fun, if not more so.
So the next time you want to have fun and save money at the same time, check out this list. There are plenty of free things to do in Glendale, even during wintertime!
Author bio:
Angus Flynn is the Property Manager at Summerly at Zanjero. With five years of property management experience and many more in customer service, he enjoys making Summerly at Zanjero a great place to call home.