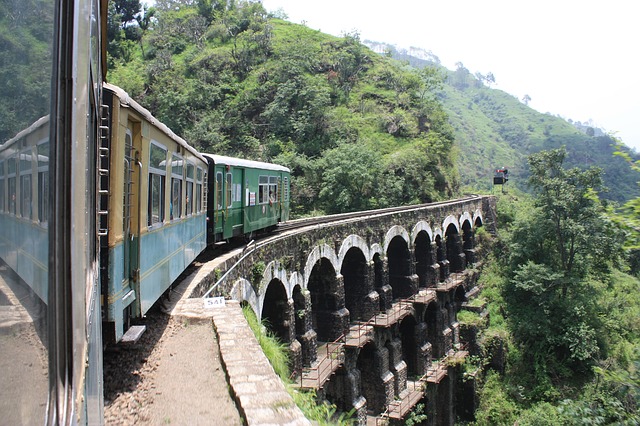 When it comes to long distance travelling, nothing can compete with the comfort, luxury and affordability that train has to offer. They offer travelers a great choice of luxury cabins to choose from depending on their budget. In addition, if your journey is bound to take many hours, you can choose to ride on carriages which offer comfortable sleeper. Railways of India boast old "toy trains", fast trains, passenger trains, and royal trains. Today, India's trains have inspired filmmakers and authors alike because of the beautiful experience they leave passengers with. Traveling on slow trains in India helps you enjoy spectacular scenery as you relax. In case you are wondering which are the most scenic places to travel by train in India, we will take a look at 5 of the most fascinating places to travel by train in India.
1. Kalka to Shimla city
If you want to enjoy the beautiful scenic that the Himalayas have to offer, then travel through India's famous toy train. Recognized as a World Heritage Site by the UN, this amazing toy train will take you through 102 tunnels, steep curves, forests, pine and oak trees and deep valleys that will certainly leave you amazed. Starting from Kalka to Shimla, this 96 km train journey has been awarded by the Guiness Book of World Records as the steepest train ride. This scenic toy train journey will take you approximately five hours.
2. Mumbai to Goa city
There is no doubt that travelling by train from Mumbai to Goa will leave you in the moods of vacation. This train route is packed with amazing and scenic landscapes including 2000 bridges, 92 tunnels, mango and coconut trees, rivers and seasonal streams. Sandwiched between the amazing Arabian sea and Sahyadari hills, this train journey from Mumbai to Goa should take you approximately 12 hours.
3. Agra to Ranthambore to Delhi
If you are a foreign traveler, going on this train journey will give you an amazing experience of the wildlife at Ranthambore National Park. If you are lucky, you will spot one of the 55 tigers located at the park. There are lots of wildlife to enjoy on your train journey through the Ranthambore National Park. The Maharajas Express is a 1440 mile train journey and comes with amazing goodies, including strong WiFi, TV set and a DVD player. If you want to experience the best that India has to offer in wildlife, this is a train journey that you need to plan during your next vacation.
4. Jalpaiguri to Darjeeling
This is an amazing toy train journey that will take you through breathtaking landscapes, dense forests and vast land of tree plantations. This train railway is also considered a World Heritage Site by UNESCO. On a clear day, passengers will be able to see the snow on top of Kanchenjunga. Travelling from Jalpaiguiri which is a plain to Darjeeling which is a station on the hill, should take you approximately 7 hours. It also provides comfort ability as you view the vast serene from the wonderful nature.
5. Jaisalmer to Jodhpur
Using the Delhi Jaisalmer Express you can travel from Jaisalmer to Jodhpur. This train journey will take you approximately 6 hours to reach Jodhpur. This train journey is not all that boring, so you should expect to see amazing desert landscape, sand dunes, and camels grazing. This is a train journey that will take you through India's amazing desert.
Travelling to these cities by train will certainly leave you with wonderful memories, and these long and relaxing train journeys become part of your trips memory. Before you go on such a trip you should prepare entertainment for the long hours ahead. One idea is to play popular online games like Indian rummy to relieve boredom during your train journey. How to play Rummy? If you have never played or you need to refresh your memory, definitely read up before you play.
With this game you can enjoy playing with others online, so you don't have to worry about finding players inside the train. Also, the Indian rummy game offers you the choice to play free and cash games. If you already have a smartphone, you can download rummy app on your phone to enjoy this amazing game on your train journey.
Long train trips are also an ideal place to get some reading done. Stock up on books before you go, or get a Kindle so you can order any book online. If you are looking for railway-inspired reading then I suggest The Great Railway Bazaar by Paul Theroux.
The train is also a good place to write about your travels. Before you travel why not start a travel blog as a way to chronicle your travels. Writing on the train while your trip is still fresh in your memory will ensure you remember every detail of your trip.