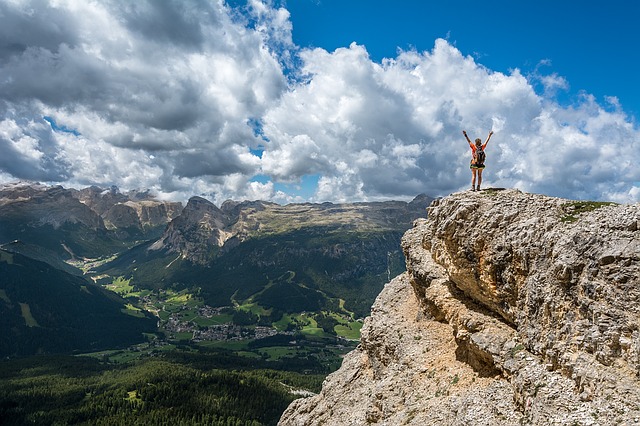 Although one of the top things to do in the mountains is skiing there are other activities that can be enjoyed too. There are many exciting things to try in the mountain terrain and it is never too late to try to learn new activities. When booking your trip to a ski resort you will want to explore what different activities you can do there. A holiday is an excellent time to try new things. You are more receptive to new ideas and learning when you are in a relaxed mind set. Whether you are looking for something thrilling or perhaps something that is relaxing and slower paced. Choosing multi-activity holidays will ensure everyone is kept busy for the entire trip. Here are five mountain activities you can try learning this year.
1. Snowshoeing
This is a popular activity for non-skiers during winter and those who want a different way to enjoy the beautiful snowy scenery. It is an easy activity to learn and also relatively cheap too. You are hiking through the snow with special shoes that prevent you from sinking into the deeper snow. You can hire snow shoes and other equipment if necessary and take a walk along a marked trail, picking up a local map. Or you can book yourself onto a tour and go snow shoeing as a group. This is a good option if you are unsure about venturing off on your own. It can be hard going so you need to be quite fit to walk a distance in the snow, but you can choose the right trail for your ability. If you are staying in a ski resort, you will probably have the opportunity to use the lifts to get to trails meaning you can enjoy fantastic scenery straight away. Some of the best places to snowshoe include Chamonix and Les Gets in the French Alps and Tirol in Austria.
2. Mountain biking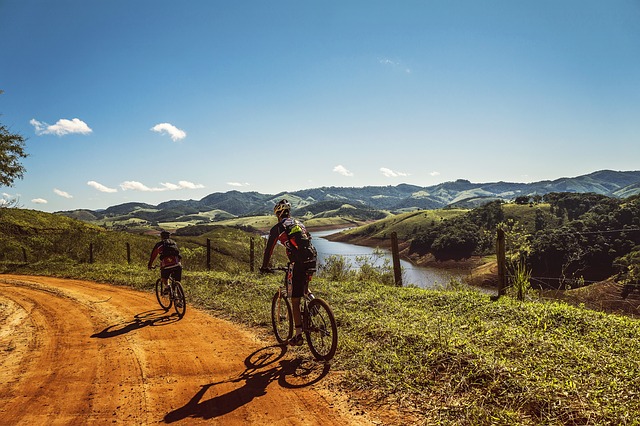 During the summer months when the trails are snow free it gives you the perfect opportunity to explore by bike. Again, it is easy to get the hang of even beginners can learn to ride mountain bikes on some of the mild trails. In most Alpine resorts you can hire mountain bikes for the whole family and go out on your own. Or if you are driving to the resort you could bring your own bikes along with you. There are trail maps available and you can choose the right trail for your ability. There are also group mountain biking tours if you are not confident in going out to the mountains on your own. It is an activity the whole family can enjoy and it won't cost you much for a whole day of exploring. All destinations in the French Alps are great for mountain biking in the summer months, with many trails to choose from you will be spoiled for choice
3. White water rafting
A popular activity in the Alps in summer, white water rafting is a great activity to try in the mountains. Learn how to navigate rapids, through fast and slower moving water around rocks, bends and swells. Spend a few exciting hours with a group and a guide making your way through the water and amazing mountain scenery. Kids as young as seven can join in, so it is an activity that the whole family can learn together. Sessions are easily booked in resort and it is often a half day excursion. Everything you need is provided including a full safety briefing for each person taking part. There are some great places to try including the best rivers in the Southern French Alps being the Durance and the Ubaye rivers.
4. Horse-riding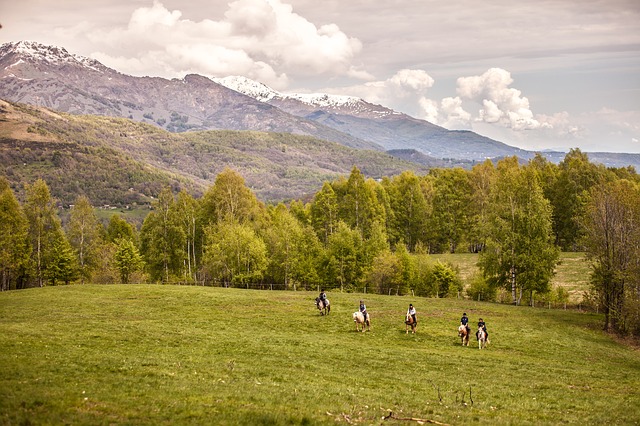 The mountains are a great place to try this fun family activity as the views and walks are particularly stunning and you can ride in a tranquil place. Kids will enjoy meeting the horses and finding out about how to look after them before learning how to ride. Its not just for kids however, every member of the family will enjoy horse riding through mountain trails. You can be a complete novice as your guide will start with the basics and build up your knowledge and skills before and during your ride. Many summer mountain resorts will have the option to book lessons or mountain treks so it is a great idea to research and book in advance before you go. The best places for horse riding in the mountains include the Mijas Mountains of Southern Spain and the Ecrins National Park mountains in the French Alps.
5. Canyoning
Canyoning is a mixture of hiking, climbing, or scrambling to the bottom of a river canyon with the help of ropes and steps to explore the canyon. You need to follow the water downwards through various different drops into pools and through deep water. It can be quite intense but it is very rewarding too pushing yourself by jumping, abseiling, climbing and swimming through the magnificent rivers, canyons and mountains. You will have a full briefing beforehand and your guide and instructor will help you navigate your way to your destination. You are taken out as part of a group with trained professionals and you will work together to get everyone through safely. Making it a really sociable activity to try. Kids can join in from the age of twelve so you may even be able to try this activity as a family too. The French Alps are a great place to try canyoning as the rivers and rapids are perfect for this type of sport.
Winter or summer mountain activities
The great thing about mountain holidays is that you can enjoy plenty of activities no matter what time of the year you travel. Depending on your budget and what you want to do, you can choose from some great options. During the winter, there is of course skiing and all sorts of snow activities to choose from. Snow shoeing as mentioned above, ice skating, snow boarding and even snow play for the very young members of your family. In the summer time you can still enjoy glacier skiing at certain destinations but there are lots of things to do when the snow has long gone. Outdoor things to do such as walking, climbing biking and canoeing are just a few of the opportunities you will have in this amazing landscape.
What mountain activity will you try this year?
There are so many new and exciting activities to try when you travel to the mountains, these are just a few to mention. Going on holiday to the mountains gives you the amazing opportunity to try new activities and spend time doing something you wouldn't usually get chance to at home. Add this to the beautiful scenery and fresh air, you will benefit no end from a holiday in the mountains such as the French Alps. A great chance to get active as a family, as a couple or a group of friends. Which activity will you try on your trip to the mountains this year?