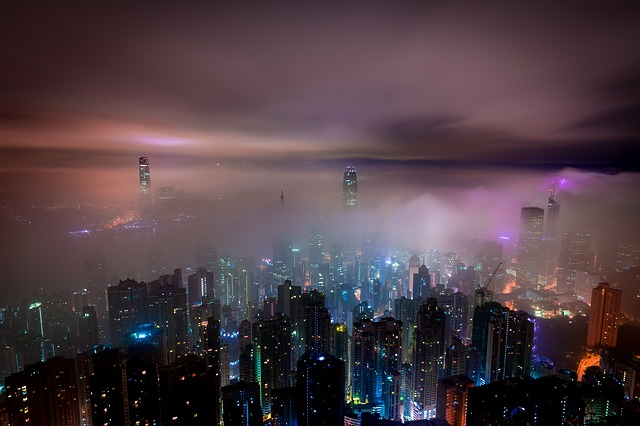 One of the great cities in the world, Hong Kong positively bursts with colors and cultures. This city is packed with people, has the most number of skyscrapers in comparison to any other place in the world and is well supported by great logistics and infrastructure. Hong Kong is a shoppers' paradise, but more than that it's also renowned for its nightlife, scenery, and food scene. Let's get started.
1. Victoria Peak
If you're talking of Hong Kong, you can't ignore the beautiful location the city is in. No wonder it's called the Pearl of the Orient. Its natural harbor is busy and beautiful. Take a trip to Victoria Peak, the city's most popular destination. Peak Tower and Peak Tram are as popular as the Peak itself. If you want to get a great view of the city, a bird's eye view as it were, then this is the place to be. A trip in the Peak Tram is a must-see experience. It is the world's steepest railway line and the thrills are pretty exciting! Shopping, food and the Sky Gallery with some great local artists' works all add to the thrill of the experience.
2. Hong Kong Heritage Museum
Run by the Leisure and Cultural Services Department, the Hong Kong Heritage Museum is an enriching amalgam of culture and history, with a healthy dose of art. Through its activities and exhibitions, the Museum educates and enlightens people. Spread over close to 7,500 square meters, there are five permanent galleries and six other galleries that are theme based. Among the permanent exhibitions is the Jin Yong Gallery, with its fabulous exhibit on martial arts. 300 different displays tell the visitor the story of this creator and his novels and novellas. Take the kids to the Children's Discovery Gallery, specially aimed to interest those between the ages of 4 and 10. Eight play zones with learning opportunities help you and the children understand everything from the deep sea world to life in an old-fashioned village.
3. Hong Kong Trail
This 50 kilometer Hong Kong Trail route is a walker's dream. It goes through five different parks and offers you some unforgettable views and experiences. Take the entire day because you'll need it. The trails are varied, in scenery and difficulty and it will help if you know your own limitations. Since there is no provision to camp along the trail, make sure your activities end before sunset, or nightfall. If you're a beginner, then the easy Wan Cahi Gap to Wong Nai Chung Road is a good choice, as is Tai Tam Road to To Tei Wan. Both are seven and a half kilometers long.
The toughest on this trip is the To Tei Wan to Tai Long Wan 8.5 kilometer stretch. It will take you the better part of three hours and should only be attempted by hikers with experience. The reward is worth it- the Tai Tam Bay is your companion and shadows you through this stretch. You'll also find quartz on your way to Dragon's back. This is where you need to be and there's a reason why it is so highly rated as a topnotch hiking trail. The harbor, Mounts Parker and Collinson, Redhill Peninsula- you can take it all in, in one go.
4. Tai Long Wan
Hong Kong is about the beaches as well and the best place to experience them is at Tai Long Wan, a happening bay in Sai Kung Peninsula. Set on the east coast, the bay comprises four beaches, each with its own unique offering. You'd be mistaken if you thought of this space as a mere beach. Tai Long Wan is easily the most breathtakingly beautiful space in Hong Kong. You can travel by boat or hike to the beach from the closest road.
What greets you at the end of the journey is mesmerizing. Waters so blue and clear that you feel you can look right down at the bottom. Sand so clean, it's a dazzling white in color. All around you rise green hills and above you, the magnificent sky. The waters can be choppy and wild, making this a perfect surfer's paradise too. Whether it's a day on the water, exploring the lush green, or just taking a walk on the beach- you can do all that and more at Tai Long Wan.
5. Street Markets
Yes, Hong Kong is a high fashion destination with every big brand making its presence felt here. But it's equally well known for its street markets as well. From cameras and clothes, to watches and jade, you can find it all here. The Temple Street Night Market is an atmospheric experience. Brightly- lit shops with their trinkets, artists and practitioners of calligraphy and writing, food stalls and fortune tellers- they are all here. Every night.
At the Ladies' Market on Tung Choi Street, search among over 100 stalls for souvenirs, cosmetics, clothes and every accessory you might ever need. Apilu Street is great for bargains too, and works as a flea market in electronics. Cat Street is an old place, best known for its antiques, curios and interesting art.
If you're looking for something more high end, think about shopping for some diamonds in Hong Kong. The queen of diamonds herself, Elizabeth Taylor shopped for a lot of her jewelry here and this is still a popular destination for celebrity shopping. Apart from the internationally renowned chains like Tiffany & Co and Cartier, there are massive local players here too. Among them, Chou Sang, Chou Tai Fook and Luk Fook are the most prominent. Chou Tai Fook bought the world's most expensive diamond for $ 71.2 million, earlier this year.
Do exercise caution when you shop. Like in any other place, you will have vendors here too who will try to mislead you or palm off low quality stuff as the real deal. Watch out for them. Know your four Cs and have a budget in mind. Make sure that the stone you've bought is certified. Do your homework before you go in to shop. If you're not in the mood for shopping, browse, try out some jewelry and come back with a healthy purse!
Hong Kong has a lot to offer – go and explore.