With a population around 305,000 within city limits, Pittsburgh is a mid-sized city with big city amenities. Known as the City of Bridges, Pittsburgh is an increasingly popular destination in Pennsylvania. Lacking the traffic and bustle of Philadelphia, Pittsburgh is a safe, clean, and convenient city to visit.
Pittsburgh boasts internationally renowned museums, serves up authentic and delicious eats, and is regularly touted as one of the best sports cities in the United States. If you're planning a trip to Pennsylvania, these are the top five reasons Pittsburgh is the best city to visit.  
Fun (and Easy) to Go Downtown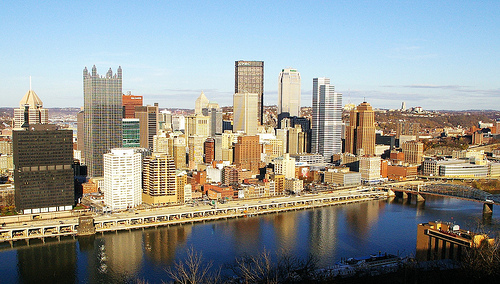 [Image via Flickr by kla4067.]
Downtown Pittsburgh is a compact, pedestrian-friendly 50-acres bordered by Grant Street, Penn Avenue, and the Boulevard of the Allies. When downtown, you are only a few blocks from any destination. Unlike larger cities like Philadelphia, Pittsburgh provides 20,000 parking spaces, making exploring the downtown area convenient. Visit the Strip District on the Allegheny River. The area is home to unique shops, art galleries, produce and meat markets, and a variety of delicious restaurants. Pittsburgh's hotels are just as great as the eccentric vibe of this upcoming city.
Oh, Brother the Delicious Food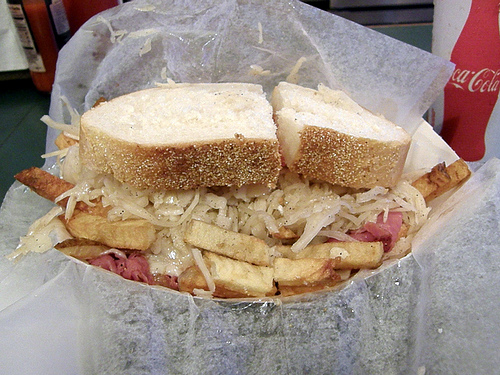 [Image via Flickr by Dan4th.]
In Pennsylvania, there is a continuous debate on Philadelphia's famed cheese steaks versus Pittsburgh's Primanti Brothers sandwiches. Although cheese steaks are delicious, Primanti Brothers' corned beef sandwich, topped with crispy fries and creamy coleslaw, is divine. 
In addition, Pittsburgh's multicultural heritage is well-reflected in its food, and many immigrant and blue-collar dishes have become Pittsburgh culinary staples. Pierogies, kielbasas, and chipped ham have all been perfected by Pittsburgh chefs over the years.  
Impressionist to Pop, Excellent Museums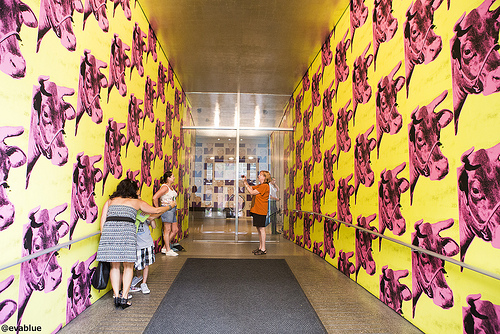 [Image via Flickr by Eva Blue.]
Pittsburgh is home to a number of internationally recognized museums, namely the Carnegie Museum of Art and the Carnegie Science Center. Both institutions were founding by steel tycoon Andrew Carnegie in the late 1800s. The Carnegie Museum of Art boasts an stunning collection of Impressionist and post-Impressionist paintings, and the Carnegie Science Center offers 250 interactive, hands-on exhibits and houses the Rangos Omnimax Theater, a domed-shaped, four-story IMAX Theater. Another beautiful art destination is on the campus of the University of Pittsburgh, the Frick Fine Arts Building is a beautiful medley of history, art, and architecture.
For American Pop Art enthusiasts, the Andy Warhol Museum is also in Pittsburgh. Opened in 1994, the museum houses a large collection of paintings, movies, drawings, and prints created by Warhol, who is originally from Pittsburgh.  
Steeler Nation and Pirate Pride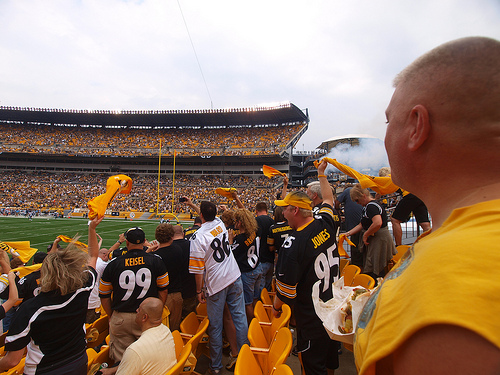 [Image via Flickr by Paula R. Lively.]
No matter when you visit Pittsburgh, professional sports will dominate Pittsburgh's headlines. Grab a Terrible Towel and root for the Steelers, one of the most successful football teams in NFL history. Looking for something more relaxing? PNC Park is a beautiful baseball stadium, and watching the Pittsburgh Pirates makes for a wonderful afternoon. For hockey fans, the Pittsburgh Penguins have one of the most feverish fan bases south of the Canadian border.
Safe to Enjoy and Explore
Pittsburgh is an incredible safe city. In 2013, Farmers Insurance ranked Pittsburgh as the third safest city in America. In 2014, a study performed by Smart Growth America also ranked Pittsburgh as the second safest city for pedestrians.
With Pittsburgh's incredible safety ratings, your visit to Pittsburgh and all its wonderful destinations will be a fun, entertaining, delicious, and safe experience.