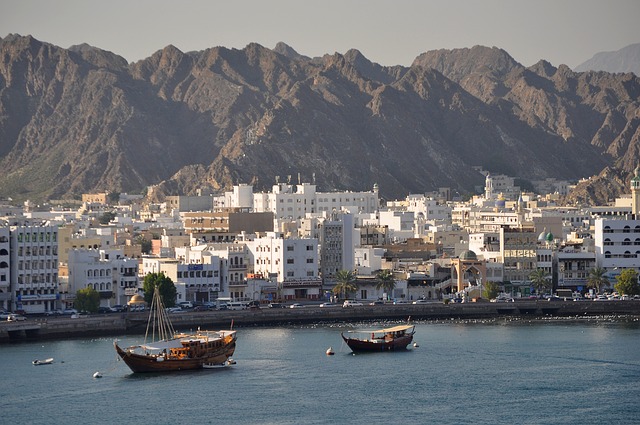 Oman may not be the first country you'll have in mind when traveling to the Arabian Peninsula, but there's actually a lot you can do here. Aside from the outstanding seafood fare, delicacies and souks, Oman is famous for its majestic terrain.
Oman's geographic location makes it an ideal stopover destination if you are travelling between Asia and Europe. Oman Air is the national airline of Oman. They are based at in the capital at Muscat International Airport. Search for Oman Air flights to find flight deals to Muscat.
Here are 5 things to see and do in Oman:
1. Take a Plunge at the Bimmah Sinkhole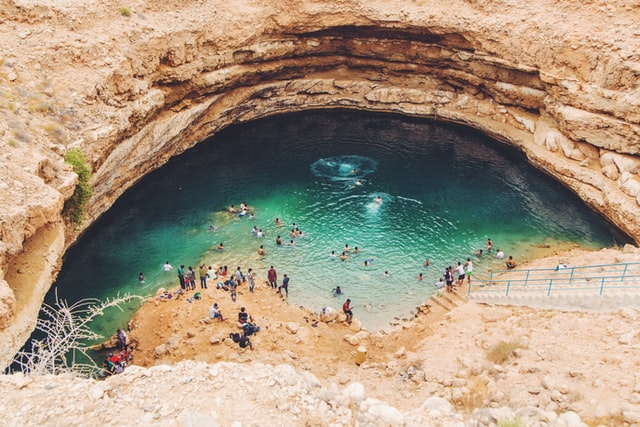 Believe it or not, there's a massive sinkhole that's filled with cool and inviting blue water in the deserts of Oman. The shape and depth of the sinkhole looks like a meteor landed in it, which is what locals would say if you asked how it was formed.
Laze about the perimeter or walk down and take a dip into the refreshing pool. Afterwards, you can rest in one of the gazebos surrounding the sinkhole and go for a light picnic.
2. Camp Under the Stars at the Wahiba Sands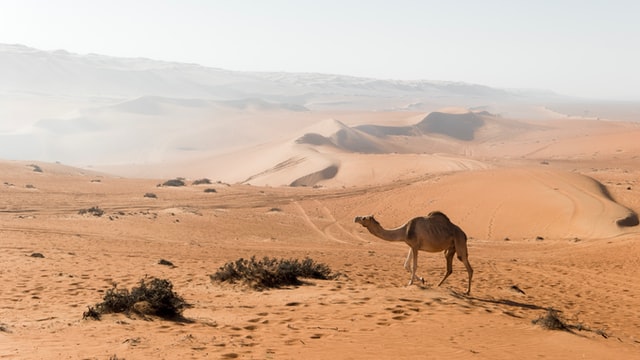 Desert glamping is a thing, and the best way to do it in Oman is at the Wahiba Sands. Drive to the camp spot in a 4×4 and bring some food with you to the site, then settle down, relax and take in the majestic and expansive views.
You can also take the car or a camel to explore the desert further, or set up a tent and indulge in creature comforts. Stay the night and you'll be treated to a breathtaking view of the stars!
3. A Refreshing Hike at the Wadi Shab
Going to the Wadi Shab is an absolute must if you're in Oman. Upon arrival you can take an unforgettable 45-minute walk along the gorge and admire the landscape contours and the emerald-green water at the bottom, then swim through a cave to get to a waterfall.
The Wadi Shab is easily accessible, too. It's an hour and a half drive from Muscat and a two-minute boat ride away once you get off the main highway.
4. Explore the Nizwa Fort Castle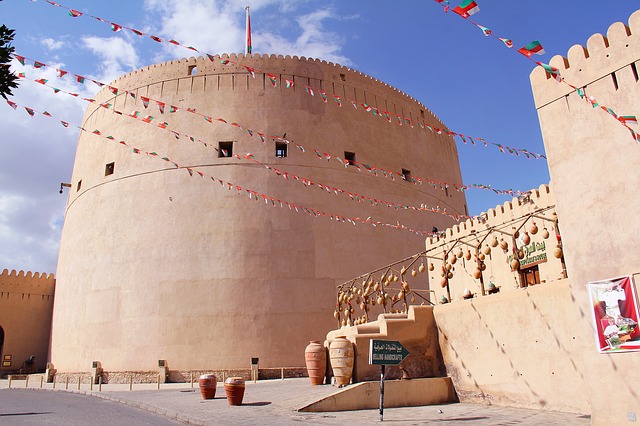 Oman's pride and joy is the Nizwa Fort, an old yet supremely beautiful castle you can spend hours in. You'll have to have an eye for detail to really appreciate the structure and its history. The castle acts as a fort and you can get glimpses of how it served during its time.
Navigate the structure and you'll get treated to palms and a green oasis. There are various cafes serving fresh fruit juice inside the castle if you get thirsty. It's worthy to note that Wi-Fi is available as well.
5. A Trek at the Jabal Akhdar Mountains
A trip to Oman wouldn't be complete without a trek (and possibly an overnight stay) at the Jabal Akhdar Mountains. There's not a soul or establishment in miles and the views are spectacular!
To reach the mountain you will need a 4×4 and a bit of uphill driving experience. Once you're there you can do some rock climbing or a leisurely hike. Also, those who want to splurge a bit can stay at the nearby remote luxury hotel for valley views and creature comforts.
These are some of the things to see in Oman. Visit tajawal for online flight booking to Muscoat with Oman Air.