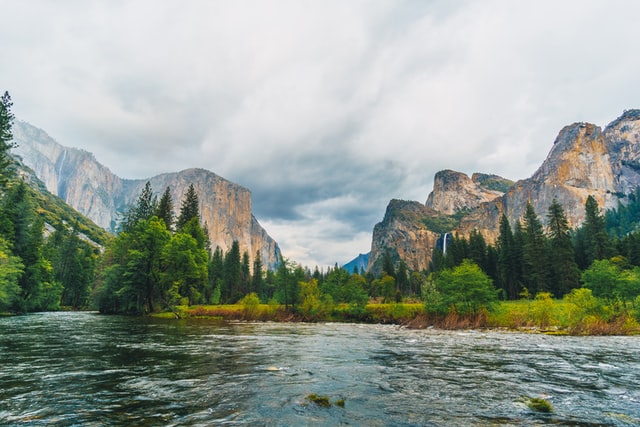 The US is home to so many opportunities for outdoor adventure, and California is home to many of them. Whether you're into hiking, trekking, backcountry skiing, downhill skiing, snowshoeing, ocean exploration, or just general nature appreciation, Cali is the place to do it.
But not just anywhere in Cali; obvisouly you wouldn't go to the heart of Hollywood for enjoying the great outdoors, unless it involves walking among the stars at the Hollywood Walk of Fame. For the real outdoor adventurers, exploring the state's National Parks is the way to go.
Here we've covered 6 of the most beautiful national parks in the state of California and broken them down by the type of outdoor adventure each is best for.
Best for Hiking: Joshua Tree National Park
Whether you're into the outdoors or not, chances are you've heard of Cali's iconic Joshua Tree. There's even a U2 album named after, so you know it's gotta be good.
While Joshua Tree National Park is great for so many things – exploring, sightseeing, stargazing, etc. – the best thing to do here is hike. The land here is dotted with spiky Joshua Trees amongst other cool plants and interesting critters, so hiking in JTNP is always exciting.
There are dozens of scenic hikes to choose from, but one of the best is the Barker Dam Trail. This hike is for all skill levels, and the 1.5-mile loop is quick yet interesting. There's a lot of history on this trail, but better yet there's a lot of cool rock formations and plant life.
Best for Skiing: Yosemite National Park
Yosemite National Park has some of the best backcountry skiing California has to offer. People come here from far and wide to see what it's all about, and many of them make a point to come during snow season.
The only downside to skiing in Yosemite is that many parts of it are not for the faint of heart, so beginner's should beware. The snow conditions in the valley are almost constantly changing, but the good news is that fresh powder is easy to come by.
Skiing isn't the only thing to do in Yosemite, not by a long shot. The park is located in the Sierra Nevada mountains, where you'll find everything from giant sequoias to granite cliffs to the iconic Tunnel View vista that offers amazing views.
Best for Tree Lovers: Sequoia & Kings Canyon National Parks
Sequoia National Park is one of those places that doesn't even seem real. Just as the name suggests, it's filled with massive Sequoia groves filled with some of the oldest trees in the world. This park is oftened referred to as the "Land of Giants", and that's exactly what you'll find.
Another great place for tree lovers is Kings Canyon, which is right next door. Since they're so close to each other, many people actually assume that they're the same park, but Kings Canyon is its own entity. At Kings, you'll find the same massive sequioas as well as rattlesnakes, bears and cougars.
Best for Volcano Lovers: Lassen Volcanic National Park
Located in Northern California, Lassen is a place of beauty, and that's all thanks to the massive amount of geothermal activity. The main attraction is Lassen Peak, which is the largest plug dome volcano in the world.
Volcano enthusiasts love that this national park is one of the few places where all four types of volcano can be found. That means you'll get to experience plug domes, shield, cinder cone, and stratovolcanoes.
Best for Desert Exploration: Death Valley National Park
The name Death Valley may sound ominous, but don't worry, it's not that scary. It is pretty amazing, though, especially for those who are interested in desert environments. This is the hottest and driest national park, and it's one that experiences steady drought and skyhigh temperatures.
To put it lightly, Death Vally is the land of extremes, and all these extremes contrast each other in an interesting way.
Best for Ocean Lovers: Channel Islands National Park
Out of all the national parks here, Channel Islands is considered the most remote. For ocean lovers, it's a dream come true; CINP is comprised of 5 different islands, each one more beautiful than the last.
The other cool thing about Channel Islands is that there are no human inhabitants whatsoever. This park is home to animals only, and you'll be able to take in everything from soaring bald eagles to elephant seals.