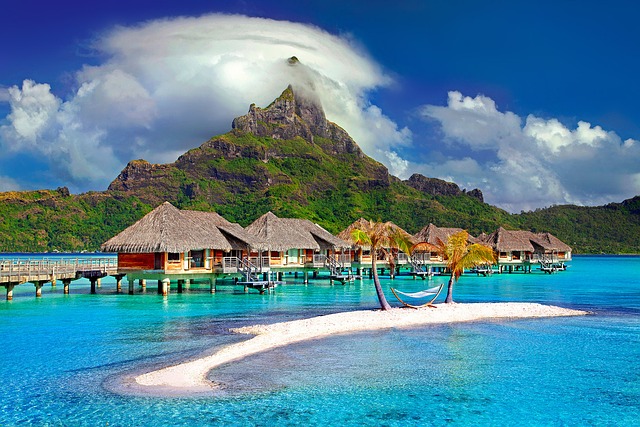 1. Auckland, New Zealand
New Zealand is the perfect place for a luxury holiday. Auckland is on the North Island and it is a major city that is based around two harbours. The Viaduct Harbour is filled with super yachts and lined up with cafes and bars. You can visit the Sky Tower to get a panoramic view of the city and it also has a high end revolving restaurant in it.
A couple of popular places to visit here are Kelly Tarlton's Sea Life Aquarium and Rainbow's End which is an amusement park with many roller coaster rides. Visit the Auckland Zoo with over 130 different species. There are a few 5 star hotels in this city with all the luxurious amenities you could ask for.
2. Zaya Nurai Island, Abu Dhabi
Zaya Nurai Island is a private island in Abu Dhabi. Zaya Nurai Island Resort is a very luxurious resort with beach villas, water villas, beach houses and beach estates. This place has fine dining with almost all cuisines from around the world. You can choose to have your own private dining, private barbeque and private picnics.
There are spas and fitness and wellness sections which overlook a beautiful garden. You can easily travel with your kids as this place is extremely family friendly. It is also a special place to have your dream wedding or host a social event.
3. Antigua and Barbuda
Antigua and Barbuda is a commonwealth country that is composed of two islands in the Caribbean Sea. The area is known for its rainforests, reef-lined beaches and resorts. Visit Nelson's Dockyard, a cultural heritage site, where you can explore naval history. The buildings have all been restored to make way to shops and restaurants.
You can visit the Falmouth Harbour which is a horse-shoe shaped harbour where all the super yachts will be docked. Stingray City Antigua is where the guides will provide aquatic encounters with southern stingrays. There are several luxurious accommodations available.
4. Honolulu, Hawaii
Honolulu is the capital of Hawaii. It is popular for nightlife, shopping and dining. It also has spectacular beaches which can be used for water sports, snorkelling and scuba diving. It has stunning luxurious beachside hotels and villas for accommodation. You can visit the Pearl Harbour which is a lagoon harbour, USS Arizona Memorial site, Hanauma Bay to watch turtles, Sea Life Park Hawaii and Waikiki Aquarium.
5. Bora Bora, French Polynesia
Bora Bora is an island in the French Polynesia in the south Pacific. It is a popular luxury destination that has many overwater bungalows. It is known for its beautiful lagoons and scenic views of the region around it.
You can go trekking in Monte Pahia, take excursions around the island, visit the islet of Coral Gardens, take boats tours and go on adventures that involve feeding sharks and stingrays.
6. Ibiza, Spain
Ibiza town is part of the Spain's Balearic Island, and whilst it is known for its Ibiza is known for its parties and nightlife, there is also a relaxed and stylish side to the Island which is certainly worth discovering. There are many luxurious villas available which can be the perfect backdrop to your getaway. You can visit the Aguamar water park for a day of amusement or visit the Casino de Ibiza to indulge in high stakes betting, slot machines, cocktails and dining.
Try to avoid the tourist traps, and spend time in the authentic, unspoiled areas of Ibiza such as Santa Gertrudis, Es Canar and Santa Eularia.