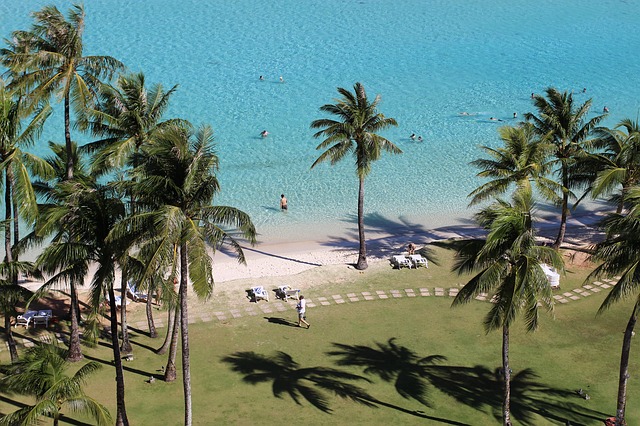 You packed your swimsuit and your sunscreen, and you're headed to Guam. Your days are going to be spent strolling on sandy beaches, soaking up the warm tropical weather and enjoying the local culture. It all sounds idyllic, but if you're not careful, travel costs can add up quickly. Having the right budget strategy can really help. Here are 7 surefire ways to keep your budget and bank account happy:
Plan Your Itinerary Ahead to Get the Best Deals
Before you depart, set a budget for your trip, and do some research on the local tourist spots and activities that would interest you and your travel group. This can lead to discoveries of great deals on travel packages, discounts on admission or even free activities. Some of Guam's best features, such as its beaches and parks are free. Pack your mask and snorkel to enjoy swimming in the clear blue water filled with colorful marine animals.
Book Cheap Mid-Week Flights
If you can swing it, fly in the middle of the week to save on ticket prices. Travel experts generally agree that Tuesday and Wednesday are the cheapest days to fly. Departing on Saturday is also widely considered cheaper as most vacationers prefer to extend to Sunday to make the most of the weekend. Choose the flights that work for your time and budget and get ready to explore Guam.
Pick Your Accommodation Ahead of Time
Tourism is an important player in the local Guamanian economy, and the island offers a range of accommodations from affordable motels to high-end luxury resorts. You can search for hotels in Guam that fit your price range and read reviews online to get a clear idea of what you're looking for. Another top tip would be to choose somewhere central to your activities to save on transportation cost. The area of Tumon is considered the island's main tourist district, but for travelers looking for somewhere more rustic, the southern part of Guam offers accommodations that would suit your needs.
Eat Like a Local
Cuisine is one of the best ways to experience a new culture and any destination you're visiting. Strike up a conversation with the locals at your hotel. Ask them for their favorite affordable and authentic places to grab a bite and what the average meal should cost. Avoid paying over that amount.
If your hotel does not come with breakfast, skip paying an additional charge for it. Instead head to a home-grown café or food stall to get a taste of the local flavors for less. Explore nearby groceries where you can put together a picnic lunch to enjoy on the beach. While at the store, grab some drinks to sip as you watch the sunset. Also consider the local market for dinner. On Wednesday evenings, the Chamorro Village in Hagatña, the capital of Guam, stages a lively night market with free entrance. The Chamorro are the native people of Guam. The market features a range of local and international food, options for souvenirs and gifts, and Chamorro cultural performances. It's a great way to affordably engage in the local culture.
Shop Smart
Shopping in Guam is a popular tourist activity, thanks to the duty-free rates on offer. The island has a range of shopping centers and other retail destinations that cater to various budgets. It is home to the world's busiest Kmart department store, for example, which draws visitors throughout the year. The sprawling 100,000 square-foot store is open 24 hours a day and popular with both locals and tourists, attracted by the affordable prices.
Another popular spot is the Guam Premier Outlets, called GPO by locals. This is the go-to destination for outlet shopping. Popular American fashion brands Guess, Levi's, Nike Sports, and Calvin Klein have stores at GPO alongside footwear favorites Sketchers, Famous Footwear, Nine West and Payless Shoe Source. The shopping center also hosts restaurants, a cinema and their anchor store Ross Dress for Less where you can pick up clothing and houseware.
For bigger spenders, T Galleria by DFS carries high end luxury brands like Chanel, Gucci and Louis Vuitton. Discerning consumers can easily snap up their luxury goods while enjoying a tax break.
Save on Transportation
Majority of the hotels in Guam offer airport transfer service for your arrival and departure. However, renting a car or traveling via taxi is the best way to get around Guam. For a multi-day trip with lots of different stops, book a rental car or take an arranged tour as taxi rates can add up. Car rental services are available at the airport or via your hotel. These agencies accept US or international driver's licenses. Be sure to grab a local map or GPS system, too.
If your main activity is shopping, you can save on transportation fees by taking the shuttle. Many shopping malls offer free shuttles from major hotels. Inquire with your hotel concierge, and they can assist you with schedule, route, and destinations.
Take a Hike
Gather your gang and go on a "boonie stomp" as the locals call it. Guam's lush green terrain is dotted with hiking trails that feature scenic views of waterfalls, rivers, and more. Trails are free and vary in difficulty from easy family friendly routes to more rugged ascents for the experienced hiker. It's a great way to commune with nature and see the island on a budget.
All it takes to make the most of your money in Guam is some thoughtful planning and a little creativity. Keep your eyes open, connect with the locals, explore your options, and most of all, enjoy the experience. We can't wait to have you visit.