Situated just at the crossroad of Europe and Asia, Armenia is a wonderful and ancient country that is really worth visiting. It will amaze its guests with а difficult but victorious history, a huge number of amazing attractions, picturesque mountainous landscapes, and of course, kind and hospitable locals. If got interested in Armenia as a tourist destination here are 7 interesting facts for you to know about this wonderful land.
1. Armenia was the first country in the world that adopted Christianity as state religion
Armenia was the first country in the world that adopted Christianity. It happened in 301 with the assistance of Gregory the Illuminator and Armenian king Trdat III. After this momentous event the first church in the world was constructed – Holy Echmiadzin Church. Now the monuments of Christianity can be found throughout the country: the ancient churches and monasteries, unique cross-stones covered with the finest carving, murals found in abandoned monasteries. So during your vacation in Armenia try to necessarily visit the most beautiful and majestic churches: Khor Virap, Noravank, Geghard, Tatev, Sevanavank, Sanahin, Aghpat, Echmiadzin Cathedral. If you want to get acquainted with unique Armenian cross- stones (khachkars) visit Noraduz village with its cemetery containing 900 khachkars of various styles and epochs.
2. Armenian capital, Yerevan, is 29 years older than Rome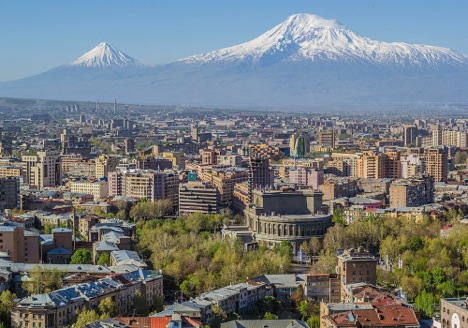 Armenia has had many capitals that were established, flourished, then destroyed and deserted. Yerevan is the 12th capital of Armenia and Armenians hope that it will be the last one. The history of this wonderful city dates back to 2792 years, which shows that it is 29 years older than Rome. Nevertheless, Yerevan is a modern city with beautiful architecture, fashionable shops, well-designed restaurants and wonderful atmosphere. Explore it by yourself, visit its educational museums and sights, have a rest in its nice and cozy parks, order national dishes in its restaurants and you will definitely fall in love with this ancient and at the same time young hospitable city!
3. Mount Ararat is the national symbol of Armenia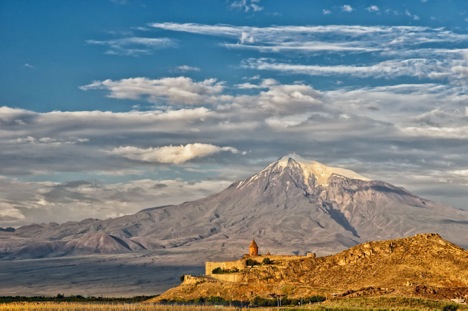 Despite the fact that Mount Ararat is now located at the territory of Turkey, it still remains the national symbol of Armenia. Armenians honor this majestic Biblical Mount as for them Ararat is more than just a splendid marvel of nature. For the most magnificent view of Ararat climb the upper part of Cascade in Yerevan or visit the monastery of Khor Virap, which is famous for the magnificent view. There are no need to describe the emotions that will arise during your excursion to the monastery: the view is breathtaking! Just come and feel it yourself.
4. Armenian bread lavash is included into UNESCO heritage list
It is impossible to imagine Armenian table without lavash. It is a thin national bread prepared from wheat flour and water and it has completely Armenian origin. In this unique thin bread you can wrap anything you want! By the way, lavash can be kept during one year without turning bad, that's why Armenian housewives bake it in bulk and then store. Lavash can be bought in any market, supermarket of Armenia and it is even exported abroad with the label «Armenian lavash». Some years ago it was included into UNESCO world heritage list.
5. Armenia is one of the oldest wine producing countries in the world
About 4 years ago archaeologists made excavations in Areni village and found the remains of the winery that was proved to be the most ancient in the world. It's about 6000 years old!
6. The longest rope way in the world was constructed in Armenia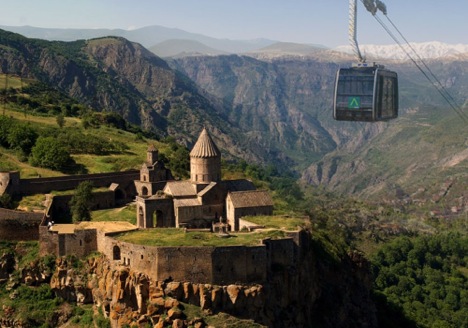 Have you ever flied over the picturesque canyon for more than 15 minutes? If not, you will have such an opportunity during your holiday in Armenia, as some years ago there was constructed the longest rope way in the world called "The Rings of Tatev". It stretches to 5,7 km over the picturesque Vorotan canyon and leads to the masterpiece of Armenian medieval architecture – Tatev Monastery. The rope way is included into the Guinness Book of Records.
7. Armenian Lake Sevan is the largest in Caucasus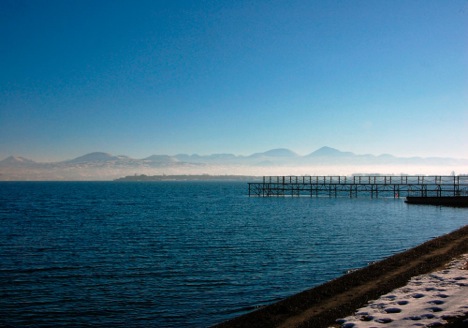 The gem of Armenian nature, Lake Sevan, is listed as the largest lake in Caucasus and the major fresh-water high-altitude lake in the world. The beauty of the lake is really impressing: its azure waters shine under the sky and the picture is completed by amazing mountainous landscapes surrounding the lake. Once in Armenia, try to necessarily visit this wonderful place, which is one of the most favorite natural attractions among tourists and is included in almost all tour packages to Armenia. The territory around Sevan is well-oragnized for a rest: you will find, hotels, cottages, restaurants here as well as will have an opportunity to take yachts, catamarans and even windsurf!