While there are endless places to visit in Asia, Bangkok is a place that will offer you one of a kind of experience. Yes, this city is not just beautiful, but it boasts of the variety of tourist attractions that will leave you struck with wonder. It has become the favourite of most of the travellers who are eager to explore more within a budget. When you are on a tour of this beautiful place you are surely going to fall in love with it. What makes your trip to Bangkok a memorable one are the wonderful tourist places that are absolutely worth remembering. Here are 7 places that you must visit during the trip. Have a look: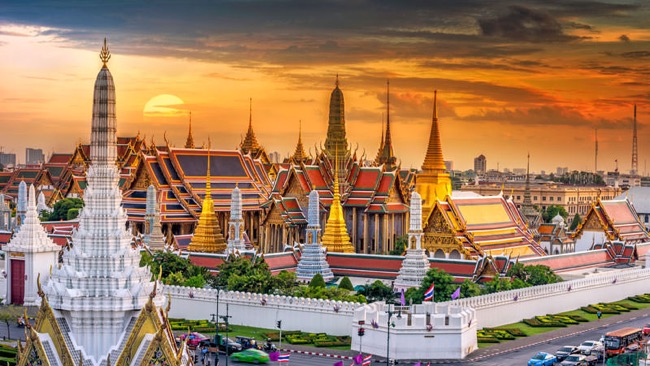 1. The Grand Palace
This popular attraction which was once the residence of Kings of Siam is exactly located in the heart of the city. The architecture is a blend of the European and the Thai style of construction which makes its truly magnificent to look at. There are several gardens, halls and buildings in the Grand Palace which you can explore and relive the regal past of Bangkok. At an entry fee of 400Baht you can visit this beautiful palace which is now a tourist attraction and peek into the royal era.
2. Baiyoke Sky Tower
This tallest building in Thailand is another major attraction of your Thailand tour. It has got a sky walk that looks absolutely stunning during the night and if you are going with your partner, both of you will remember this thrilling experience. It's the place from where you can see the Bangkok skyline. What's more? From the breathtaking height of the Baiyoke Sky Tower you can enjoy clicking pictures of the amazing view around. So, while planning your trip to Bangkok using the Zuji coupons, make sure to include this place in your checklist.
3. Wat Arun Temple
Also known as the Temple of Dawn, the Wat Arun Temple is quite famous amongst the localites and the tourists. Positioned on the western side of the Chao Praya River, this Buddhist temple has a stunning structure and can make anyone open-mouthed with wonder. Apart from boasting of its stunning beauty, this Buddhist temple also has a rich historical past. Your trip to Bangkok will remain incomplete without visiting this temple which is a historical and architectural marble in itself.
4. Safari World
If you are looking for some fun and adventure, then Safari World is the perfect place to go to. It will provide immense pleasure to the animal lovers and the kids will simply love this place. You will not only find a wide variety of animals here but can also experience a great time while enjoying the different types of shows and rides. While being here you can go for a Jungle Cruise, watch the dolphins in the Marine show or can take pleasure in the Orangutan boxing show.
5. Rajadamnern Thai Boxing Stadium
Thai boxing, also popularly known as Muay Thai is a world famous form of martial art. When you are in Bangkok, you can't miss the opportunity to watch this world famous martial art form. In order to witness the heated action, pay a visit to the well-known Rajadamnern Thai Boxing Stadium. Watching expert martial artists in their best stances will be a thrilling experience for you that you will always remember. So, visit this place during your tour as you should definitely not want to miss out on this.
6. The National Museum Bangkok
As the name suggests, this is the national museum of Bangkok which is the largest in the entire Southeast of Asia. Loaded with plethora of artefacts, historical treasures, valuable documents, paintings, sculptures and much more, this place is worth visiting if you want to get a good idea about the rich culture tradition and history of Bangkok. This is a treasure trove for history buffs as here they are definitely going to find some of the unique most art collections in the world. These art pieces belonged to the royal Thai family and are mainly Buddhist arts.
7. Floating Market
If you want to enjoy the real charm of Bangkok, don't miss to visit the Floating markets in Thaling Chan and Khlong Lat Mayom. If you can visit the markets early in the morning, you will be lucky to avoid the crowd and can enjoy the beauty peacefully without any chaos. During your visit you will be surprised to see how beautifully the culture, heritage and daily life of the residents get depicted through the colourful stuffs available in the shops. The chaotic market is definitely going to leave you wanting for more. Before leaving make sure to taste some of the authentic treats of Bangkok that are simply delicious.
The list of the best tourist places in Bangkok doesn't end here. You can explore much more within your budget if you grab the best of the Zuji flight offers and packages. These places in Bangkok are simply worth cherishing for a lifetime. So, pack your bags and book your package right now!