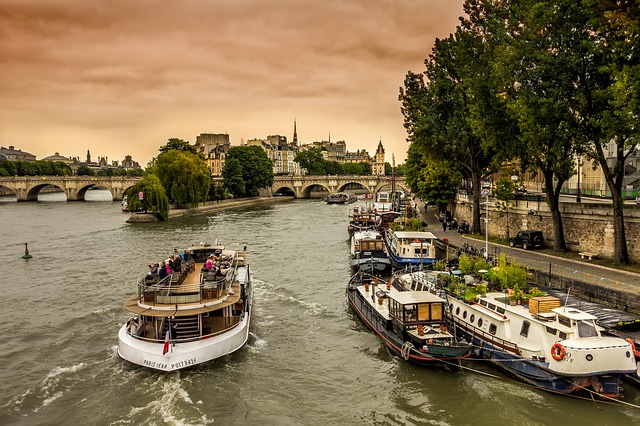 Paris, one of the most romantic and most visited cities in Europe, is widely known as an international hub for culture and the arts. If you are lucky enough to visit the city of light, you can expect to experience great visual arts, museums, music, and more entertainment that a lifetime of visits would never be able to see them all.
With so many things to do it's important to have a list of things to do so you can make the most of your time. In this regard you should also be mindful of which area you stay in. There's no point staying in a cheap hotel if it's miles from anywhere, costing you valuable time on the ground. Read up on where to stay in Paris before you book a room.
The best way to experience the city's culture is to visit various landmarks and historic sites. France is famous for several top tourist attractions in the world, but those sites are fairly obvious so we have left them out. Here is a list of 7 unique things you can do in Paris.
1. Port des Invalides
If you are in Paris during spring or summer and are craving some live music and dancing, visit Port des Invalides where both local and international dancers are welcome. You'll see hundreds of partners gather simultaneously on the Rosa Bonheur sur Seine, dancing by the water's edge. The place hosts free tango, salsa, cha-cha, and rock-and-roll nights every evening, from June through September.
2. Catacombs of Paris
Underneath the city of Paris, you will find the final resting place of over 6 million Parisians. Residents were forced to move the remains to old quarries during Gallo-Romanian times as Paris (at the time a small city) was overwhelmed with human remains.
The honeycomb of tunnels is filled with the remains of the anonymous dead is now commonly referred to as the 'Catacombs of Paris' that form a very interesting tourist attraction. It takes about an hour to walk through completely and it will give you a unique understanding of this historic city.
3. Marché de Belleville
This open-air market located near the lively neighborhood of Belleville will give you a great shopping experience with the locals. It houses everything from fresh products to clothing. You may also come across fantastic fashion brands at affordable prices.
4. Archeological crypt of the île de la Cité
The Archeological crypt that lies beneath the Notre Dame Cathedral will introduce you to the early Roman settlement at the île de la Cité. Here, you will learn about the rich and tumultuous history of the island including; archeology, currency, buildings. This archeological crypt opens every day from 10:00 AM-6:00 PM.
5. Dans le Noir
Paris is home to an unusual dining experience known as dining in the dark; a Parisian concept that has been around for about 20 years. The Dans le Noir offers you this superb and unique experience. Your belongings are safely stored in lockers as you are led to your seats.
Go with an open mind at its safe to say nothing can prepare you for such an interesting experience if you have never eaten in the dark before. You will also get a chance to appreciate little things you take for granted such as being able to tell the time as you eat or seeing your cutlery.
6. Explore the Seine River on a private boat
Cruising the Seine River on a private boat is the most special way to view Paris. Entertaining tour guides who are very knowledgeable about the city will give you an idyllic boat ride on the Seine River. You will see all the important landmarks of the city and it will give you a completely different perspective compared to being on a bus or car.
7. Ballon Generali
If you are looking for a breathtaking view of Paris (and are not afraid of heights) this hot air balloon Parc André Citroën is the thing for you. It is the biggest hot air balloon not only in France but in the world. The balloon is anchored to the ground for safety and you will be afloat for about 15 minutes. The experience will give you a unique bird's-eye view of Paris.
Conclusion
Whether you will only try one thing on the list or have time to try them all, you will know you are experiencing Paris at its best and will make memories that will last a lifetime.