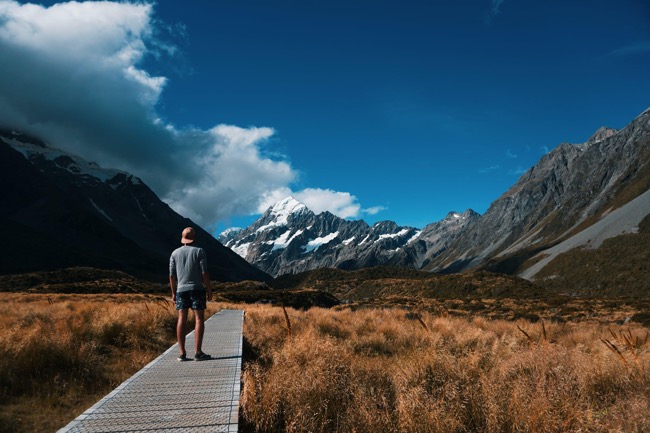 Summer is just around the corner and we can't keep calm! The scorching heat and the warm air never let anyone make the best out of the season. Don't you agree this season is indeed meant to be celebrated amidst gigantic hills? Imagine escaping the sweaty weather and enjoying the serene cold breeze of mountains while sipping a cup of hot coffee! Sounds amazing isn't it?
If you are a mountain person and wish to visit a hill station this summer, this article is just for you! We have curated all the gorgeous hill stations across the world! So, hurry up and plan your trip in advance to get the tickets at the best price. You can also book your stay with coupons from MakeMyTrip.
It's high time you leave all your tensions behind and unwind your soul by surrounding yourself amidst the snow-capped mountains. It's the right time to prep yourself up and indulge in all sorts of breath-taking adventures afterall Yeh Jawaani Hai Diwani! So, if you are one such crazy soul, we have listed some top hill stations across the world just for you!
List of best hill stations across the world
1. Davos, Switzerland
A popular town in the Swiss Alps, Davos is best known for its snow-covered hills. It is also known for its ski resort that hosts the World Economic Forum every year. Regarded as the highest city in Europe, the town is popular for its peaceful and picturesque atmosphere.
Best places to visit:
– Kirchner museum
– Davos lake
– Davos high promenade walk
– Rinerhorn
Things to do:
– Paragliding
– Skiing
– Hiking and camping
2. Hallstatt, Austria
Here comes the heaven city for Austrians. If you are from Austria or are planning to travel to Austria anytime soon, Hallstatt is a must visit. Situated on Lake Hallstatt's western shorern, this village is surrounded by stunning valleys and mountains. Hallstatt, which means 'place of salt' is also the home to the world's first salt mine.
Best places to visit:
– Market square
– Hallstatt salt mine
– Skywalk
– Dachstein mountains and the five fingers
– Admont Abbey
– St. Wolfgang
Things to do:
– The lake Hallstatt stroll
– Walking tour at old town
– Alpine hiking
– Snowshoeing
3. Canmore, Canada
Located around 81 kilometers west of Calgary, Canmore is one of the most ravishing hill stations today. With the weather as low as -2°C, the town is extremely cold yet serene throughout the year. If you live somewhere near Canada or are planning a trip to Canada, don't forget to add Canmore to your travel list.
Best places to visit:
– Grassi lakes
– Ha Ling Peak
– Three sisters
– Spray lakes reservoir
– Wild life distillery
Things to do:
– Walk at the Policeman's Creek Boardwalk
– Enjoy the Canmore winter carnival
– Relish the Canmore folk music festival
– Snowshoeing
– Tour of the Bow river
4. Lecco, Italy
Want to witness the magic of mountains? Lecco in Italy is the go-to destination. With enormous mountains and charming weather, the place is sure to make you fall in love with it. Located on the southeastern shore of Lake Como, the mesmerising town is just one hour drive from Milan. Also, when you visit Lecco, don't forget to taste its scrumptious Italian cuisines!
Best places to visit:
– Monte Barro
– Monte Resegone
– Dorsale Del Triangolo Lariano
– Palace of Fears
– Monte Due Mani
Things to do:
– Cable ride to Piani D'Erna
– Cycling along the River Adda
– Kayaking
5. Leh-Ladakh, India
Someone rightly said, if there is heaven on earth, it is in Kashmir! If you are ever planning a visit to India, your trip will be incomplete without visiting Kashmir. Among umpteen attractions, Leh-Ladakh is the most wonderful one in the state. Situated amidst the Himalayas, the town is also famous for several monasteries. Once you visit the region, it is sure to steal your heart like nothing else!
Best places to visit:
– Leh Palace
– Shanti Stupa
– Pangong Tso
– Nubra Valley
– Khardung La Pass
– Tso Moriri lake
– Tso Kar lake
– Zanskar valley
Things to do:
– Chadar Trek
– Trek to Markha valley
– Motor biking
– Rafting
– Yak and camel safari
– Shop at Leh market
– Skiing
6. Fussen, Germany
Just north of the Austrian border is an elegant hill-station called Fussen. Filled with colourful houses and insta-worthy landscapes, this town is no doubt one of the most underrated places in Germany. The bewitching castles and surrounded by alpine mountains are so alluring that they are sure to give you a fairy tale feel. Its rich history and aesthetic architectural excavations are another reason for you to visit this hilly town.
Best places to visit:
– Lechfall
– Alatsee
– Hopfensee
– Schloss Neuschwanstein
– Zugspitze
Things to do:
– Paragliding
– Castle tours
– Mountain biking
– Stroll around Fussen's old town
7. Innsbruck, Austria
Yet another exquisite hill station in Austria is the town of Innsbruck guarded by alpine mountains. It is not just the favourite tourist place of Europeans but also the most renowned ski destination in the world. From bewitching towns to mammoth mountains, Innsbruck is sure to take your breath away with its heavenly beauty.
Best places to visit:
– Amras castle
– Old town Innsbruck
– Nordkette
– Innsbruck cathedral
– Seefeld
– The Golden Roof
Things to do:
– Walking along the river Inn
– Castle tour
– Enjoy the funicular ride
– Ski jump
8. Queenstown, New Zealand
Want to visit a place which will give you a complete package of adventure, peace and fun? Then, Queenstown in New Zealand is the one! It is both a mixture of fun-filled experience and tranquil atmosphere. Moreover, the place's hospitality and spectacular views will make your stay more memorable.
Best places to visit:
– Queenstown hill
– Ben Lomond track
– Coronet Peak
– Tiki Trail
– Moke lake
– Brennan Wines
– Arrow river
Things to do:
– Snowboarding and skiing
– Bungy jumping and river surfing
– Paragliding and hang gliding
– Biking and mountaineering
– Witness the city's culture and heritage
Conclusion
Mountains always make people fall for them! If you like to enjoy the rejuvenating and relaxing air of the hills, then this article is all for you! Hope we have covered all the major hill stations across the globe. If you think we have missed any place, do let us know in the comments below!
Author Bio:
Anushka Oza, a product of the '90s, a sincere devotee of Pink Floyd, and a free spirited package of positive energies! Extremely social and fun to be around, this wordsmith takes her work seriously. She is an avid reader, big foodie and travel junkie.