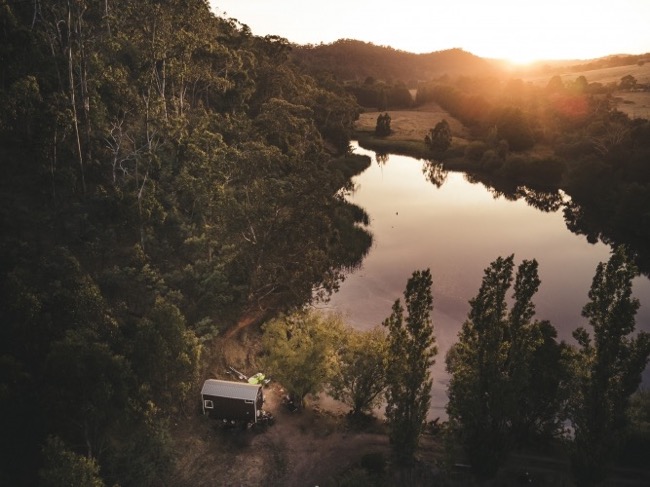 When it comes to vacations, the idea for most people is to steal away to places that are very different from the primary place of residence. As such, it is important to think about the types of sights or activities that a place offers. Once you have narrowed an upcoming vacation to some interesting sights or activities, you should determine just how relaxing and peaceful a destination will be. After all, you need to come back relaxed and ready for another 12 months of work before your next vacation.
1. Tiny home
Booking a tiny house offers you a variety of benefits. First, it provides you the ability to live in true luxury. For instance, the best vacation tiny houses are often decked with luxury, and they are also often decked with large windows. Being able to sit in luxury and enjoy the view is key to a good vacation.
However, they also allow you to enjoy a simpler daily routine, which can be a good strategy to shift your way of thinking about how you relate to the universe at large. Returning to a simpler time can be an effective way to help soothe frayed nerves. Finally, they allow you to enjoy more for less, freeing up money for local sights.
2. Water
Vacationing on or near the water is one way to change your perspective as water is an emotional symbol that resonates in your soul as deeply as seeing a sky full of stars or a smiling baby. As such, a three-day cruise can help water lovers relax as they stare out across forever. Because the rocking of a ship also has a hypnotic effect on you, being able to recline and enjoy the natural rhythm of a ship is a key way to help you rejuvenate.
3. Sand
If you do not like being on the water but enjoy watching the water, a resort on the beach is your thing. Booking a stay at a local resort can provide you with such water-side amenities as beach-service food and drinks as well as the ability to watch people. Of course, lying out in the sun is one of the best ways to worship the sun and get your boost in vitamin-D. Additionally, booking a stay on or near the beach is one of the best ways to get free exercise as walking on the beach provides a low-impact way to exercise as you enjoy being away from the demands of everyday life.
4. Isolation
In terms of emotional renewal, getting away from everything might be the best idea. This can be accomplished via the aforementioned tiny home, which allows you to have your slice of paradise all to yourself. Additional ways involve booking a vacation in a cabin or even renting an RV and camping in the wilderness.
In fact, camping and enjoying the wilderness in relative isolation is one of the best ways to vacation if you want to learn survival skills. That said, if you want to glamp, you can rent a yurt and enjoy all the luxury of a hotel room as you camp in the middle of the woods.
5. Luxury
A five-star resort is a five-star experience because of its five-star luxuries and amenities. Whether it involves a massage at a spa or enjoying room service, being pampered is the best way to regain some lost youth. Additionally, a resort provides a variety of eating experiences that you might not have access to on a day-by-day basis. Finally, for working vacations, many resorts have business centers to help you remain productive.
6. Amazing sights
For the best sights, you can visit a national park and enjoy the vast scenic wonders around you. In terms of enjoying the best sights, you can also opt for a driving vacation as you tour the countryside and photograph the journey from one mountain vista to another. In whatever way you decide to vacation, the best sites for the best sights are often popular locations, so it is best to book early.
7. The air
One of the best vacation activities is to go from the ground to the air. This can be in a balloon or on a zip line. However, you can also get a fresh taste of the air by parasailing or skydiving. Although moving from the ground to the air can be terrifying, it is a certain way to truly forget everything for brief moments as you see your world and experience it in ways completely foreign to you.
8. On the move
A driving vacation might be on the move, but a better way to remain on the go and still get luxury is via a train. When you book passage on a train, you can enjoy all the sights as they amble by your window. However, you also get the ability to sleep in peace and enjoy a bite to eat without having to keep your eyes on the road ahead.
Author's Bio: Matt McGrath is an avid traveler and a prominent writer in the blogging community. He has been to more than 50 countries. While he loves discovering new cultures and adventures, he is also passionate about sharing practical tips to his followers. If you love to travel and adventure, we recommend that you read and follow all his articles! More about him on his website – http://mattmcgrath.me/.