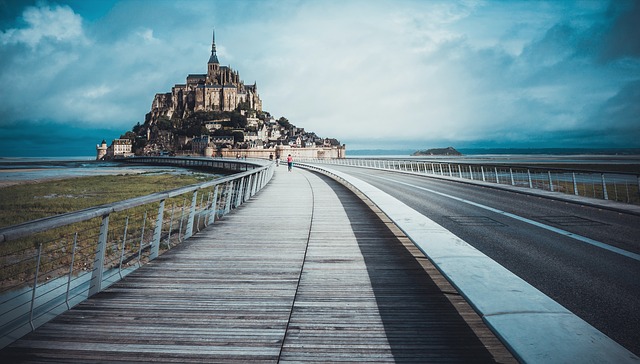 France is, no doubt, every traveler's ideal and dream destination. Famous for its world-class cuisine and sophisticated culture, this European hub offers a plethora of adventures to keep you entertained for a whole year. With its sunny Mediterranean climate, picture-perfect medieval towns and iconic landmarks, France offers an endless array of beautiful destinations and bucket-list worthy spots. Blending natural beauty with ancient castles, magnificent cathedrals and splendid palaces, this county will appease your wanderlust in a lot of different ways.
Visiting France soon? Pack your travel bag, and visit these amazing destinations in France!
Aix-en-Provence
Easygoing and gorgeous, Aix-en-Provence is a trendy university town beloved for its wide boulevards, cute cafes and colorful markets. Compared to some urban destinations in France, life moves at a more leisurely and relaxing pace at this town. What's more, it's a terrific place to dive into the local culture and explore the picturesque streets. To make your visit unforgettable, don't forget to check out Cathedrale Saint Sauveur and Le Grand Marche.
Etretat
With dramatic rock formations, azure waters and sandy beaches, Etretat is, hands down, one of the country's prettiest towns. To add an element of fun to your visit, drop by the Jardins D'Etretat. Perched wondrously on a cliff overlooking the bay, this bizarrely wonderful garden houses gigantic head sculptures and beautifully odd straw figures.
Annecy
They don't call Annecy as the "Venice of the Alps" for nothing. After all, the city offers a deluge of sights that will remind you of Venice, such as its lake as well as canals that wonderfully criss-cross the entire town. To make things even better, it's also a great base for exploring the photogenic and splendid French Alps. On top of it all off, the city is jam-packed with attractions that will fill your vacation days in France.
Paris
No list of the best destinations in France is complete without its fashionable and elegant capital city. For decades, the "city of lights" has been luring travelers across the world with its iconic attractions, including the Louvre and Eiffel Tower. Furthermore, Paris boasts a host of excellent restaurants, shopping centers and outstanding architecture. Just keep in mind, though, Paris is, for the most part, flooded with tourists, meaning hotel rooms may skyrocket, especially during the peak times. If you are looking for a hotel bargain, visit Paris during winter or early spring.
Mount Saint Michel
Don't let its photos deceive you! This is not something created by a photoshop whiz. And, guess what? Mount Saint Michel looks even more stunning in real life. The slender spires, the stout ramparts as well as rocky outcrops that rise dramatically from the sea make it a visually enticing sight you can't afford to miss in France. And, with its medieval structure and old world charm, this UNESCO World Heritage site will make you feel like you've traveled back to the Middle Ages.
Loire Valley
Yearning for a romantic break in France? Then, you'll surely enjoy your vacation in Loire Valley, France! Located right at the heart of the country, Loire Valley boasts a wealth of lovely farms, serene bed-and-breakfasts, wineries and chateaux. Listed as a UNESCO World Heritage site, Loire Valley dazzles and impresses visitors with its one-of-a-kind beauty and historic villages. A word of advice, spend some time hitting the laid-back cities of the valley, such as Orleans, Tours and Saumur.
Nice
Beach bums and culture vultures will surely find their bliss in Nice. Nestled on the French Riviera, Nice impresses visitors with its pebbly shores, engaging museums, boutique shops and Baroque palaces. Praised for its cultural charms, Nice also flaunts contemporary sculptures, pastel-colored buildings, Roman ruins, a lively nightlife scene and an Old Town with a labyrinth of twisted narrow streets.
Rocamadour
One of the best and most exciting ways to experience France is to explore Rocamadour. Inscribed as UNESCO World Heritage site, this wondrous cliff-top village has plenty of activities and attractions to offer to its visitors. Here, you can stroll leisurely through its narrow cobblestone streets, visit historic religious buildings and eat creamy goat's cheese. Not to mention, a visit to this town lets you savor awe-inspiring views from the Castle of Rocamadour.
Is there anything that you'd like to add? Think we've missed a destination or two? Feel free to share your ideas and thoughts through the comment section!