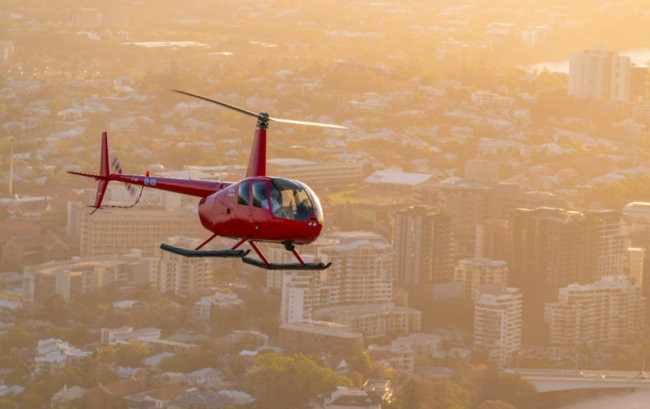 When you read about traditional holiday ideas, you likely read about hiking, shopping, seeing historic sites, visiting museums and art shows, eating at new restaurants, and things of that nature. These can all be fun things to do, but what you might not realize is that you're doing the same activities every time you go on holiday.
Sure, the hiking trails differ and the shops and restaurants are never the same, but do any of those events really stick out in your mind as a wow experience? Highly unlikely. In order to create a wow memory, you need to do something truly unique and adventurous, and a helicopter ride fits that description to a tee.
Let's take a look at the 8 reasons why you need to experience a helicopter tour.
1. The Thrill
When you hear those propellers chuffing, your adrenaline is going to skyrocket. This happens because it's a different kind of experience than your body is used to, and since you're going up in the air, you associate at least a little risk. Fortunately, in the back of your mind, you know everything will be fine. To make sure of this, be sure to use a helicopter tour service with a flawless safety record.
Once you're up in the air, it's going to be invigorating. The views are what sell a helicopter tour, but simply being in the helicopter is the true thrill.
2. Privacy
When you take walking tours, bicycle tours, boat tours, or any other kind of tour, you're usually with a group of people. When you take a helicopter tour, there is no group. It's just you and the one you care about sitting next to you. In fact, a good helicopter tour service will not sell the extra seat, allowing you more room and privacy.
3. Surprise Someone
The most obvious option here is a significant other, or to impress someone you're dating because you want to take it to the next level. There really aren't many things you can do to impress someone more than a surprise helicopter tour. It's thrilling, scenic, invigorating, and romantic. It will be much appreciated and never forgotten.
You can also surprise a significant other on their anniversary or birthday. And it doesn't have to be a significant other. You can also surprise a family member. This would be a sweet treat.
4. See Brisbane
Brisbane is a beautiful city, but you're going to appreciate more from the air. And a tour of the city is usually only 15-25 minutes. You will be at 1,000 feet before you know it. Once in the air, you can see the South Bank. From this vantage point, you will see the true design of the city with your own eyes. And it's in real time.
5. Take A Lunch Tour
If you want this experience to last a little longer, take a helicopter tour to a winery in the countryside. Of course, this is another good option for surprising a romantic interest. It's nearly impossible to top a helicopter tour + winery in one day in regards to romance.
6. See North Stradbroke & Moreton Island
This is usually going to be a little over an hour, and you will wish it was several more hours when you're done. You will fly by the east side of Brisbane, then enjoy views of Mt. Gravatt, Mt. Cotton, Victoria Point; and you're likely to spot marine life, including whales, dolphins, stingrays, and large schools of fish.
6. Watch The Sunset
You have probably watched the sunset from the beach, but have you ever watched it from a helicopter? Not likely. When you're up in the air as the sun sets, it's almost as if you're one with the sun. Add the Brisbane skyline and you have a majestic portrait that's actually real.
7. See The Scenic Rim
You can't see The Scenic Rim in its totality unless you're in a helicopter. When you take this approximately 70-minute tour, you will see mountains, waterfalls, the Pacific Ocean, and Lake Manchester.
8. Talk to the Pilot
This is an often undervalued aspect of a helicopter tour. The pilot will know everything about the area you're flying over. He will be happy to answer any questions you might have. This is an opportunity to learn more about the area.
Now it's time to truly live and book that tour!
Author's Bio: Matt McGrath is an avid traveler and a prominent writer in the blogging community. He has been to more than 50 countries. While he loves discovering new cultures and adventures, he is also passionate about sharing practical tips to his followers. If you love to travel and adventure, we recommend that you read and follow all his articles! More about him on his website – http://mattmcgrath.me/.