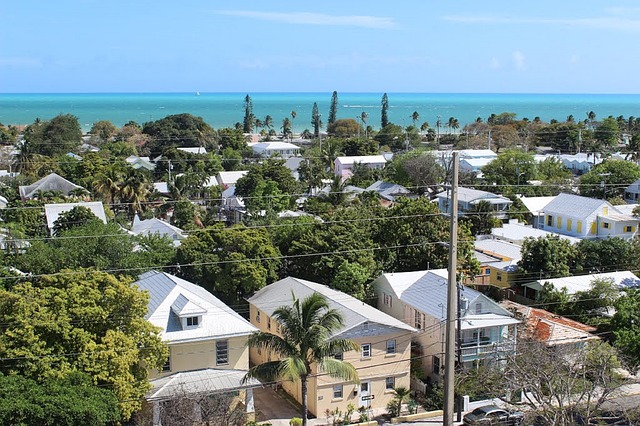 Key West is as far south as you can travel in the continental United States and still be on American soil (hence 'Southernmost' Point, Motel, Hotel, Guesthouse, cup of coffee, t-shirt shop, and just about any other person, place or thing that earns the distinction by merit of proximity). Most people don't know this until they arrive, but the island of Key West is only 90 miles from Havana, Cuba!
The island's sub-tropical climate – annually averaging 80 degrees high, 72 degrees low – and its friendly, tolerant attitude make it a place loved by all who visit. The easy-going way of life has attracted such famous inhabitants as
– Ernest Hemingway
– Tennessee Williams
– Robert Frost
– Harry S. Truman owned a vacation residence here during his term of office
– John James Audubon stayed on the island while painting the wildlife of the Keys
Visitors can discover a colorful past full of pirates, treasure hunters, and a rich military presence in our many historical museums. In the evening, the spectacular sunset is celebrated at Mallory Square, where entertaining street performers and vendors gather as long as the weather permits (which is most of the time).
The more adventurous types will find plenty to do as well. Sailing vessels abound with such activities as fishing, snorkeling, and reef diving. You can even charter a flight to Fort Jefferson National Monument, the least accessible national park in the United States.
For those who would prefer to relax and bask in the sun – beachside or poolside – there are many types of accommodations to choose from in Key West. From 'party central' to ultra-private, there's a place and activity for everyone.
Sights to Consider Seeing
Note that the majority of the following tours and attractions have an admission charge.
Conch Tour Trains: This 1 1/2 hour, 14-mile tour leaves from two locations (Mallory Square and 3840 N. Roosevelt Ave.) and includes an informative description of old and new Key West. Hours: 9 a.m. – 4 p.m. (305) 294-5161.
Self-guided Tours: The Pelican Path leads visitors throughout historic old Key West. You can obtain a brochure outlining the tour from the Key West Chamber of Commerce in Mallory Square, 402 Wall St. (305) 294-2587.
Old Town Trolley: This 1 1/2 hour tour of old Key West starts at the trolley barn at 1910 N. Roosevelt Blvd. or can be joined as the trolley tours the island. It provides a narrated introduction to the history and geography of the island. Hours: 8:55 a.m. – 4:30 p.m. (305) 296-6688.
Audubon House and Gardens, Whitehead and Greene Streets. This is where Audubon stayed while painting the wildlife of the Keys. It is the restored home of Capt. John Geiger, a noted pilot and wrecker. Tours include the house and gardens. Allow 1 hour. 9:30 a.m. – 5 p.m. (305) 294-2116.
Curry Mansion, 1 block north of Duval at 511 Caroline St. Built in 1899 by William Curry, Florida's first reputed millionaire, it has a widow's walk overlooking the grounds. 10 a.m. – 5 p.m.
(305) 294-5349.
Ernest Hemingway Home and Museum, 907 Whitehead St. This colonial style mansion was purchased by Hemingway in 1931 and is where he wrote many of his most important works including For Whom the Bell Tolls and A Farewell to Arms. It is now the home of more than 40 cats, descendants of his felines. Allow 30 minutes minimum. 9 a.m. – 5 p.m.
(305) 294-1575.
Fort Jefferson National Monument, 68 miles west of Key West. Construction began on this fort in 1846, but after 30 years of construction it was still incomplete. It was designed to protect vital shipping access to the Gulf of Mexico. During the Civil War, it was occupied by Federal troops and became a prison for army deserters of the war. It is open daily 8 a.m. till dusk. Camping is permitted and the fort's shores lend themselves to swimming and snorkeling. No fresh water, food, or public telephones. 1/2 and full day trips via seaplane are available by Key West Seaplane Service. (305) 294-6978.
Fort Zachary Taylor, S.W. end of the island via Southard St. This was built in 1845-1966 as a part of Florida's coastal defense system. It has one of the largest collections of Civil War armaments and a 1903 Gattling gun. 8 a.m. – dusk (305) 292-6713.
Key West Aquarium, the foot of Whitehead St. on Mallory Square. One of the first open-air aquariums when it opened in 1934. Allow 1-hour minimum. 10 a.m. – 6 p.m.
(305) 296-2051.
Key West Lighthouse Museum, 938 Whitehead Street. The 1847 lighthouse has a spiral staircase that leads to its top, providing a scenic view of the area. Allow 30 minutes minimum 9:30 a.m. – 5 p.m. (305) 294-0012.
Little White House Museum, 111 Front Street inside the Truman Annex. This is the restored vacation retreat of President Truman. Allow 30 minutes minimum. 9 a.m. – 5 p.m.
(305) 294-9911.
Mel Fisher Maritime Heritage Society, Greene and Front Streets. Contains a display of artifacts recovered from two Spanish treasure ships and an exhibit of techniques of underwater archeology. Allow one-hour minimum. 10 a.m. – 5 p.m.
(305) 294-2633.
Author: Captain Garrett is a south Florida local and owner of fishallinkeywest.com.