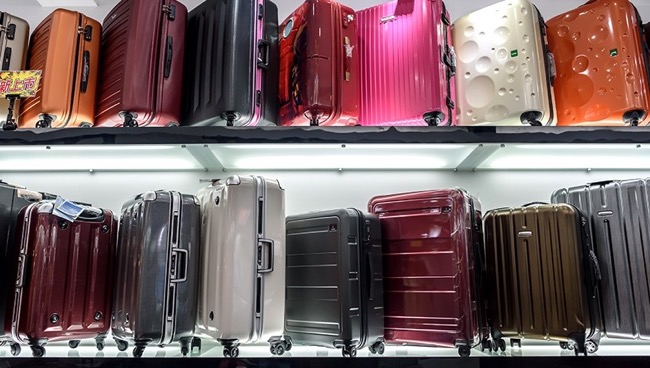 Choosing the right cabin luggage can prevent dents, damage, and exorbitant fees. Add wheels and a well-designed retractable handle, and your journey through security and the rest of the airport will become a breeze. Most airlines limit carry-on luggage weights and dimensions. The former is relatively simple to control, but an irregular shape can lead to enforced restrictions.
Dimensions by Airline
Every airline has unique restrictions.
– British Airways: 56x45x25cm at 23kgs including a laptop or handbag.
– Virgin Atlantic: 23x36x56cm at 10kg.
– Lufthansa: 55x40x23cm at 8kg.
– American Airlines: 56x36x23cm at 18kg.
– Emirates: 55x38x20cm at 7kg. 
Dimensions are vastly different from airline to airline, but buying a different case for every flight is impractical. If you keep your length below 55cm and your width below 20cm, your baggage will serve you well with most major airlines. Choosing the largest common dimensions will allow you to cut out your checked-in luggage on short trips.
Ergonomics
Long trips through airports weigh heavily on your spine and arms. Lifting and dragging a poorly-designed case causes strain, so choose baggage with a handle long enough not to require hunching. The right wheel design will prevent strain. Four wheels can improve your luggage manoeuvrability, but two wheels with a 360-degree turning radius can manage narrow aisles and sharp corners better. If your wheels stick, they can put strain on your back, so test spinner luggage before you settle on your purchase. Your packing habits can improve ergonomics, so keep your heaviest items near the wheels and your lightest near the handle. A comfortable grip will protect your hands.
Design Features
Your luggage material can add significantly to your luggage weight, so choose a lightweight material like vinyl, ABS, or polycarbonate. Polypropylene is currently the lightest material in the industry, and it's flexible enough to keep your belongings safe. Hard materials like ABS pack additional impact resistance into your luggage, while soft fabrics are expandable, creating extra packing space. Soft luggage fits into airport shapers more easily, but hard baggage is waterproof, so choose your material according to the climate of your destination.
Moving Beyond Traditional Luggage
If you're planning a hiking holiday, backpacks are ideal, and they let you move easily through the airport. They require extra ergonomic features to protect your back. They ideal design packs weight above shoulder level rather than let your luggage hang from your shoulders. Look for framed offerings that keep the bulk of the case at or above shoulder height.
Duffel bags are another popular option, with contemporary designs adding wheels and retractable handles ideal for airline travel. They can be unwieldy, though, particularly if you tend to carry them on one arm. Back straps and wheels make them more ergonomic, but their lack of structure means they hang too low on the back to be ergonomically viable. If you have back problems, duffels with wheels are best.
Other Considerations
Identifiable luggage ensures that you won't grab someone else's case by mistake, so choose a distinctive colour. Your interiors can help you to keep your items organised, an aspect you'll appreciate if you're stopped by airport security. While waterproof pouches are handy for storing your swimsuits and wet towels, they're inadequate for storing fluids, which must be kept in regulation-sized plastic bags. Even so, you'll pass through security faster if you keep all regulated items in one place.
Passengers have a right to travel unhindered by unfair denials of boarding. When your baggage is lost, damaged, or causes unfair delays, you might be entitled to recovery costs. GIVT can help you to claim your compensation, so contact us today.