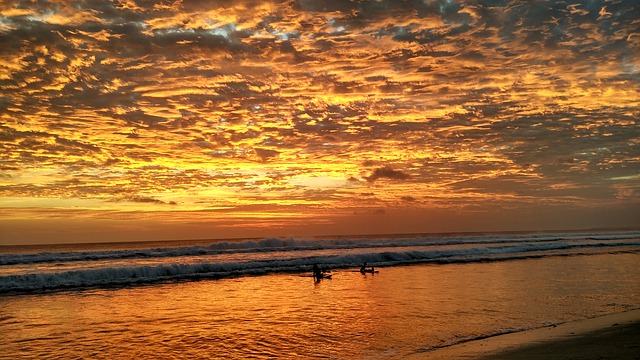 Matt Myles was living the everyday life of a working class Englishmen. Working a 12 hour nightshift in a factory, the 27 year old from Hereford was staying in a rented flat, scraping from pay check to pay check, until a spur of the moment purchase for the Euromillions lottery would change his life forever.
It turns out the ticket was one of the winning raffle numbers, meaning Matt had just won £1 million. It only took him three days to begin a whirlwind adventure that would take on an unforgettable journey across the world.
He was already bound for the Indonesian island of Bali before he had even received any of his winnings. As explained by Matt himself He said: "I won on a Tuesday, found out Wednesday, my win was validated by Camelot on Thursday and on Friday morning I was on a flight to Bali.
"Because the money hadn't had time to clear I'd borrowed my dad's Visa card to pay for the tickets.
"When I stopped off at Hong Kong I made my first millionaire's buy – a £94 pair of Ray-Ban sunglasses.
"I also checked my bank account and could not stop laughing when I saw all the zeros."
Having resigned from his job, Matt was joined by his brother Pete and best mate Joe on the trip of a lifetime, starting off with a wild party in Bali, where he picked up the bill for everything, including a £3,500 food and drink bill for one night.
Matt had set a limit of £100,000 for his travels, and it certainly went a long way. After their partying in Bali, Matt and his mates would take a trip to Thailand, with their following destination the dream of millions – the world cup in Brazil.
There they spent a month cheering on the England national team, with Matt paying for 12 of his friends to join him for one of the biggest sporting events in the entire world.
After that, it was onto another party island, this time a little closer to home in the shape of Ibiza. Matt forked out for a private villa for all of his friends to join in with the partying, having hired a private DJ and a speed boat.
Matt picked up the bill for everyone's drinks at the trendiest bars and clubs on the island, adding to his already incredible list of memories. "It was totally wild," says Matt. "Just the best week of my life, ever. The lads loved it. They were so grateful, and didn't stop telling me."
After this, Matt enjoyed some downtime with his family in the gorgeous region of Tuscany, Italy. Again he rented a villa for his lucky guests, and then it was time to check out another country.
Matt and Pete would head on to the United States for a month-long visit of the country. Highlights included enjoying a wild Halloween in New Orleans with a rented Dodge sports car and visiting New York City.
"New York is the best place I've ever been," he says. "It really is the place that doesn't sleep."
After that, it was time to come home and take some time to recover from a worldwide adventure most can only dream of. Back home, Matt has recently bought his first home and has already invested a large percentage of his winnings, proving he has an eye for investing his money as much as he does spending it.
Matt even documented his wild travels on his Twitter account, where people were regularly checking for updates on his latest adventure. He admitted he has plans for another few trips, with hopes of canoeing in the Amazon, swimming in the Great Barrier Reef and walking the Great Wall of China being just a few ideas he has for the future.
Matt wasted no time in spending his winnings the way he wanted, and an incredible journey around the world with the people he loves most sounds like the best way to spend any amount of money. Plus his generosity is certainly inspiring, has he was more than willing to treat his friends and family to numerous luxury vacations.