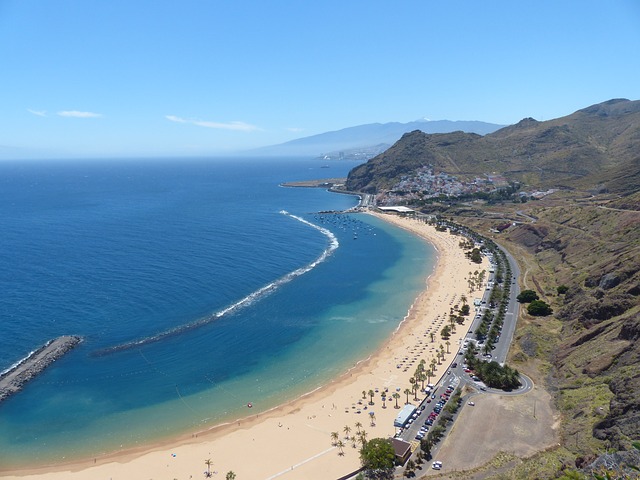 Tenerife is a warm and inviting Canary Island, which is also a popular destination for visitors, tourists and locals from Spain. Blessed with guaranteed sun no matter the month, it's one of the best vacation spots for tourists of all ages.
Best Time of Year To Go
One thing that's constant in Tenerife is sunshine, but it all depends on your climate preference.
August is its most popular month, with thousands of tourists flocking in from all over the world. Summers are hot, dry and cloudless and perfect for active people who love water sports and swimming. Calm and cooler temperatures prevail from November to February, where the average is 21 degrees Celsius.
How Regions Differ
Tenerife is warm 365 days a year and has a few unique regional variations. The island's weather is divided between the south and northern areas, with Mount Tiede right in the middle. The northern area is cooler and wetter, which means that fewer tourists go there. The southern area has more sun and is warmer but is less windy, which leads to dry conditions. The Canary Islands enjoy clear, blue skies with the occasional dust storms that come from the Sahara Desert.
Month by Month Weather Guide
Tenerife Weather in January
January marks the coldest month for the year, but there's still some winter sun to soak in. On average, temperatures can reach up to 21 degrees Celsius and go down to single digits on most days. Also, there's a chance you may see Mount Tiede covered in snow.
Tenerife Weather in February
Days get progressively warmer, with an average of 6 hours of sun a day and reaching 21.4 degrees Celsius. The southern and low-lying areas will have the best conditions, while higher-altitude places such as Mount Teide are likely to stay in single digits.
Tenerife Weather in March
March marks spring weather as the climate picks up. This is also the month where snow on Mount Tiede is most likely. The clouds will have passed, and visitors can enjoy up to 7 hours of warm sun per day. Sea temperatures can get up to 19 degrees, making quick dips possible.
Tenerife Weather in April
Spring officially begins April, where the weather is definitely drier and warmer. Average temperature leaps up to about 23 degrees Celsius, with the southern location enjoying most of it. Sunshine is expected to stay around for 8 hours each day.
Tenerife Weather in May
Tenerife begins to get seasonably warm, with average temperatures reaching in the mid 20's. Visitors will be able to see what's up ahead by looking at the skies and clouds in the morning. May is the perfect time to visit as the weather is still bearable.
Tenerife Weather in June
Tenerife's summer officially begins in June, with temperatures reaching 26.6 degrees celsius and above. The northern part will be slightly cooler, but both regions are expected to have 10 hours of sun each day. It's also considered a dry month with very little to no showers or thunderstorms.
Tenerife Weather in July
Temperature can be as high as 28.9 degrees Celsius and with very little chance of rain. Heatwaves may also form with highs going up to the mid-30s. July is the time when the sun is visible for up to 11 hours each day, though its northern area is a bit cooler compared to the south.
Tenerife Weather in August
The hottest month as far as Tenerife is concerned. Visitors get 10 hours of sun each day and on average 29.2 degrees Celsius. Breeze from the northern area may bring relief, and as such it's best to get some beach time to keep comfortable. Sea temperatures are an inviting 23 degrees.
Tenerife Weather in September
Summer extends to this month, where temperatures average at 28.1 degrees and 9 hours of sun each day. The likelihood of rain increases as September ends, but only at a minimal 6mm on recorded average. Visitors can still spend a day at the sea as it's warm and very inviting.
Tenerife Weather in October
The start of the autumn season will see a dip in temperature. It's a more comfortable month to spend compared to blazing summers. Visitors can still get up to 7 hours of sun each day and short bursts of rain especially at the end of the month.
Tenerife Weather in November
Rainy days will become more frequent as November in Tenerife is considered one of the wettest months. Temperature drops down to an average of 24.3 degrees and lower at higher altitudes. The southern part will still see a fair amount of sunshine, which makes it the preferred destination for tourists.
Tenerife Weather in December
Visitors can get up to 6 hours of sun per day and daily highs of about 22.2 degrees Celsius. The warmest parts are on the south side. Around 31mm of rainfall are expected to come in a few days and largely to the northern area.