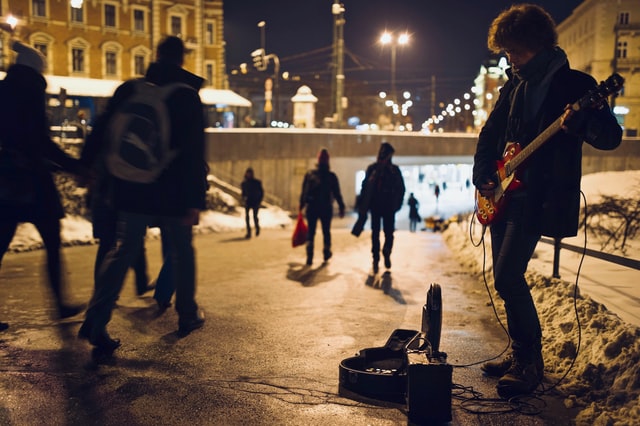 Imagine being on a beautiful quiet beach with nothing but the sound of the waves and the birds hanging in the air. The only thing that would make this better is having your guitar and strumming a few island songs. This idyllic vision is possible with a bit of preparation. Air travel with a guitar can go smoother than you expect if you do the following:
Pick the Right Airline
Not every airline will allow guitars inside the cabin. If you want to keep your instrument close, then you need to check which companies are friendly to musicians. Check their websites to see if they mention this. You can also give them a call to ask for the latest policies and get tips on how you might go about this. Maybe they have special provisions that you can avail of.
Bring a Travel Guitar
You can bring virtually type of guitar on a flight but it might be easier for you if you opted for a travel guitar. These are specially-designed models that are lightweight, durable, and diminutive. They sound good as well so you can even use them on gigs. They vary in actual size, price, and quality so pick carefully.
Use a Hardshell Case
Any type of case will offer some protection against bumps and bruises but a hardshell case is generally safer. The outer core will shrug off poor handling by airline crew and accidental impact from other people in tight spaces. However, they do tend to be bulky so consider their dimensions and how these might affect their possible storage locations on the plane. Also make sure that you get something with TSA-approved locks. We recommend checking out these recommendations for guitar cases for flying.
Prevent Interior Movement
Whether bringing a hard case or a gig bag, you still need to take additional precautions against interior movement. Put shirts, towels, or packing materials along the gaps to prevent the guitar from shaking during turbulence. You can also place a soft cloth between the fretboard and the strings to avoid the development of friction marks.
Loosen the Strings
Speaking of the strings, don't be overly concerned about tuning when flying on an airplane. In fact, you should make it a point to loosen the strings. If these are too tight, then they might break when subjected to additional pressure. They could also affect the fragile neck. Keep things relaxed and just tune it once you get to your hotel.
Purchase an Extra Seat
If you have determined that putting your guitar in your preferred case will make it impossible to store it in the overhead compartment, then you will have to make tough decisions. You either have to switch to a smaller case, allow the crew to place it in the cargo area, or pay for an extra seat and put the guitar next to you. The last option is pretty expensive but some are willing to shoulder the cost for their peace of mind.
Label the Guitar
If you are going to have it placed in the cargo area, then label the guitar inside and out. Write down your name, your contact details, and your address so that the item can be returned to you in case it gets lost. While this is a remote possibility, it never hurts to be extra careful. You can also place a "Fragile" sticker on the case so that the crew will handle it with care.
Consider Insurance
Airlines will do what they can to take care of their customer's baggage. They don't want anyone angry about their service taking to social media and dragging their name. This affects brand perception and stock prices. However, some things can slip through the cracks. Consider getting additional flight insurance if you are bringing a high-value guitar. Otherwise, basic baggage insurance is unlikely to compensate enough if it gets lost.
Avoid Stopovers
Taking several connecting flights to reach your destination increases chances of baggage trouble. This can also be quiet tiresome as you need to hop off, haul everything, wait for the next flight, and check back in a few times. Book a nonstop flight if available so you can just relax the whole way through.
Conduct Damage Checks
Once you land, conduct a damage check right away so you can see the current condition of your guitar and register your complaints immediately. You are more likely to get a response and compensation if you do this. Take pictures of the before and after as evidence. Don't wait until you reach the hotel to inspect your guitar as the airline might deny that the damage came from them.
Ship the Guitar
If it is not possible to go on an air travel with a guitar, then the next best option is to ship it out first to a trusted friend and reunite with it later when you get to your destination. Pack it carefully to avoid damage.