Fiona Hilliard usually writes about Alicante car hire for ArgusCarHire.com. On a recent trip to the popular Spanish city, she decided to see what the surrounding Costa Blanca had to offer. Here she shares her favourite day-trip drives with us.
Alicante Day Trips
Cynical holidaymakers will forever typecast Alicante as a "stuffed donkey in a sombrero" destination, but those savvy enough to rent a car and embrace their spirit of adventure will be richly rewarded.
Alicante is the gateway to the Costa Blanca, a 200km stretch of coastline that winds its way from Denia in the north to San Pedro del Pinatar in the south. Scenic drives abound in this area.
Benidorm
A pleasant 45km drive north of Alicante will take you to Benidorm City. Benidorm first exploded onto the holiday scene in the 1960s when mass tourism and package deals were in their infancy.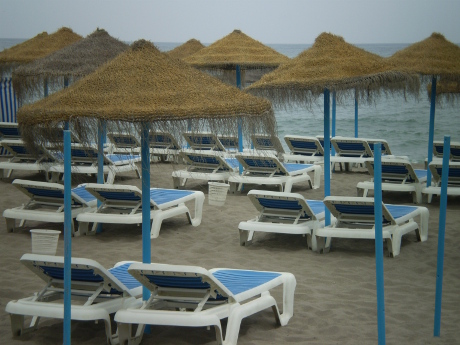 By the 1990s however it had lost its gloss and began to fall out of favour with discerning holidaymakers who longed for more sophisticated, unusual destinations.
Recent regeneration projects have seen Benidorm scrub up nicely. These days it is well worth a drive, if only to take a gander at the Old Port and two sweeping beaches.
While you're in the neighbourhood, be sure to check out Terra Mitica – a major theme park located around 40 minutes from Benidorm. With enough attractions to rival Disney Land, Terra Mitica provides a fun family day-out alternative to buckets and spades.
Guadalest
Following on along the same route as Terra Mitica, make a pit stop at Guadalest. In recent years, it has earned something of a reputation for being Spain's most visited "traditional" village.
With a stunning location 600m above sea level, it's easy to see why this charming medieval village attracts such large numbers of visitors. If you're planning a trip, try to set off as early as possible, as Guadalest fills up quickly in the afternoon, making parking spaces seem as scarce as hen's teeth.
Be sure to bring a camera with you so you can make all your Facebook friends envious of the spectacular backdrop in your profile picture.
Jijona
Allergic to huge crowds of tourists? Then Jijona (or Xixona in Valenciano) is the town for you! Located 25km north of Alicante, in the foothills of the mountains, Jijona is a sleepy little town that is far too busy concentrating on churning out delicious ice-cream to worry about how to reel in coach loads of tourists.
Well, that's in the summer anyway. If you visit in the winter months, you'll find locals up to their eyes in sugary Túrron, the chewy Christmas treat made from honey, sugar, egg white and toasted almonds.
Cartagena
Cartagena is situated 123km to the south of Alicante and is home to sun-drenched beaches, shady palm trees, ancient archaeological sites and above all, jaw-droppingly beautiful scenery.
North Africa is situated just 120 miles across the Mediterranean. To give you some idea of its close proximity, basically if you were to travel due south, you'd hit Oran in Algeria dead on.
If you want to get the most out of your day-trip to Cartagena, make sure you include a walk to La Concepció Castle. Begin at Calle Gisbert next to the 18th century Autopsy Pavillion, before you ask, yep, it does what it says on the tin (it was built outside of the hospital to avoid upsetting sensitive patients).
From here you'll have to endure a bit of a steep climb, but sights such as the Roman gladiatorial arena and the old cathedral will help buoy you along. When you reach the summit, you'll find a clever little visitor centre, where you can learn all about the local history.
Don't miss the view from the castle's mirador. On a clear day, the harbour is especially breath taking.
Valencia
For a longer day-trip, it's difficult to find a destination that matches the charms of Valencia. A 177 km (110 mile drive) from Alicante will take you to the bustling university city that is currently being touted as the new Barcelona.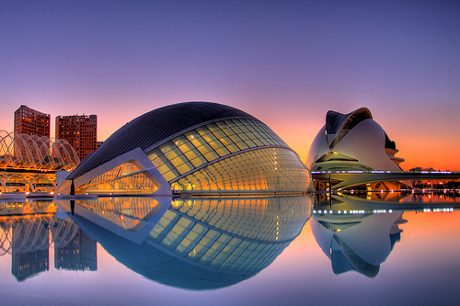 Photo: envision
Valencia deserves the hype too. Everyday, hundreds of day-trippers make the pilgrimage from Alicante, relishing the chance to reap the benefits of a big city.
You'll understand once you get there, as world-class shopping, museums, galleries, shops and bars all vie for your attention.
If you're planning a spot of sightseeing, it's best to start at the old quarter. Here you'll stumble across the impressive remains of the old Torres de Serranos and Torres de Quart.
More ancient footprints can be seen in the Seu and Xerea districts, where Roman and Arab remains lie hidden beneath modern churches and palaces. Of course, nobody should consider leaving Valencia without tasting the city's signature dish, paella.