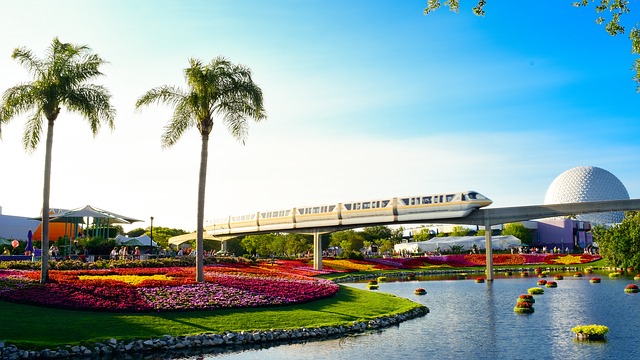 When it comes to vacation destinations in the United States it's hard to go past Florida. With its temperate climate, fabulous beaches, and activities for all age groups, you are sure to find it in Florida. Winter, spring, summer or fall, a wondrous vacation awaits you in the sunshine state.
Here are just a few of the fun things to do in Florida.
Golfing in Florida
Florida is home to some of the most beautiful golf courses in the the US. There are more than one thousand golf courses, with golf resorts and spas that rival the most luxurious anywhere in the world.
With miles upon miles of beautiful green fields, it's no wonder many golfers choose to retire here to spend their days practicing their game. If you have never played before, or you are looking to improve your game, there are plenty of golf schools where you can get the basics right or improve your style before getting out on the courses.
Orlando Theme Parks
One of the biggest attractions in Florida is Orlando, which is home to many theme parks. Roller coaster lovers will get their heart pumping in the Islands of Adventure. Examples of the thrill rides include the Hulk, Spider Man, Dr. Doom and Dueling Dragons. One of best known theme parks is Universal Studios Florida which is home to rides like Shrek, Men in Black, Jaws, Twister and The Mummy. City walk is located in the center of the park and offers shopping, restaurants, live music and nightclubs. There are three luxurious on property hotels – Hard Rock Hotel, Loews Royal Pacific Resort and Loews Portofino Bay Resort.
Disney World
If your family has never experienced Disney World, then you are missing out. Disney Worlds sits on 25,000 acres in central Florida, and it offers four theme parks, 24 hotels, two water parks, health spas and five golf courses. Downtown Disney is a great destination to get your shopping on. Once you arrive on Disney property you never really have a need to leave. You can spend a week keeping busy with all of the things to do. You will not get enough of fun things to do. If you are seeking thrills, there are several roller coaster rides and fun rides in the water parks. If your purpose of a holiday is relaxing, you can do that very easily. Just sit poolside at one of the resorts with your favorite book and beverage.
Ichetucknee Springs State Park
This state park surrounds Ichetucknee River, which flows six miles through shaded wetlands. A favorite summertime activity here is tubing down the river in an inner tube or raft, pulled by the current. The water is a fresh 72 degrees and crystal clear, providing a spectacular view of the wildlife along the river.
Everglades National Park
In the southern part of Florida, you will find a 1.5 million acre park which happens to be the biggest subtropical wilderness in the United States. The Everglades are home to roughly 350 species of bird, 40 species of mammals and 50 species of reptiles. To get a true Everglades experience you should ride through the waterways on one of the famous airboats.