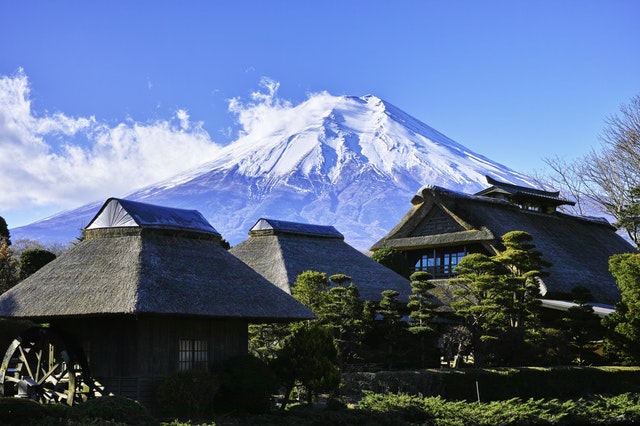 The island nation of Japan is fascinating and complex. It's an ancient nation with deep-rooted cultural traditions, historical treasures, and stunning landscapes.
Most visitors to Japan arrive in Tokyo first, which is a logical place to start. However, you should also go and see some other sites in Japan to get a better understanding of the country. Note that no matter where your plans take you, make sure you have additional protection from MedjetAssist. The cost of emergency transportation and general medical care can be very expensive here, so having coverage is a must.MedjetAssist membership can get you the medical treatment you need and transport you to a hospital closer to home, if needed.
Ready to start planning your trip? After you've explored the capital city, here are some other highlights to consider.
Takeda Castle, Asago, Hyogo Prefecture
This structure is also known as the castle floating in the sky, or Japan's version of Machu Picchu. It looks like it's floating on a sea of clouds, especially on foggy autumn mornings. Takeda Castle is located in Asago City, Hyogo Prefecture, and dates back to the 14th century. This castle was abandoned in the 17th century, and today the surrounding area remains as a preserved ruin.
Hiroshima Peace Memorial Park, Hiroshima
Although an atomic bomb destroyed 70 percent of Hiroshima in 1945, the city has since rebuilt itself and made incredible efforts to commemorate those who were lost in the war. Today, Hiroshima serves as an everlasting symbol of peace. Lush grounds and gardens filled with colorful cherry blossoms permeate the city. Hiroshima Peace Memorial Park lies at the heart of the blast site. It's home to museums and memorials related to that fateful day.
The Atsuta Shrine, Nagoya
The Atsuta Shrine is one of the most popular shrines in Japan, and it's located in the heart of Nagoya. It has been rebuilt over the centuries, and it's home to the Grass-Mowing Sword, which is said to be one of only three in Japan. Its principal shrine, Hongu, is enclosed by a wall and includes numerous treasures, such as traditional masks, ceramics, jewelry, and ancient paintings.
Kabira Bay, Ishigaki Island, Okinawa Prefecture
Beyond the main islands of Japan, it's not all shrines, castles, and skyscrapers. On the southern end of Japan lies a string of islands with a different climate and vibe. Kabira Bay is an amazing spectacle with its clear emerald water and sandy white beaches. Although you can't swim or snorkel here due to the fast-moving currents, you can take a glass-bottom boat ride to see the underwater world as you enjoy the views below and above the water.
Shikisai-no-Oka, Hokkaido Prefecture
is a scenic year-round flower garden in the quaint hillside village of Biei-cho. As the name Four Seasons of Color suggests, this area provides a spectacular view of the flower gardens of Oka-no-machi Biei. The land is home to hundreds of different species of flowers, including tulips, lupines, salvia, sunflowers, lavender, Japanese anemone, and dahlia. To catch the fields at their best and most colorful, visit between April and October.

These sights are just a few we've selected as destinations that aren't as well-known outside of Japan. There's a whole lot more to see, so you'll have plenty of options for spending time in this intriguing land.