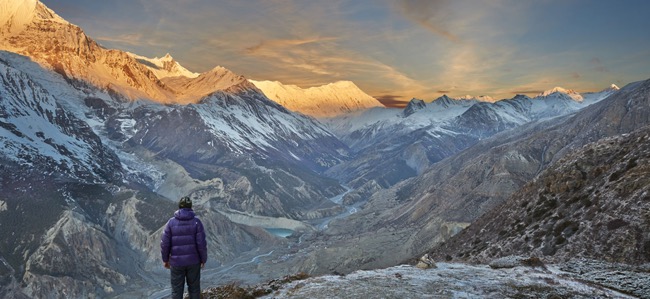 The Annapurna Circuit trek is central Nepal's 100-145 mile route, which circles Nepal's heaven-high Annapurna mountain range. Depending on where the trek ends and where transportation was used dictates the mileage. Known as the "Holy Grail of trekking", the Annapurna Circuit trek was first opened to foreigners in the late 1970s. The original trek began in the market town of Dhumre at the Kathmandu-Pokhara highway and ended in Pokhara. It took early trekkers around 23 days to complete the entire circuit. Some areas have been closed off, so today it takes around 15-20 days for most trekkers to complete the Annapurna Circuit trek.
During the wet season, much of the Himalayas cannot be trekked; however, much of the Annapurna Circuit trek is located within a rain shadow. A rain shadow is a region having little rainfall because it is sheltered from prevailing rain-bearing winds by a range of mountains or hills. So technically, you can trek the Annapurna Circuit all year long. If you want to avoid the crowds during the summer and fall months, take the Annapurna Circuit trek during off-peak seasons. The only problem with off-season trekking is that the days are usually damp and clouds obscure many of the views. Finally, remember that you will start out in hot and humid conditions and end up in cooler climes, the higher you go.
When taking a trek to Everest base camp, you will need two different permits to trek within Nepal. The first permit required is the Trekkers Information Management System permit (TIMS). The TIMS will cost $10 USD if you are part of a group and $20 USD if you are trekking alone. Fees, passport copy and passport size photographs are required to obtain a TIMS Card from the Tourist Service Center, Bhrikutimandap, and Trekking Agencies' Association Nepal (TAAN) Office in Maligaon and Government registered trekking companies in Kathmandu and Pokhara. TIMS Card can also be obtained from TIMS Counter at NTB Regional Office in Pokhara. Foreigners are required to obtain an entry permit from the Annapurna Conservation Area Project (ACAP) for $20 USD.
It is advisable to get money from Kathmandu before you head out on your Annapurna Circuit trek, as there is limited availability of ATM machines once on the trail. If you buy your gear and all your other supplies in Kathmandu, you are looking at approximately $500 USD for the two-week trek on the Annapurna Circuit. You should also consider buying travel insurance before undertaking an Annapurna Circuit trek. You also want to be sure the insurance specifically covers trekking altitudes of up to 6000 meters or 3.7 miles.
Much of the food is a variation on Asian themes. Other foods have hybrid Tibetan, Indian and Thai origins. Momo are Tibetan style dumplings with Nepalese spices and are one of the most popular foods in Nepal. Originally, they were filled with buffalo meat but now also with goat, chicken or vegetable. Dahl-bhat-tarkari is eaten throughout the Annapurna Circuit trek as well. Dalh is a soup made of lentils and spices, served over boiled grain, usually rice. You can also find eggs, pancakes and porridge for breakfast and Dalh Baht, fried potatoes with mixed vegetables.
Knowing what to pack when going on an Annapurna Circuit trek is very important. Beyond packing clothes for all weather conditions, you also want to pack a first aid kit with Band-Aids. Your first aid kit should also have the following items:
– Rehydration salts
– Water Purification Tablets
– Acetazolamide tablets (used to minimize the risks of getting altitude sickness) *
– Dexamethasone tablets (used to treat acute mountain sickness) *
– Roll of toilet paper
*Consult your doctor before taking any new medication.
Besides clothing and first aid supplies, your footwear is extremely important so bring hiking boots that you have already broken in to prevent blisters.
The Annapurna Circuit takes you through some of the most beautiful scenery that Nepal has to offer. While on an Annapurna Circuit trek, you can expect to see lush green jungle and farms to barren and rocky mountains the higher you travel. However, depending on weather conditions, the trails may be muddy, slippery, rocky or wet.
When going on an Annapurna Circuit trek, you can find both guides and porters for hire in guiding or carrying your gear. You can find a guide for around $25/day and a porter for around $15/day. Deciding on using a guide or porter on an Annapurna Circuit trek is a personal choice and your decision is dependent upon your confidence and physical condition. You should always speak to your doctor before making the decision to go trekking alone or with a guide.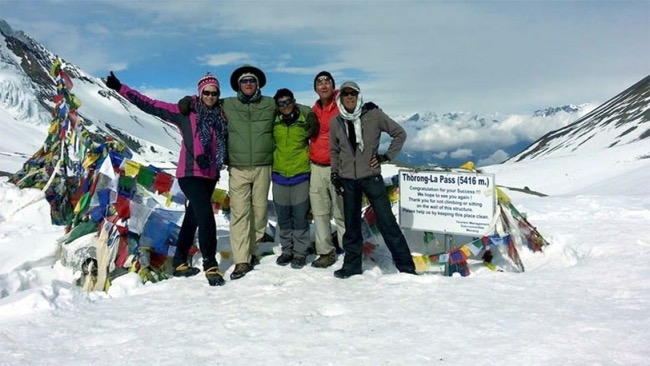 While on an Annapurna Circuit trek and along the trails, you will find teahouses in which to rest, eat and drink. Often, they have electrical outlets in which to plug your gear into or an attached bathroom. Wi-Fi is available on the lower elevations along the trail; however, it is limited. As previously mentioned, you will find teahouses all along the Annapurna Circuit trek. Here you can buy your meals and snacks; however, be aware, the higher you travel, the more expensive goods will be. For snacks, you should bring your own protein-rich bars to keep your energy up and your cost down. When it comes to water, make sure you stay hydrated at all times. Be sure to either drink bottled water or use purification tablets. Under no circumstance should you drink tap water in the area.