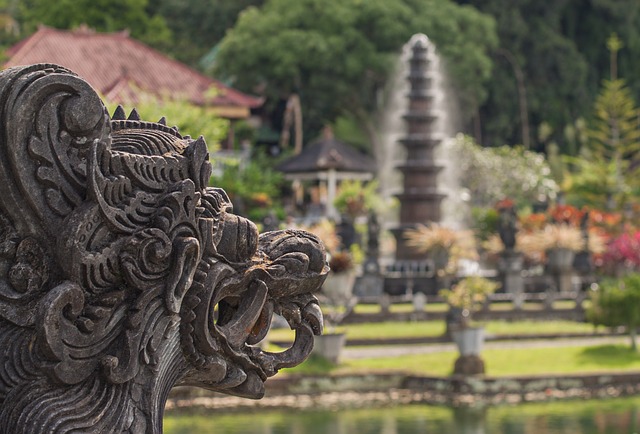 The nuptial journey binds two people together in a relationship that is based on love, trust and understanding. But it takes time for two individual to get attuned to each other and create a life full of love and harmony. So what can be a better place than a honeymoon? The honeymoon is the time when two people become one and entangled in love and passion enter a new phase of life. So if you are planning to opt for a romantic, adventurous and a secluded place, then nothing can beat Bali. Get exciting honeymoon packages at affordable prices by purchasing voucher codes from Bydiscountcodes.co.uk and make your honeymoon memorable.
Here we bring best of places to explore in Bali:
Peninsular Uluwatu: Start your honeymoon at Uluwatu which has romance in its vibes. The laid-back atmosphere of the place will make you relax instantly with its breath taking beauty. You can also enjoy some intimate moments with your lady love at Balangan and Suluban, enjoy Kecak Fire Dance and relax at Hotel Alila.
Volcano walk at Mt. Bantur: Go for an early morning hike to Mt. Bantur. It has an active volcano 1700km above sea level that will make your jaw drop. The hot springs, Crater Lake and aesthetic beauty of the place with make you awestruck and make the trek worth the trouble. On your retreat, do visit Pura Besakih, a most popular Hindu temple in Bali and a sumptuous meal at Gunung Batukuru.
Crystal Bay: Penida Island is one of the romantic places in Bali which has hidden in it crystal bay. Crystal Bay is popular because of its turquoise coloured water, aesthetic beauty, snorkelling and sumptuous BBQ. Book a romantic cruise from Penida Island to Crystal Bay and surprise your partner. Cruising in turquoise water with spectacular coral reefs and beautiful surroundings will make your day blissful. You can look for ferries and cruises deals while purchasing the package.
Water sports at Menjangan: If you love water sports and want to explore the exquisite marine life and coral reefs then Menjangan is the place you cannot miss. It is located in west Bali and is relatively less crowded. Dive deep into the clear waters, explore the rich coral reefs, and swim with colorful fishes. A dive with your partner in the cold water will ignite passion in your relationship and make you go crazy.
Pasir Putih Beach: This beach is like heaven on earth with its pristine beauty and clear water. The crescent shape beach is secluded and perfect for newlyweds to enjoy some personal time, go for a boat ride and enjoy the beautiful sunset. The tranquillity of the place will make you forget the world and just be at the moment.
Honeymoon is not just a journey but a phase that brings two people together. It is the time when two people understand each other, accommodate each other and become part of each other. So plan your honeymoon in advance and don't let anything ruin your special holiday.