Traveling always comes with its fair share of risks, but one risk that can easily be mitigated with a little education is the possibility of picking up bed bugs during your travels. Bed bugs are hitchhikers and love to hop around from luggage to trains to clothing and end up wherever you go. Since exterminating bed bugs on the road during your travels is not usually possible, the best you can do is to educate yourself on how to proven them in the first place. This infographic on bed bug prevention by NYC based exterminators bedbugforce.com illustrates some of the ways to identify and prevent bed bugs during your adventurous travels.
Bed Bug Identification
Bed bugs are about the size of an appleseed, reddish-brown in color and have a rather elliptical shape. You can find them in just about any part of your hotel room, but are most common around the bed, nightstand or any object that has nooks and crannies (something like an alarm clock for example).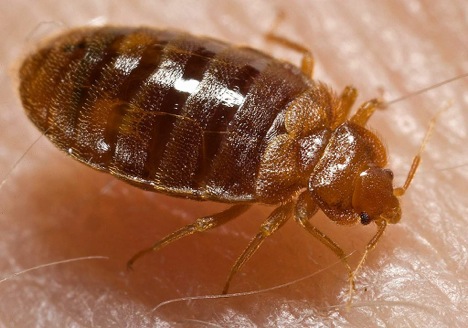 Items to Pack
When you're hitting the road, you'll want to keep in mind these things to help prevent bed bugs:
Pack a flashlight for inspection purposes
Use a hardshell suitcase (easy to clean) or collapsible suitcase (easy to wash)
Bring a plastic bag to wrap your suitcase in to be extra safe
Read online reviews carefully for previous bed bug sightings
Inspecting Your Hotel Room for Bed Bugs
You'll want to be as thorough as possible when inspecting your hotel room. Start by putting your luggage in the bathroom as they are harder for bed bugs to exist in due to slippery surfaces and few hiding places.
After you have stored your luggage in the bathroom you'll want to check these areas in your hotel room:
Head boards
Box springs
Night stands and screw holes
Book shelves, alarm clocks
Sheets, pillows and mattress seams
After you've determined that you don't have any bed bugs, be sure to keep your belongings off the ground for the entire length of your stay. This ensure that you don't get any bed bugs crawling into your belongings that you may have missed during inspection.
Inspecting Rental Cars
It's not very common, but since bed bugs are hitchhikers they can also be found in rental cars and still get into your luggage. Be sure to check the tires, trunk and interior for any signs of a previous bed bug presence. If you find any signs of them, be sure to request a new rental immediately.
Arriving Home
When you get home be sure to wash all of your clothing in hot water and check your luggage outside of your home with a flashlight to ensure that you haven't picked up any bed bugs along the way. This step is crucial as it is the point at which you bring your belongings into your home. If you end up missing a single bed bug during your check, you can easily introduce an entire infestation into your home. Be sure to be thorough and ensure that you are in fact bed bug-free.
Being Smart about Bed Bugs
When traveling it's paramount to be fully cognizant of the habits of bed bugs, how to identify them and where to find them when you're arriving at a new destination. Don't take any chances, educating yourself about bed bug prevention is the key to a happy, safe and adventurous trip during your travels.
Check out the infographic below for more information.