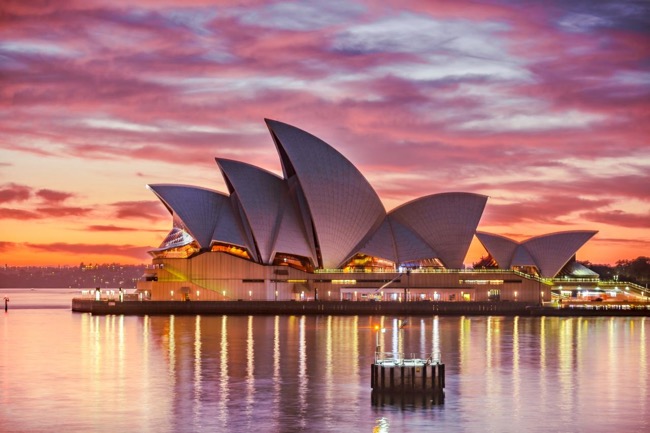 Sydney is the city that has a lot of diverse attractions to offer to its visitors. From Bondi beach activities to magnificent Botanical Garden, this city is one of the most popular tourist destinations. But besides all these things, Sydney can also show you more if you let it.
This Australian metropolis is also a home to a variety of artistic places with galleries and museums that have impressive collections. But that is not all since street art and exhibitions are also sights to behold and add to Sydney's charm. So, when in Sydney, go and visit some of the following artistic locations and meet this amazing side of this city as well.
1. Graffiti on Surry Hills
Every city has its graffiti collection that people like to stop by and admire. And so does Sydney with its magnificent collection of street art on Surry Hills. Façades and sides of buildings are covered in trees, portraits, animals and all of them are painted in different styles and motifs. This is an ever-changing art and you will probably see different ones every year since they tend to be overpainted or replaced. But that is the magic of graffiti art, the constant change, and transience of the medium.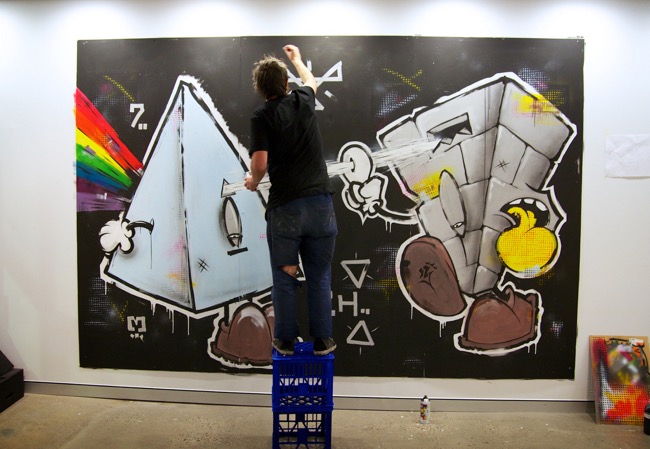 [Image via JAM Project.]
2. Chinese art at the White Rabbit
White Rabbit is a four-floor building which offers a glimpse at the 21st-century Chinese art. This is a privately run gallery by Judith Neilson who wanted to exhibit her post-millennial collection of Chinese art. The gallery opened in 2009 and now it's one of the most famous artistic places to visit in Sydney with affordable gift-shop and tea house on the ground floor. The gallery is opened from Wednesday to Sunday at 10 AM – 5 PM and it's free.
3. Sculpture by the Sea
Sydney beaches don't only offer good waves to surf and other water sport activities, some are also home to Sculpture by the Sea concept. This is a public event in Sydney that continues a beautiful tradition of art in the open space like Opera in the Park, for example.
This year, there will be 22nd Anniversary Bondi Exhibition on Bondi Beach from 18 October to 4 November. It will feature a 2km-long exhibition with over 100 sculptures by artists from Australia and over the world. So, if you are in Sydney at that time, stop by the exhibition and enjoy some marvelous art pieces and take memorable photos home.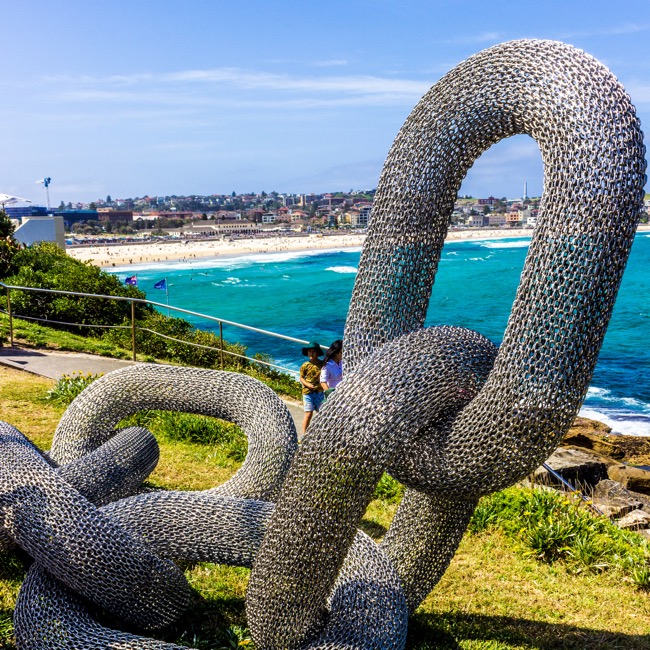 [Image via Danijel-James Wynyard.]
4. Australian Centre for Photography
If you are a fan of photography, then the Australian Centre for Photography should be on your list of places to visit in Sydney. This institution is home to many exhibitions and programs, and it also organizes many quality photography workshops. Additionally, the ACP likes to include the audience in the process of developing photography as part of the visual culture.
Founded in 1973, the ACP is opened Tuesday to Friday from 10 AM to 5 PM, and on Saturday from 11 AM to 4 PM. Currently, ACP Project Space Gallery is a home to an exhibition Prelude to Oceans from Here which will last until September 15, 2018. The entrance is free while the photographs will leave you in awe of the beautiful and "fragile connection between the human species and environment."
5. Aboriginal Art Galleries
Aboriginal Art Galleries are a group of family-run galleries that are dedicated to present the magnificent indigenous art on several locations in Sydney. It has been working with Aboriginal artists and showcasing their work for over two decades. They even exhibit the art all around the world in places such as Japan, USA, and Hong Kong.
You can visit one or both of their locations at the Opera Quays and the Queen Victoria Building, and they even work on Sunday from 11 AM to 5 PM. Besides enjoying the art, you can also buy a piece if you're interested and ask expert curators about the details on the author.
6. Art Gallery of New South Wales
Art Gallery of NSW exists since 1871 and today this is a leading place to promote New South Wales art. It also has a very impressive collection of Australian, European and Asian art. With more than 40 exhibitions per year, this is also a place to catch up on some art programs. Namely, every Wednesday night until 10 PM you can listen to lectures, attend screenings and of course visit exhibitions.
There are annual exhibitions like ART EXPRESS and Archibald Prize, restaurant Chiswick at the Gallery and a number of access programs to engage the audience. Over one million people visit the gallery each year for various reasons although the modern and contemporary works displayed there are the main attraction.

[Image via Kayhadrin.]
All in all
There are so many artistic places to visit in Sydney that you will have to spend a considerable amount of time in this city to see them all. However, even visiting the ones we highlighted will give you enough artistic stimuli to come back for more.