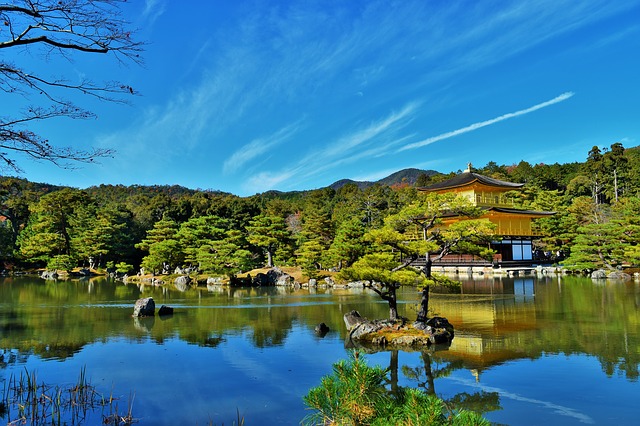 When you are planning a holiday to Japan, you may feel overwhelmed by the vast array of excellent places to visit. However, one city which should certainly be on your itinerary is Kyoto; a fascinating area, filled with fabulous culture and stunning scenery. It is a great place to unwind from your day to day life and learn about new cultures and traditions.
Osaka International Airport is the main airport for Kyoto, if you've got a long flight you might not feel like trying to navigate the public transport system once you arrive. Instead, it might be worthwhile pre-booking a taxi from the airport, and if you pay online in advance then you don't have to worry about having the correct currency to hand, or being overcharged. When you've had a good rest, the exploration can then begin; here are the best things to see and do in Kyoto.
Rail Tour
You can take a guided tour from Tokyo to Kyoto and Nara. You will get 2 day or 3 day rail tours on a bullet train. You can take a boat cruise on Lake Ashi and visit the Kyoto Imperial Palace, Golden Pavilion, and Nijo Castle. You can also see a stunning view of Mount Fuji from the train on a clear day. You will pass by the stunning scenery of the Hakone National Park and will also be able to take an aerial tram over the Lake Ashi. You can also visit a few temples and shrines along the way.
Cooking Class
Learn how to cook Japanese food with a Japanese family. There are places that offer cooking lessons for a small group of people at a time to learn traditional Japanese dishes. You will be joining them at their home to learn some simple recipes. You can learn the Izakaya style and learn how to make your own Bento Box meal.
You can find cooking classes where you can take a tour of the Nishiki Market and the chef will train you how to pick the right local produce and fish for the dish you want to prepare. You will learn to cook Sushi, Tempura, Teriyaki chicken and several other traditional soups and broths. You can also sample different kinds of Saké during your classes.
Trekking
Japan has some truly stunning landscapes which can be explored by hiking the trails across the spectacular mountains. Here are few of the popular hiking trails. Kurama-dera to Kifune Shrine is easily accessible hike and you need to pay an entrance fee to go on this walking trail. Takagamine is another hike with stunning views of three mountains Takagaimine, Washigamine and Tengamine with cherry blossoms and other green plantations along the way. Kinunkei is a historic area with temples such as Jingoji and Kozanji. This hike passes through three villages namely Takao, Makinou, and Toganou.
You can hike this trail along the river Kiyotaka River while watching the view of the clear water and Kiyotama Cedars. Mt. Daimonji (Nyoigatake) is a mountain famous for its summer cultural event named Gozan-no Okuribi which means the five giant bonfires. The view of Kyoto from the top is stunning and worth the hike. Mt. Hiei which is located on the border of Shiga and Kyoto is a hike from where you could see the Lake Biwa and the Kyoto city.
Temples
Kyoto is known for its stunning temples and shrines. It has soaring high temples and small temples where you can relax in your own space for quiet contemplation. The monuments have stunning Japanese styled architecture and they have scenic views beside them.
You can visit the Daitoku-ji Temple, Genko-an Temple, Kifune-jinja Shrine, Chion-in Temple, Eikan-do Temple (Zenrin-ji Temple), Yasaka-jinja Shrine, Kinkaku-ji Temple (Golden Pavilion), Tenryu-ji Temple, To-ji Temple, Daigo-ji Temple and Sennyu-ji Temple. There several other temples and shrines that can be visited based on your location of stay or the tour you have opted for.