For so many people a vacation to Hawaii is a dream. But if you are on a budget, you may think you can never get there, well think again. You just have to know the secret to finding affordable Hawaiian accommodations. And, the answer is, a timeshare rental.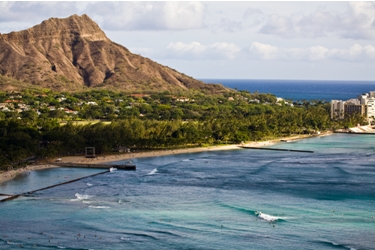 Renting a timeshare from the owner can really save you money. Often times, the price you pay will be 50% less than a hotel. And instead of getting a cramped hotel room, your timeshare rental will give you plenty of space and a kitchen, too. Timeshare rentals provide spacious accommodations that include separate bedrooms, a living room, a dining area, and a patio or lanai. It's a perfect home-away-from-home and especially great for family travel.
And you'll really appreciate the full-sized, fully-equipped kitchen, giving you the chance to prepare meals that are filling and delicious while saving money on high-priced restaurants. Hawaii certainly offers nature's bounty in delicious fresh fruits and vegetables, often available at farmer's markets, along with fresh caught fish and seafood. You can prepare your own version of Polynesian dishes right in your own timeshare kitchen, and feast like Hawaiian royalty.
Your timeshare rental will be attached to a resort, and all of the resort's amenities are there for you to enjoy: Several pools, often with waterpark features, separate kiddie pools, and hot tubs. Many Hawaiian resorts have water sports such as snorkeling and wind-surfing, and even offer classes in lei making and hula dancing. You may also find spa facilities at the resort, additional fees will apply.
A timeshare rental is your opportunity to have a first-class vacation at your Hawaii dream destination – for a budget price. Timeshare rentals listed by owners are easy to find online. RedWeek.com have over 112 Hawaii resorts to choose from, including: HGVC Hilton Hawaiian Village, Marriott's Waiohai Beach Club, Westin Kaanapali Ocean Resort Villas and Marriott's Ko Olina Beach Club to name a few. Now's the time to start planning your special vacation in paradise!
Guest post by RedWeek