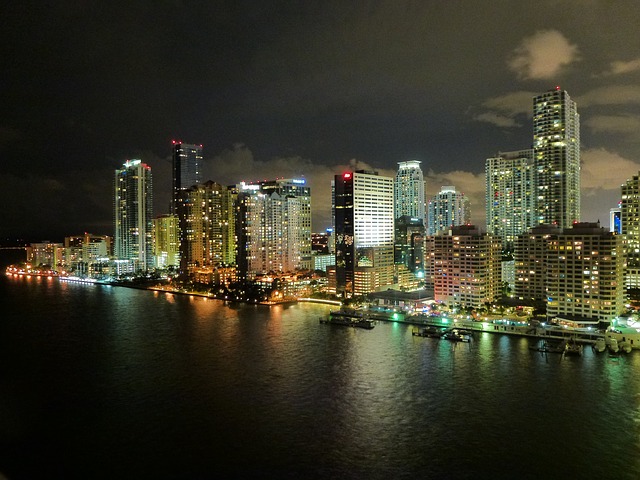 Each year millions of people flock to the Sunshine State to experience a paradise of tropical weather, sandy beaches and rolling surf. But if you can stand to drag yourself away from its world-famous beaches, there's more to Florida than the glittering shoreline.
Boasting everything from buzzing metropolitan areas to small sleepy neighbourhoods, there's plenty to offer every culture-vulture and urban explorer that's hungry for a taste of city life in the state of Florida.
Choose from a variety of Florida vacation villas to act as a base as you explore this wonderful location – or if you are feeling adventurous, you can always head off on a classic American road trip. Here are some of the cities to include on your "must-see" list.
St Petersburg
Location: Western Florida (2 hrs drive from Olrando, 30 mins drive from Tampa)
Sitting at the tip of the Tampa Bay, St Petersburg boasts all the benefits of the Tampa nightlife and entertainment scene, but with a slightly more laid back atmosphere and plenty of cultural treats.
St Petersburg certainly lives up to its nickname "The City of Arts", and the famous Salvador Dali Museum is reason enough to visit this culturally rich destination, but there are plenty of other choices for museums in the area. Even the children in your party will be entertained with places such as the Great Explorations Children's Museum, which combines the fun of soft play with hands-on exhibitions and workshops.
The hustle and bustle of a city trip can be tiring for some, but St Petersburg has more than enough natural beauty to satisfy those seeking a spot of tranquility. Nature-lovers can find their paradise in places like the Sunken Gardens, where 50,000 tropical plants and flowers have been cultivated over more than 100 years.
For those seeking active excursions during their stay, Boyd Hill Nature Preserve and Weedon Island Preserve are just some of the places where you can enjoy outdoor activities such as hiking, biking and a range of watersports.
At the end of a tiring day of museum-hopping or kayaking, St Petersburg is the perfect place for you to relax and soak up the sun. St Petersburg is home to numerous world-renowned beaches, and just this year, St Pete beach was voted as Trip Advisor's no. 4 beach in the U.S. Taking in the sunset on the long stretches of undeveloped coastline is the perfect end to a busy day of sightseeing for the whole family.
St Petersburg According to Tripadvisor:
Sites and landmarks: 14
Museums: 31
Art galleries: 18
Fine dining locations: 14
Shopping locations: 55
Nature and wildlife locations: 6
St Augustine
Location: North-east Florida (2hrs drive from Orlando, 50 min drive from Jacksonville)
St Augustine is located in North-east Florida, and is a must-see for any history lover. Thought to be the oldest continuously occupied European-founded city in the United States, St Augustine continues to impress tourists with its beautifully preserved Spanish colonial architecture dating back as far as the 1600s.
Sunny Florida is perhaps the last place you'd expect to get such a taste of colonial America, with so many of the original settlements being situated in the New England area. But historical attractions such as Castillo de San Marcos, Old City and St. George Street are perfect for tourists to get lost in – allowing you to enjoy relaxing walks down cobbled streets that transport you back in time.
Whether you're documenting the day with photography or exploring the quaint local cafes, St Augustine provides a laid back experience. Despite tourist numbers increasing every year, this historic city still manages to retain a uniquely tranquil, small-town atmosphere.
If you're seeking a sanctuary away from the skyscrapers where you can take it slow and get to know the locals, then St Augustine can make for a fantastic one or two-day excursion from Florida's busier metropolitan areas.
St Augustine According to Tripadvisor:
Sites and landmarks: 52
Museums: 48
Art galleries: 22
Fine dining locations: 8
Shopping locations: 132
Nature and parks: 23
Miami
Location: Southeastern Florida (3 hrs 40 minutes drive from Orlando)
If you're in need of a slightly more exciting city break destination, Miami is the place for you. Visually one of the most recognisable cities in not only Florida but the whole of the U.S., Miami is the second-most visited destination in the state, boasting over 16.5 million visitors in 2018. With its palm tree-lined beaches, iconic architecture and vibrant cultural scene, it's easy to see why Miami is such a popular location.
One of the biggest draws for visiting Miami is most definitely its buzzing multicultural atmosphere, and the cuisine and music that come with it. If you've ever wanted to visit Cuba but haven't had the chance, then Miami will give you a flavour of Latin America without the plane fare.
Little Havana, for example, is a Latin American gem where you'll hear Spanish spoken on every corner. Sample the traditional, mouth watering food and enjoy the Latin American art galleries and culture.
When the sun goes down in Miami, you're never too far from a chance to dance the night away, with over 100 nightclubs to choose from. From three story clubs to trendy rooftop bars, Miami's nightlife is bursting with music from all over the world.
But if you prefer a more relaxing scene, then you won't be disappointed. Taking a drive through the Art Deco District is a calm and truly memorable experience, whatever the time of day. The 1930s-inspired buildings will warm the heart of any architecture lover, and the district truly comes to life after dark with its neon signs and classic feel.
Whether it's soaking in the sun on Miami Beach itself or basking in the city's dazzling glamour, Miami is one of the cultural highlights of Southern Florida.
Miami According to Tripadvisor:
Sites and landmarks: 56
Museums: 26
Art galleries: 42
Fine dining locations: 163
Shopping locations: 137
Nature and wildlife areas: 7
Watersports: 40
Tallahassee
Location: Northwestern Florida (4 hrs drive from Orlando, 2 hrs 30 mins drive from Jacksonville)
Like many state capitals in the U.S., Tallahassee is by no means the liveliest or the busiest destination in Florida. In fact, this city is perfect for anyone seeking a taste of the slow-paced, homely and hospitable environment that feels familiar to the Deep South.
Tourists won't find as much nightlife in this part of Florida as in larger cities like Jacksonville, but those travelling to Tallahassee will be mesmerised by its parks and wildlife refuges. Florida's subtropical climate is a haven for outdoor recreation and wildlife conservation, but Tallahassee stands out from the crowd. The city's Parks, Recreation and Neighborhood Affairs Department has previously received the "Best in America" national gold medal award from the National Recreation and Park Association, a sign of its unique quality.
Tallahassee's historic districts may not date as far back as colonial St Augustine, but they boasts many perfectly preserved buildings and mansions. Gallie's Hallradiates 18th and 19th century America, while museums such as The Museum of Florida History also showcase the state's rich history, from the Civil War to contributions by successful and inspirational women.
Nestled among the state's more bustling and busy cities, Tallahassee offers a peaceful retreat for the weary traveller, with a healthy dose of southern hospitality.
Tallahassee According to Tripadvisor:
Sites and landmarks: 23
Museums: 12
Art galleries: 19
Fine dining locations: 11
Nature and parks: 22
Orlando
Location: Central Florida
Last, but certainly not least is Orlando – home to The Happiest Place on Earth as well as many other theme parks that could easily be considered a vacation destination in their own right. While Walt Disney World is the most famous of these, there's more to Orlando than the illustrious House of the Mouse.
Though it has quieter neighbourhoods, Orlando is known for being an exciting and thrilling destination with a little bit of something for everyone. Whether it's shopping for your favourite brands at affordable prices in places like Orlando Premium Outlets, or trying indoor skydiving at iFlyOrlando, Orlando has it all.
However for those with a more artistic side, Orlando Museum of Art is just one of many vibrant and impressive galleries, boasting a vast range of collections of traditional and contemporary art from a variety of cultures. Orlando also holds regular shows and throughout the year, from the acrobatic marvels of La Nouba Cirque Du Soleil to broadway-style shows, there's frequently something unique and entertaining to capture your imagination.
If you're a fan of water parks, the surrounding areas also provide a unique opportunity for tourists to dip their toes. Wildlife fans will be thrilled with Discovery Cove – an intimate opportunity for animal lovers to get up close and personal with dolphins away from the hustle and bustle of the neighbouring Sea World.
But like any city, Orlando can tire out even the most dedicated tourist. If you're looking to wind down, taking the time to visit Orlando's Downtown area can be the perfect end to an exciting day. Thornton Park is one of the most fashionable neighbourhoods in the area, and is a goldmine for those seeking that boho-chic atmosphere. Get absorbed by the trendy eateries, stylish boutiques, cobblestone streets and you'd be forgiven for thinking you've walked straight into a European city.
Orlando According to Tripadvisor:
Sites and landmarks: 41
Theme parks: 24
Museums: 27
Art galleries: 11
Shopping locations: 129
Fine dining locations: 95
Nature and wildlife areas: 8
Watersports: 16
—
Whether you're searching for vibrant nightlife, theme parks to keep you and your family busy, or a chance to slow down the pace and get to know the locals, there is a Floridian city perfect for your needs. If you're willing to hit the road and explore a little more of the Sunshine State, you will find an eclectic range of cities that can give you an authentic and real taste of what the state has to offer.