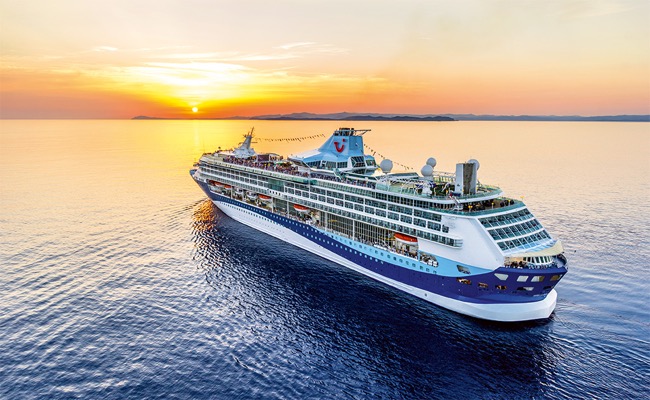 The latest line to hit the cruise world isn't really a newcomer at all – it's Thomson Cruises but with a whole new edge. In addition to a new name, this popular cruise line has added more than 20 new ports of call, new itineraries – including a few adults-only voyages – and new departure points.
Passengers can expect the same service and familiar ships, but with a distinct twist. Welcome to Marella Cruises.
Marella Cruises at a glance
As of the end of October 2017, Thomson Cruises has changed its name to Marella Cruises. This shift follows the overall rebranding efforts of the TUI Group – which owns and operates Marella Cruises – as it changes its official name from Thomson to TUI.
There's more to the story when it comes to the name 'Marella' too. It means 'shining sea' in Celtic, referencing the fleet's spirit for exploration and discovery on the high seas.
For all intents and purposes, Marella Cruises will be largely the same as Thomson Cruises – at least as far as the physical ships go. The only thing that will change about them are their names. Marella Cruises' fleet will now consist of Marella Discovery and Marella Discovery 2, Marella Explorer, Marella Celebration and Marella Dream. Thomson Spirit will become just Spirit, however, as she'll only be around for one more season.
Otherwise, cruisers familiar with the TUI stamp can still expect the same friendly service onboard a Marella cruise ship. Bookings can be made from the same places too, with many discount retailers proudly hosting the Marella Cruises fleet already.
Destinations on the map
Marella Cruises currently sails to 120 destinations, and this number is only expected to rise. The cruise line plans to add 22 new itineraries and 20 ports of call, beginning in winter 2018 when key routes expand further into Asia. Marella Explorer and Marella Celebration will also be based in Barbados from this date, offering a new and exciting window into the Caribbean.
This expansion sees Marella Cruises now voyaging into the Far East and Middle East, hitting destinations like Singapore, Cambodia, Thailand, Malaysia, Goa, Sri Lanka, the United Arab Emirates and Oman. These cruises will leave from Asia as well, although cruisers have the option of no-fly cruises too. The line operates holidays out of 22 airports around the UK and Ireland, allowing cruisers to avoid airports altogether if they wish to.
Marella Discovery in particular will now offer 18 new ports on 14 specific adults-only itineraries. Such holidays are geared specifically towards a more mature crowd, and feature activities and dining with adults and couples in mind.
Highlights of sailing with Marella Cruises
One of the unique features of Marella Cruises is that, due to its affiliation with parent-company TUI, cruisers will have the opportunity to take advantage of their Cruise & Stay programme. This allows cruisers to book from one of TUI's more than 140 hotels across 10 destinations on either end of their cruise holiday, including those from the ultra-luxury TUI Sensatori collection.
Another perk of Marella Cruises is that many of the line's fleet offer All Inclusive as standard. In addition to alcoholic drinks, dining and onboard activities, this label includes service charges and tips in the price so that cruisers don't have to worry about a thing while at sea.
Bookings for winter 2018 will open on 26th October 2017. Are you ready to meet Marella Cruises?