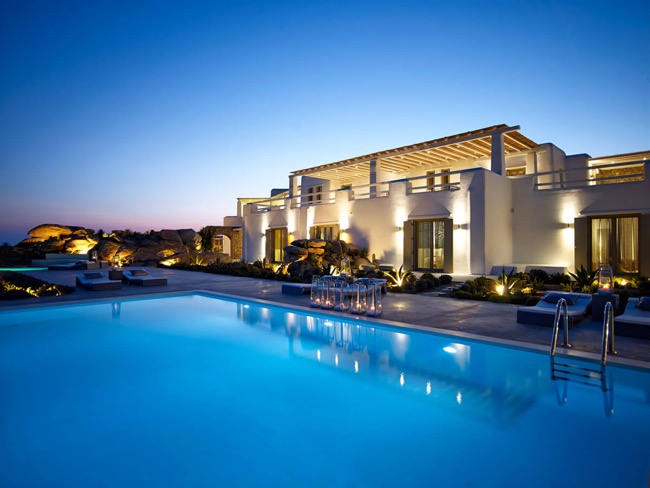 Mykonos is one of the most popular tourist destinations in Greece. What sets it apart from the country's literally thousands of islands is the fact that not only does it feature beautiful landscapes and traditional Greek island architecture, it is also famous for its nightclubs and parties. Simply put, Mykonos is the favorite destination of celebrities and jet-setters both domestic and foreign, which is why it is the ideal destination for anyone looking for a bit of luxury during their vacation.
Mykonos may be the perfect destination for those looking to spend their vacation like a celebrity, but if you want the true "superstar" experience, the best thing to do is rent one of the many luxury villas that can be found on the island. Those villas will provide you with incredible luxuries and opulence as well as privacy. They are there to provide an unforgettable stay to their guests.
That being said, renting a villa is only one part of the "superstar" experience. Finding a good package that will also include amazing services is essential for having the ultimate vacation experience. This is why choosing the right property management agency when looking for villas to rent, is essential. A property management agency will not only find villas for you to rent – or buy -, they will also ensure that you will have an amazing stay during your vacation. When it comes to agencies in Mykonos, Divine Property is definitely the cream of the crop.
Divine Property – Villas is staffed by local experts whose mission it is to ensure that each and every one of their clients enjoys a unique holiday experience tailored exactly to their needs and tastes. Apart from finding the most stylish, modern and luxurious villas to rent, they will also make sure that your stay on the island will be truly unforgettable.
The agency offers high quality services which include VIP transport from and to the port or airport and local guides on standby, ready to take you to the most beautiful places on the island and to get you in the hottest and most exclusive beach bars and clubs. Furthermore, they can staff your villa with butlers, maids and even professional chefs. They will even help you throw a party for your friends on the island. Basically, they will be there to ensure that you will have everything you will need to make your stay in Mykonos the best vacation of your life and one that you will be talking about for years to come.
If you would like to enjoy a truly luxurious vacation in Mykonos, Divine Property is the only agency you should turn to.