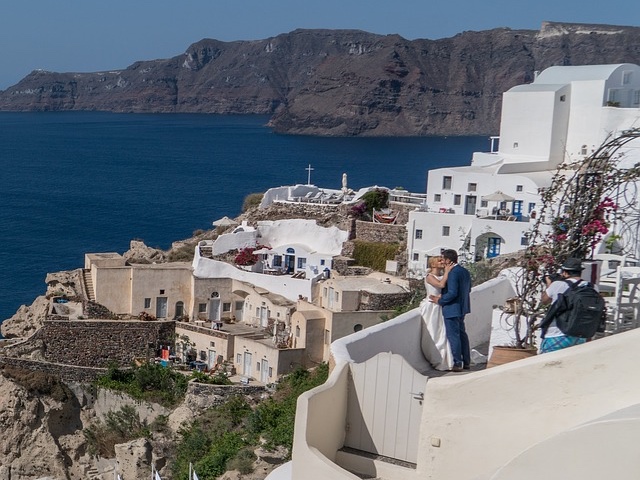 People want their weddings to be royal and regal. The motto is always – the bigger the better. While you can always host a big party right in your backyard to celebrate your wedding but taking off to an exotic location makes the moment special and unforgettable. So, here's a list of places which majority of couples chose as their wedding destination, based on data from AardvarkCompare travel insurance marketplace.
Bahamas
The land where Columbus first touched down in 1492 in the search for New Worlds deserves to be on the first spot in this list. Located below Florida state and in the lap of the Caribbean, this island conglomeration is a popular wedding destination. Its white sandy beaches which surround stunning blue oceans coupled with the tropical climate are the right place to say your vows. But if you want a little more drama then privately owned island, Castaway Cay is all ready to treat you as such.
Jamaica
Taking the third spot in the list of largest Caribbean islands, Jamaica is home to numerous wedding resorts which will cater to all your wants and needs. The home of hospitality, Jamaica is peppered with stunning locales and landmarks which are expressive of their diverse culture. Getting married barefoot in front of a sunset, as you sink your feet into the cool white sand is a magical experience. So, book your flights to Jamaica and try out the Trident Castle, Sandals Beach Resort or the Moon Palace Jamaica Grande to book your wedding.
Greece
The Mediterranean Paradise, Greece with its villages tucked into scenic cliffs along its unspoiled coastline, offers panoramic views which are as fascinating as its mythology. But historical ruins aren't the only things to admire in the islands of Santorini and Crete, which are perfect wedding destinations. You and your partner can go sampling wines at local vineyards or go horseback riding along beautiful tracks.
Hawaii
With a culture of its own, this warm tropical island is the epitome of magnificence. Its unending coastlines punctuated by towering mountains in the distance offers a scenic view that's perfect for weddings. While there is a bounty of islands to choose from, the islands of Kauai, Oahu and Maui are popular wedding destinations.
Italy
Beaches and oceans aren't the only places which prop up picture perfect weddings. Italy, with its inimitable culture and mesmerizingly beautiful architecture, offers a city wedding like none other. Book a wedding in one of its chapels or churches and walk down the aisle in the midst of the colorful light reflected from stained glass paintings. What to do after a wedding? No after -arty is complete without Italy's authentic pizzas and cuisines.
France
With Italy on the list, France can't be far behind. Housing the City Of Love and Lights, France is the ideal wedding destination for couples looking for the idyllic romantic experience. While weddings near the Eiffel Tower are popular, but if you want something as iconic but a little quieter, then there's always Notre Dame, Chateau du Rivau, and the French Alps.
Tahiti
Beaches continue to be popular wedding destinations, so the French Polynesian island is next on the list. There are many resorts offering all-inclusive beach weddings and chapel weddings packages. They will spoil you for choice with their views of scenic landmarks and panoramic views. Also, Tahiti's villas over the azure blue oceans surrounded by rich white sands are a sight which cannot be forgotten.
Norway
The home of the Northern Lights offers an endless wedding night. The Old Towne Bridge and the Kristiansten Fortress are popular wedding locations. But what about the after party? There's always Tavern på Sverresborg where one can enjoy an array of authentic Norwegian dishes. In the end, there's always Oppdal where you and your guests can enjoy some water sports to cap off a majestic wedding.
Turkey
Nestled between Western Asia and Eastern Europe, this nation is an intoxicating experience. From the heavenly fragrances of the spice market to the historical and religious monuments, this place is a storm in a cup. While there are a lot of ways to get married, the most recommended way to experience a beautiful wedding is to just book your own luxury sailboat. Make the deck your altar as you say your vows bathed in warm sunlight and look off into the shimmering water surrounding you.
South Africa
While Cape Town is in a league of its own but South Africa's countrysides and vineyards are stunning as well. How to go about with a wedding in here? Apart from marrying in one of the picturesque stone chapels, you and your wedding party can enjoy authentic South African cuisine at quaint cafes or mesmerizing fine-dine restaurants. If there's still too much energy to spend, then trekking up one of the hills for the majestic view will surely take your breath away.
Bali, Indonesia
No wedding destination list can be complete without Bali. Booking a villa on a secluded beach to enjoy the breathtaking views of the shimmering azure ocean as you sink your feet in the white sand and say your wedding views – this experience is unrivaled. As for the reception – the tropical paradise offers a cuisine as unique and fantastic as its panoramic locations.
Weddings are a once in a lifetime occasion and the destination plays an important role in how the memories of an event are remembered and cherished. Choose one of the destinations covered in this guide.