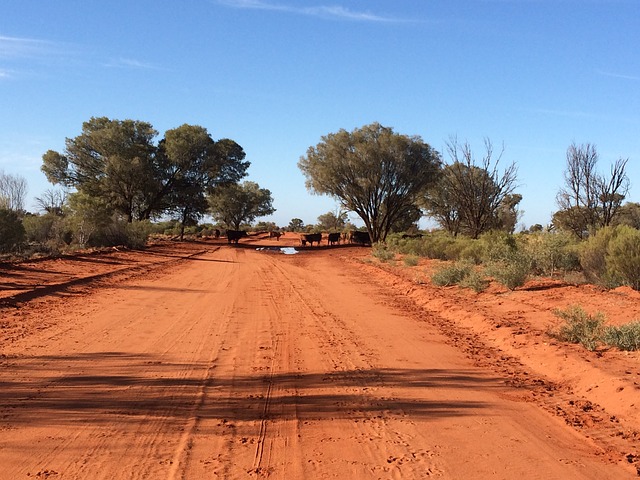 Australia is a beautiful and unique country with a vast landscape full of potential to explore. However, most of the Australian landscape is, to put it mildly, inhospitable. It is therefore essential that before setting off across the country, you understand exactly what it is you're getting into.
Australia is BIG!
The most common world maps that we are all used to seeing are actually not very accurate, they distort the sizes of countries. This is because these maps were designed to aid navigation rather than to accurately convey the size of continents.
Consequently most of us don't realize just how big the country is, it is huge! Driving between points on a map can take much longer than people are prepared for, a drive across Australia can be as long as a drive from London to Moscow.
In some cases, you can therefore find yourself many days travel from civilization and therefore if you run in to trouble it will be difficult to get help to you. You need to make sure you know the route you will be taking ahead of time, you should try and familiarise yourself with where any points of contact with other people are just in case. Note any landmarks that you can use to find your way.
Road Quality
Many visitors expect advanced European style roads everywhere but this is not the case. Many of Australia's roads, particularly in rural areas, are more tracks than actual roads.
A second-hand car without good off-road capabilities simply won't be able to cope with much of the Australian terrain.
Because of this you should aim to drive in a car with 4-wheel drive. Check 4WD Hire in Melbourne to see what 4-wheel drive car hire options are available.
It's One of The Most Urbanized Countries In The World
Australia is one of the most urbanized countries in the world; most of its population live on the coast in big cities like Sydney, Melbourne, and Darwin. The rest of Australia, the vast majority of it, is arid desert, and it is here that unprepared travellers run in to difficulty.
You Need to Be Prepared
It is important that you have an emergency supply kit with you that contains water and canned food to last several days, and the necessary tools to access the food as well of course.
It is a good idea to invest in a portable charger of some kind so you can recharge your phone in an emergency. Cell coverage will be spotty in the most isolated spots but it is constantly improving. It also won't take much space in most vehicles to include a flare gun or similar signalling device, should the worst happen, it could be the difference between life and death.
The Australian landscape has much to offer the curious visitor and as long as you take sensible precautions it is perfectly safe. Make sure to do as much planning and research as you can beforehand.