Istanbul features on many bona fide travellers' bucket-lists, and if you're only there for a short time, you'll have difficulty deciding what to do and where to go first.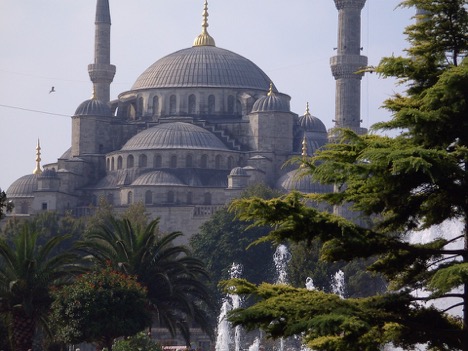 The city is a heady mix of old and new, east and west. Istanbul is a European city that is home to 14.37 million people, making it bigger than London, New York and Bangkok by quite some distance. It has an excellent public transport system and all the trappings of modern life, but it also has an exotic edge, with the call to prayer echoing around the city and amazing food to try wherever you go.
Istanbul has been home to Byzantine, Ottoman and Roman kings, so it's steeped with history. Although Istanbul only has one World Heritage site – while London and Paris have four apiece – it does include the majority of the historic quarter – the Sultanahmet.
The Sultanahmet
Every visitor to Istanbul goes to the Aya Sofia, an amazing church turned mosque which is now a museum. Its domed roof and gilded murals have drawn visitors for centuries. Then there's the Blue Mosque, originally built to compete with the Aya Sofia. It's named the Blue Mosque because of the Iznik blue tiles that cover the interior of the vaulted ceilings.

[The intricate beauty of the Blue Mosque, by archer10.]
 
A tour of Topkapi Palace will give you a taste of how the Ottoman sultans used to live. Home to the rulers of the Ottoman Empire for almost five centuries, it houses an amazing collection of jewels, clocks and other trinkets and trophies. According to a comparison of some of the  world's mega cities by ebookers, 11.6 million people visit the Topkapi Palace every year.
The Grand Bazaar is another huge attraction. With more than three thousand shops, it's a great place to wander and to have a go at haggling. Whether you're after a handbag, a lamp, or a carpet, you'll find it at the Grand Bazaar.
Along the Bosphorus River
The Spice Market is another place that everyone goes to visit in Istanbul. Be prepared for an olfactory awakening, as exotic scents of all the spices fill your nostrils. Most stallholders offer samples, so you can try before you buy.
The New Mosque by Galata Bridge may not be quite as splendid as Aya Sofia or the Blue Mosque but it is still very impressive and offers amazing views over the city. Galata Bridge acts as the separation point between traditional Turkey and modern Turkey so you're ideally placed to see the old and new cultures side by side.
The double-decker bridge is an attraction in itself. On the lower deck there are many fish restaurants and tea shops where you can watch the world go by, alternatively you can walk along the top of the bridge where the fisherman set up to fish.
istanbul Galata bridge pic.twitter.com/gVh2yEnStC

— Yılmaz Savaş Kandağ (@yskandag) November 24, 2015
Tips for first time visitors
The Sultanahmet is a great place to stay, with easy access to all the major attractions.
If you're female, don't forget to bring a head scarf so you can visit the mosques.
Istanbul is a perfect choice for a city break; a mix of cultural influences, a rich history and a vibrant modern side to it, too. It's no wonder so many people visit more than once.