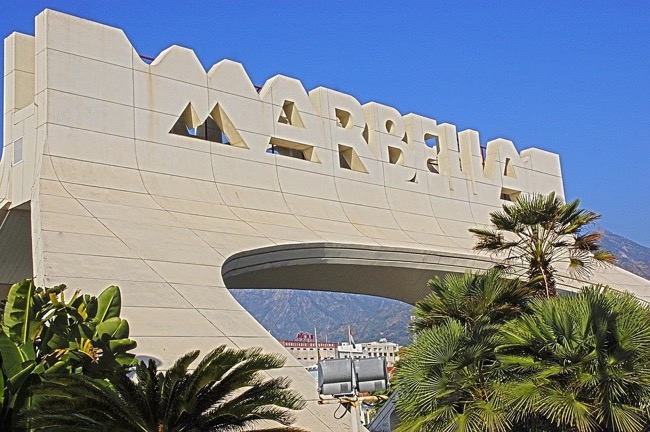 Over the last years, Marbella has stood out as a strong contender when it comes to luxury tourism. Located in the southern coast of Spain, what once was a small fishing village is now one of the most luxurious cities in the world, full of designer shops and exclusive restaurants. If you want to take away all the stress from your daily routine and relax in a luxurious environment, then Marbella is by far the best option for your next summer holidays.
A city with so much history
Marbella is one of the most famous holiday destinations in the world, receiving every year the visit of over 3 million visitors from all over the globe. Located in the Spanish Coast of the Sun, Marbella is blessed with excellent weather conditions for the most part of the year, which perfectly mixes with its paradisiacal white beaches. Visitors often choose Marbella as a destination to get away from their daily routines, since the city has everything you could wish for in a holiday destination.
Do not be fooled by its well-deserved reputation as a destination for luxury tourism, Marbella is also the perfect destination for history lovers and those who want to immerse themselves into Spanish culture. If you are looking for this sort of experience during your holidays, we recommend you check the luxury apartments Marbella available in the city centre. The city centre historic streets are very narrow, so renting a luxury flat there will allow you to have all the comfort you may need during your stay while being close to all the monuments and important historic points the city has to offer.
Some of the most emblematic Marbella locations you can not miss during your visit include:
The old city centre
The charming old streets at Marbella's old city centre were designed with an Arabian layout and Andalusian architecture. It is very typical for Marbella's citizens to decorate the walls of the traditional houses in this area with local traditional flowers, filling the streets with life and colours. In this area of Marbella you will find lots of bars and restaurants, and important city spots like Patio de los Naranjos and Museo del Grabado are located in this area.
Plaza de los Naranjos
Plaza de los Naranjos (Orange Trees Square) is one of the most emblematic points in Marbella's old city centre. Founded in 1485, this square is surrounded by historic buildings, such as the council house, the house of the magistrate and the Santiago Hermitage. This square receives its name from the beautiful Orange Trees decorating it, which are especially beautiful during the blossom season.
Museo del Grabado
Located in the old city centre, this museum is considered a monument on its own. It has over 4000 art pieces. Some artworks featured in this museum are available for sale at very interesting prices, making it the perfect destination if you are an art lover or history lover.
Alcazaba and the castle walls
Located next to the old city centre, this monument is considered of cultural interest. The monument is in a very good estate of conservation even if its origins date back to the X century during the Arabian ruling. It was built on top of II and III century Roman remains.
Luxury and beaches
Luxury and beaches, two of Marbella's signature points. If you want to experience luxury like never before, it is no secret that Marbella is the place to go. We especially recommend that you check the many luxury villas in Marbella to rent for the ultimate luxurious experience.
The luxury catalogue Marbella has to offer is pretty wide, but we especially recommend that you check the following during your stay:
Puerto Banús
Puerto Banus embroiders the very definition of luxury. On this port, the most expensive yachts from all over the world can be found, including those belonging to the royalty. Puerto Banús is also home to the most exclusive designer shops in the world such as Prada, Chanel or Dior. Forget about Roma or Paris, Marbella is the perfect destination for luxury shopping, so do not miss the chance to visit these stores during your trip.
Marbella's nightclubs
Marbella has a very rich nightlife. On the many nightclubs in the city, you will be able to have fun, dancing and drinking to your heart's content. Marbella is a very popular night destination for both, Spanish and international celebrities, so encountering someone famous in these nightclubs is nothing out of the ordinary.
Making Marbella your forever home
Marbella is a city full of charm, so it is not surprising that many visitors decide to make it their second home. Many tourists decide to check the Marbella luxury villas for sale in order to acquire a residence for future holidays. Marbella is one of the best areas to invest in a second residence, since the value of the real estate market is always on the rising. Luxury villas tend to be in very exclusive and cosmopolitan areas, allowing you to enjoy all the commodities you and your family could need.
And if you are looking for something even more permanent and acquire a residence, so you can move to Marbella all together, we recommend you consult with Marbella Real Estate experts like those at 3SA Estate. They will help you find the villa or flat that better fits you and your family, ensuring that every member of the family's needs are covered. Prices in Marbella vary greatly from one area to another, as well as the proximity of the villas to services like public schools, making the advice of real estate experts more important than one could though.
Overall, Marbella is a very glamorous holiday destination with all the luxury you could ever dream of. Luxury shops, giant luxurious yachts, a rich nightlife, exclusive shops, art museums and monuments make Marbella the perfect choice for your next holidays. And who knows, perhaps even the perfect choice for your new forever home.