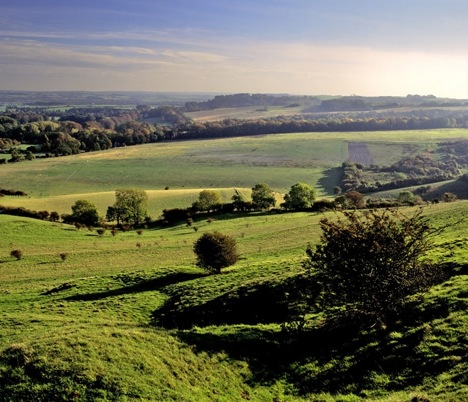 For travelers and vacationers the English countryside is an ideal place to delight themselves with magnificent sightseeing in this magical land of green hills, charming plains, astounding lakes and rugged highlands. Many who have visited England have been fascinated by its charming cottages, astonishing gardens, fascinating historic landmarks and many interesting places that will leave you breathless and wordless.
If you are longing to feel the mild touch of nature and see all its magnificence and beauty, I have the ideal places for your next family vacation. These are, in fact, the most astounding and magical places filled with breathtaking views and fascinating landscapes. Spending your vacation in these places will be your best and unforgettable vacation.
Hadrian's Wall
Undoubtedly, Hadrian's Wall is one of the greatest and most famous historical landmarks in England. Thanks to the magnificent beauty of the surrounding countryside, the place has been one of the most favorite vacation destinations. Millions visitors come here every year to explore this fascinating place and spend an exciting and enjoyable vacation. The history shows that the wall has been built under the rule of Roman Emperor Hadrian. You will find this astounding place in the north near the border of Scotland. Visiting this place you will have the chance to explore the astonishing defensive fortification, which still remain and are waiting for you to discover them. The entire wall was designed as UNESCO World Heritage Site in 1987. Take a nice walk throughout this fascinating place and explore the magic of Hadrian's Wall.
Lake District
If you have ever been to English countryside you probably know that it is a magnificent mix of plains and rolling hills, which create the most astounding pictures you have ever seen in your life. Situated in most rural Cumbria you will find the magnificent Lake District, which is considered one of the most picturesque Lake in England. Being so gorgeous and astonishing the lake deserves your attention. Famous for its natural landscapes and fascinating environment, Cumbria has served as a muse for many English poets who years ago lived in the area. No one could resist the charm of the lakes and the views of glorious mountains, which create an irresistible and fascinating picture. Lake District is a place for people who can appreciate the true gifts from nature and people who take pleasure from exploring the magnificent and pure nature.
Cotswolds
Your trip to English countryside cannot be completed without visiting the beautiful Cotswolds. This uplands area is famous for its natural beauty and for its world famous and typical English charm. This magnificent place is comprised of rolling hills and farming fields. The perfect terrain, isn't it? Here you can explore the beautiful and unique stone houses and churches in the most gorgeous towns and villages such as the city of Bath, the town of Cheltenham, the village of Burford and many other astounding and fascinating places spread throughout England. Known as the area of natural beauty and pure magnificent landscapes, the Cotswolds will offer you unique opportunities to explore some of the most magnificent places you can find in England.
Tired from the big city and the streets that never sleep, sometimes all we need is to get away and find a quiet place where we can be surrounded by nature. There is nothing more magical than feeling the gentle touch of nature and exploring green hills and magnificent lakes. If this is how you have always imagined your best family vacation, then English countryside is the perfect destination. Choose your vacation trip among the magical places described in this article and find the peacefulness you have been missing so much.