On my recent trip to Salt Lake City, I wanted to focus my exploration on the Great Salt Lake. At 35 miles wide and 75 miles long, this is the largest salt lake in the western hemisphere. Not only that, it also has amazing scenery everywhere you look.
Staying in Salt Lake City
Since I knew I would be spending all my time on the Great Salt Lake, I realized I didn't need a hotel in the heart of downtown. However, it was easier to find a cheap hotel in Salt Lake City and drive out to the lake than to try to find accommodations by the lake. Since most of the popular attractions were about a half hour or less away from the city, I knew this wouldn't be inconvenient at all.
Hiking Antelope Island
Antelope Island is a Utah State Park and the largest island on the Great Salt Lake. The only way to reach the island is by a causeway that's about 35 minutes north of downtown. While I was there, I hiked along the trails that wind through the island. There was plenty of wildlife to watch while on my hike, including porcupine, bighorn sheep, antelope, and a large herd of bison.
Floating in the Great Salt Lake
Antelope Island also has my favorite beach, Bridger Bay Beach. This 2-mile long beach on the northern end of the island has beautiful white sand. However, the best part is that it's easy to wade out into the water from there. Floating in the Great Salt Lake is a truly unique experience since you don't have to paddle or tread water to stay afloat. However, I will caution that if you have any scraps or cuts on your body, including ones you might not even know about, you'll immediately feel them stinging.
Kayaking on the Great Salt Lake
Even though fishing isn't a possibility because the lake is too salty for any fish to survive, there are still plenty of activities to do. On my second day in the area, I drove to the Great Salt Lake Marina, which is about 15 minutes west of Salt Lake City International Airport. Here, you can rent paddleboards, pedal boats, and kayaks. I chose to take a kayak out for the afternoon and paddled around the shallow waters to watch the birds.
Staying for the Sunset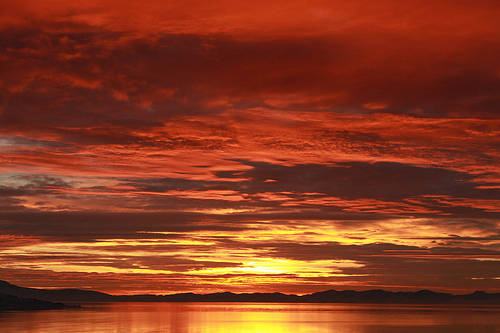 Image via Flickr by O.S. Fisher.
When it was time to return the kayak, I made sure to stay along the shoreline to watch the sun go down. Sunsets along the Great Salt Lake are truly some of the most beautiful in the world. If you want a completely unobstructed view, I recommend driving just a few more miles down the road from the marina to Black Rock. This famous landmark is right on the edge of the shoreline, and if you can manage to climb on top of it, you'll have some amazing memories and pictures to take home.
If you've been to the Great Salt Lake, please share your experiences below and go to my page on Hipmunk to learn more about the area.
Author Bio:
Kristen McCalla is a writer and avid blogger who lives in St. Petersburg, Florida with her husband, cat, and dog. When she's not writing on her blog, 31 Million Seconds, she enjoys traveling and exploring all over this beautiful country.