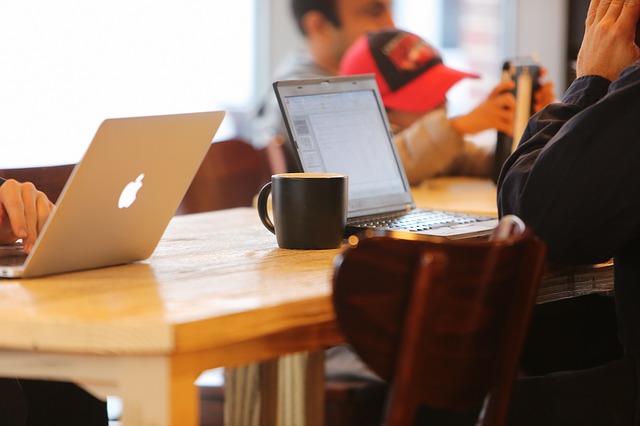 One of the most useful trends to come out of the digital revolution is that it is now easier than ever to connect to the internet. Nearly everyone walks around with a device in their pocket that can provide a speedy connection, and there are also plenty of places where you can connect to WiFi for free and communicate with friends or get work done, something that is critical for anyone who is traveling and working at the same time.
If you're traveling throughout the US and need a quality internet connection as you move around, you're in luck; there are lots of different ways to get access to the internet.
However, while there are lots of ways to connect, not all of them are going to provide you with the same performance and speed, and since you often need to make a purchase somewhere to get their internet, we want to make sure you know where to look to get the best possible internet connection no matter where you are.
If you're traveling in the US and need internet, try the following:
Find a Starbucks
Starbucks became so popular in the United States by mimicking the coffee shop culture in Europe in which it is common for people to go, get a cup of coffee, and then spend hours reading, writing, working, etc. And while it's a bit of a cliche to say you're "heading to Starbucks to get some work done," the reality is that the chain has some of the best internet you will find in a public place.
A big part of this was the company's decision to switch to Google WiFi back in 2014, a move which allowed it to bring connections averaging around 50 Mbps to most of its store. For those who don't know, 50 Mbps is more than you need; in most cases, this type of connection will allow you to stream high-definition videos, something most people don't really need to do when they're working at a Starbucks. You can find out more about what different internet speeds allow you to do, what your personal needs are, and where to find the best deals here.
However, the real value of Starbucks is that it's everywhere. Things have changes since the early 2000s when the chain was opening up so many locations it wasn't uncommon to find them located across the street from one another in busy cities, but there are still going to be multiple locations in every major city you visit in the United States, meaning a fast internet connection is never too far away.
Other Options
In the event you can't find a Starbucks or it's so busy that there's no way you could be productive, consider heading to either Dunkin' Donuts or, yes, McDonald's. Neither will provide you with the same connection speeds, but they are quite good and will serve most of your needs in a pinch.
You can also try local "mom and pop" coffee shops. They are usually smaller, which means less people on the network at once, but it's more difficult to predict what type of internet connection they will have. Look for one that's busy and that has lots of people working in it, as this is usually an indicator that the internet is good. You can also find reviews online, or just deal with a potentially slower connection so that you can support a local small business.
Public Libraries
One place people often forget to look when they're seeking a place to work that has a good internet connection is a public library. The library system was set up to help people gain access to information, and most individual libraties, especially those in larger US cities, have pretty impressive networks that can handle lots of users at a time.
The one downside to public libraries is that you may need to be a resident of the city you're in to be able to access the WiFi for free. But if you can't, it's usually possible to sign up for a one-day pass, or even pay a few bucks for one, and this might be worth it. After all, to get internet at Starbucks or any other coffee shop, you usually need to buy a cup of coffee, and you likely won't spend much more to get internet at the library in the city where you're traveling.
A major advantage of public libraries is that they are quiet. Coffee shops, while usually equipped with good internet, tend to be crowded and loud. Libraries offer you an oasis where you can connect to the internet and work in peace.
Co-Working Spaces
For those who really need to put their heads down and get things done while traveling, it might be best to look for co-working spaces in the city in which you're currently traveling. These centers are great because they are designed for high-performing digital laborers, meaning they will definitely have the internet connection you need to be effective.
In addition, co-working spaces provide you with private working areas, separate rooms which you can use to make calls, printers, photocopiers, and everything else you might need.
WeWork is a big chain of co-working spaces and should be available in most of the cities to which you might travel, but there are loads of others, often smaller ones not owned as part of a conglomerate but rather set up by local digital workers who needed the space. These tend to be great places as the community is strong and there is lots of connection, which can make working there that much more special.
To find one near you, check out sites such as Coworker.com. Just type in your location and then you can explore the options in your area.
Of course, to work at a co-working space, you will need to break out the credit card, but it's usually not much more than $10-$20 a day, which is well worth the price, especially when you consider a lot of places throw in things such as free coffee, lunch, and/or happy-hour drinks, all great perks of co-working spaces.
Go Where the Nomads Go
Like coffee shops and other establishments, it's true that co-working spaces are not all the same. And if you're having trouble finding which one you should go to, consider consulting the "digital nomads." These are people who make their living entirely online and don't remain in one place, choosing instead to be "nomadic" and travel around while they work.
Because of the growing number of people choosing to live their lives this way, a large community has emerged made up of digital nomads looking to help one another, and one of the things this community does it help other nomads find good places to work in the cities in which they live, which means a good internet connection.
Nomad List is a great place to look. It provides reviews on cities and their amenities for digital nomads, which is helpful if you need some guidance planning your trip, and it also points you to specific establishments that will meet your internet needs while you're traveling. This is a great resource because all the content comes from people who need and depend on the services you seek, which means you can expect honest and useful information.
Check Your Phone
One last place to look for an internet connection while traveling is actually your phone. In some areas, this may be the best internet connection you can find, especially if you're in a crowded area where lots of people are using the same network. You can use your mobile hotspot to get a connection anywhere.
Of course, this eats up you cellular data, so it's probably only an option for those with an unlimited plan, but even for those with limits it can be an easy way to get connected no matter where you are in the United States.
Let's Hit the Road
As you can see, a quality internet connection is never too far away when you're traveling through US cities. So, let's hit the road! No matter where we end up, we'll be able to connect, communicate, and work as much as if we were hanging out in our boring everyday homes.