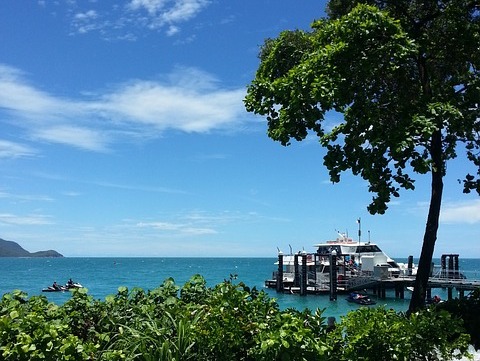 If you're planning a visit to Queensland make sure you include Fitzroy Island in Cairns on your must-do list. Only 45 minutes from Cairns, you'll fall in love with this tropical paradise as soon as you glimpse its shores from the ferry. You can visit for a day trip, or stay on and make the most of the beach-side accommodation.
Fitzroy Island offers exciting leisure activities (think snorkelling, diving, hiking) as well as ample opportunity to just relax on the beach or sip cocktails by the bar. With so much to do, we've brought together a list of our top 8 experiences – four on land and four on the water – so that you can make the most of your visit to Fitzroy Island.
On, in and around the water…
Have you ever jumped on an ocean trampoline? Or snorkelled next to clown fish? Or perhaps kayaking or boating is more your thing. It's all available to you here, just off the shores of Fitzroy Island:
Glass Bottom Boat Tours
Experience the magical colour and movement of the vibrant Great Barrier Reef. This World Heritage Listed site will amaze you and a specialised glass-bottomed boat is an excellent way to see in to this underwater world. Coral, colourful fish and wild sea turtles are just some of the things you'll get to see. And it's easy to plan your trip with tours departing twice daily. Take a look here for details.
The Giant Ocean Trampoline
Just 25 metres off shore in the pristine waters of Fitzroy Island, this trampoline will have you feeling like a kid again. It's a treat for adults and children alike, and is a great way to cool down, get active and have a totally new experience. Get jumping!
Snorkelling
You can hire all of your gear on the island and head out to the sheltered crystal-blue waters to see clown fish, corals, sea turtles and more. An extraordinary experience and a must-do if you are interested in seeing what Australia's reef system is like up close.
Kayaking
Cruise through the waters of this paradise while exploring in a sea kayak. We love this because not only is it fun as an activity in itself but it also gives you access to exclusive private beaches and snorkelling locations that otherwise can't be reached by boat or by foot.
Back on dry land…
Take a Hike… in the best way possible
Where the rainforest meets the reef: where in the world could be better to explore? With a range of hikes, you can choose from low-intensity walks that can be completed in under an hour, to the more adventurous Light House Road which is a 2-hour round trip.
The Turtle Rehabilitation Centre
Dedicated to the care of sick or injured sea turtles, this world-class facility gives you the opportunity to see turtles up close, learn more about them and to understand the work being done by their dedicated carers.
The Beaches
We couldn't create a list like this without highlighting that the beaches themselves are some of the best in the world and provide a perfect place to just relax, lie out on the sand and soak up the sun. Fitzroy Island's Nudey Beach was voted the #2 beach in Australia so it's a must see in our book.
Foxy's Bar
When it's time to unwind, settle in at Foxy's and soak up the atmosphere at this beach-side bar. You'll find indoor and outdoor dining with excellent café-style meals (and a kid's menu as well), and pool tables and a dance floor are not far away. So order that cocktail and enjoy the world-class views around you.