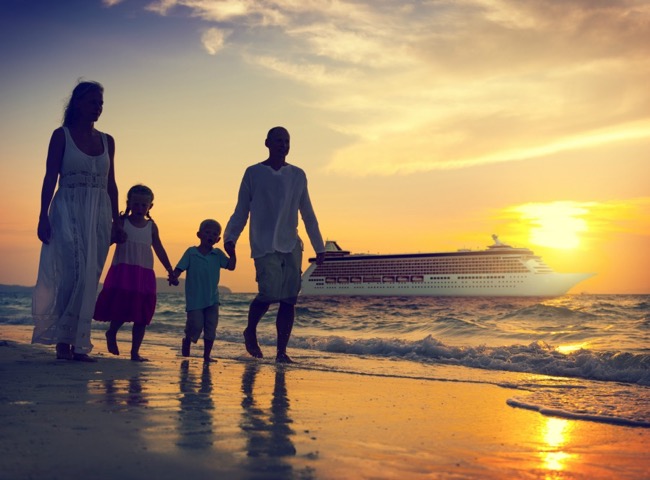 The cruise industry has come a long way in the last decade and the market is now jam-packed with cruises that pack serious punch in the fun department.
The reason so many families love to cruise is simple – your budget can and will go a long way and create a holiday that everyone will love.
Here are five reasons your family should take a cruise for your next holiday!
All-inclusive pricing
While not all cruises are alike, most offer all-inclusive deals which makes it much easier to budget for your family cruise. Generally entertainment, accommodation and dining are wrapped into your upfront package price.
In most cases you will need to purchase a beverages package separately, through some luxury lines will include alcoholic beverages with meals. Keep in mind that you may also need to pay for Wifi and this can become costly. Luxury cruises and some river cruise companies include free Wifi.
Luxury small-ship cruises often offer an open-bar, shore excursions, fitness classes, enrichment programs and more in their package prices, so much so that you can literally leave your wallet at home.
While 'all-inclusive' packages cover many aspects of your trip you still need to be careful to read the fine print and consider the cost of airfares and transfers to and from port.
Explore multiple destinations in one cruise
One of the best perks about cruising is the chance to explore multiple destinations without long flights and ground transfers.
Australian families love to cruise to the South Pacific Islands because many of the well-known lines cruise direct from Australia to this region. This is a great way to introduce the kids to international travel without the hassle of long haul flights, delays and ground transportation.
The Caribbean is another hot-spot for families and many family-friendly cruise lines operate in this area. The waterways of Europe are easily accessible by river cruise as are certain regions of Asia.
A number of cruise lines offer longer itineraries that will take in 2-3 continents or embark on a worldwide discovery where you can pick and choose which sectors you want to cruise.
The waterways of Europe are easily accessible by river cruise as are certain regions of Asia. The minimum age for children is generally 4 years.
Kids Clubs Onboard
Every family holiday is made easier when there is a safe and fun-packed kids club available.
While the kids make new play games, join in activities and make new friends you can sit back and sip champagne overlooking the deep blue sea. Plus, it will give your children a sense of freedom that they may not necessarily get on a land holiday and they'll have memories for years to come.
Some ships boast teenager-only clubs where theme nights, contests and games please even the fussiest visitor. For the little tikes, professional babysitting is also generally offered.
Affordability
Cruising has become much more affordable for families. In some instances prices start from as little as $55 per person, per day* from major Australian ports to destinations like the Pacific island. Often it is cheaper to cruise to a destination than to fly your entire family for a traditional land holiday.
Keep your eyes open for special offers and discount that can save you even more money. Often cruise lines will offer early payment discounts, back-to-back cruise discounts, loyalty and full payment discounts.
Onboard credit offers are often released alongside other booking incentives. Credits vary from $0 to $5000 per couple and when you're booking for a family such credits can really make a difference to your bottom line.
Credits vary from $0 to $2000 per couple and when you're booking for a family such credits can really make a difference to your bottom line.
Onboard Activities for Everyone
Most cruise lines, especially the larger lines like Royal Caribbean, Carnival, Norwegian, and Princess offer plenty of onboard activities and entertainment geared toward the entire family.
On larger ships you will find several pools, some with thrilling waterslides that dip out over the sea, plus adult-only pools with a swim-up bar.
The latest ships offer themed waterparks, surf simulators, sporting spaces, ice-skating, art classes, dodgem cars and circus school! Choose from indoor and outdoor spaces to relax or play.
Parents need not feel left out; expect luxurious spa treatments, cozy restaurants, low-key jazz bars, buzzing dance clubs, quiet library spaces, fitness centres and more.