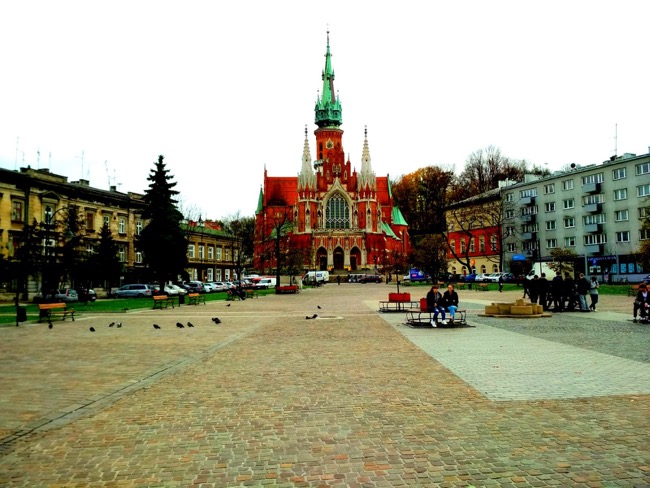 Have you seen Schindler's List movie by Steven Spielberg? If not, I would recommend it to everyone. It's a story about a man who went down in history of Jews during the World War II. The titular list refers to the list of Jews saved from their deportation to Auschwitz-Birkenau concentration camp and thereby, from death. This movie made a great impression on me and I decided to follow its history. That's why I set out to spend my long-awaited vacation in Poland, where the movie was made. At the same time, I had a chance to visit my good old friend in Warsaw.
Schindler's Factory in Krakow – the movie set
Krakow it's a beautiful city located in Southern Poland, close to the area of Tatra Mountains. It's an extremely popular touristic destination as it abounds in many important historical monuments. At the same time, it is a place where people from around the world come just to have fun, as you can find numerous local bars and inimitable atmosphere in there. For me, the core thing was that most of the "Schindler's List" scenes were filmed in Krakow. The notable deeds of Oskar Schindler are commemorated in a museum that was created in the place of his original enamel factory in Krakow. It was the first place on my list to visit and I couldn't wait to get there. Honestly, it was even more impressed by the place, than I thought. There were amazing multimedia exhibitions that allowed me to feel, as I was a real citizen of the ghetto. Very well described photographs of contemporary ghetto dwellers were very interesting as well. I was thrilled as I realized that most of those people were killed or transported to the death camp in Auschwitz-Birkenau. The Museum showed me how Krakow looked like during the occupation period and how people were living normal life although they were aware of the war cruelty, by which they were surrounded. 
Podgorze – the Jewish ghetto
After my visit in factory I went to explore the Podgorze quarter of Krakow. It's the area of the former Jewish ghetto that was prospering during the occupation period. At the beginning, there were around 3 thousand people inside. However, in the very short time the amount increased up to 16 thousand in the same area! I found out that there were even trams with free citizens passing through the ghetto every day. There are still fragments of the original Jewish ghetto wall from the occupation period in that area. One of them was kind of short and it was impossible to see it without the groups of tourists with cameras while the next groups of tourists were waiting for the space. However, the second one was located in the surroundings of beautiful park. The whole district turned out to be very picturesque, especially during the autumn. Plenty of trees with colorful, falling leaves imparted melancholy to the whole neighborhood.
I've also seen the Square of the Ghetto Heroes in Podgorze, from where people were transported directly to Auschwitz or Plaszow concentration camp. It is also a square where the only pharmacy in ghetto, called "Pod Orłem" Pharmacy, was located. Today, it is turned into a museum and you can see the place in "Schindler's List" as well.
Terrifying historical truth in Auschwitz
After my interesting visit in Krakow, I finally set off for Auschwitz-Birkenau Museum. I booked a private tour and it took only 1 h 15 min to get to Oswiecim. It was very cold and misty that day and you could feel the overwhelming and terrifying atmosphere of the place. This first impression of anxiety and wistfulness will stay with me forever while thinking about Auschwitz. I think the best word to describe that place is: unbelievable. The fact, that it happened, is a total failure for the humanity. My memories form Schindler's Factory immediately faded into a cruel picture of everyday life in Auschwitz camp. 
Visiting that huge area of the camp (around 200 ha!) I was wondering how a man could ever devise such a place and such a collaborate system of killing. Familiarizing with prisoners' everyday life was simply truly shocking for me. More info about survival in Auschwitz here: http://krakow.wiki/auschwitz/. Also, I didn't expect how big the museum is – the two main parts: Auschwitz I and Auschwitz II-Birkenau are located 3 km apart, so you need to take a bus. We were following our guide for more than 4 hours, but I felt like it was only an instant. On the other hand, when I think of my Auschwitz trip today, it feels like I was on a long journey, very important for my whole life. I guess that the museum turned out to be more memorable place for me than Schindler's Factory. What I know for sure, is that any movie can capture the atmosphere of Auschwitz. It can be very similar, but never the same.
Challenge for the crew
I was always wondering how the cast, as well as the director felt making the movie like this. How did they feel while reconstructing the brutal events from the concentration camp? That's why I was doing research on the interviews with actors before and I know that it was real mental challenge for most of them. Being an actor, somehow you must impersonate the character you play – is it even possible to feel the same? For example, scenes in gas chambers or crematoriums must have been terrifying experience for them. I don't have an idea how they managed to feel like those Jews in Auschwitz just before death. On the other hand, it had to be even equally difficult task for the director. Steven Spielberg had to create his vision of Auschwitz and Holocaust. It wouldn't do without a controversy and criticism, of course. There were also some antisemitic incidents during the filming and it had to be really harsh for Spielberg and for all the cast as well.
Honestly, I wouldn't like to be in their shoes, even if Spielberg offered me the role. Well, at least I would have a doubt about that.
Auschwitz – how to get there
I've chosen to go to Auschwitz with a private tour from Krakow. The company was called KrakowDirect, they provide hotel pick-up as well as drop-off and I traveled in very comfortable conditions. The ride took around 1 h 10 min each way. Also, the guide was included in a tour. My visit took around 4 hours but there are different options to visit Auschwitz Museum. Check out an accurate description of the different tour types: http://auschwitz.org/en/visiting. 
If you prefer to go by public bus, it departs few times per hour from the Main Station in Krakow. The ride should take no more than 1,5 h each way. 
You can also take a train to Oswiecim from the Main Station, but the ride takes around 2 hours.