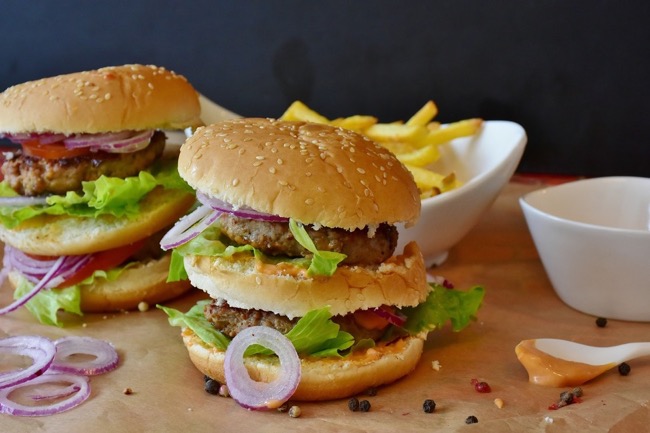 Montreal is a city with a flair for difference. The same is true of its people's food tastes. The city is cosmopolitan with its French-language television productions, radio and theatre, film and print publishing. Montreal's many cultural communities have given it a diverse local culture.
With a population of 1.65 million people in the 2011 Canadian Census, and a range of ethnicities from the Arab countries, Latin Americas, South Asians and Chinese, approximately 26% of Montreal's population and 16.5% of Greater Montreal, are members of a visible minority (or non-white) group. This means the flavours and trends for food in the city offer vast opportunities for food choice. Visitors to the city flock in droves to its many organic food places, fancy hot dog joints and Hawaiian and American soul food restaurants. The Uniburger menu restaurant in Montreal is a great example of how many styles of burgers you can opt for – from the most simplistic straight American hamburgers to double Uniburgers your choice of fully-loaded burgers and everything in between is yours.
Hawaii's influence in Montreal is growing, too, and Hawaiian food along with smoked meats in restaurants and sandwiches are emergent food trends. The 'Poke Bowl', is a Hawaiian dish that's like Sashimi (Japanese bite-sized pieces of raw fish eaten with soy sauce and Wasabi paste). Now, several Poke Bowl restaurants have emerged.
Smoked meat sandwiches are available at the famous Schwartz Deli – which has been around for over 80 years. The Deli, originally started by Reuben Schwartz, a Jewish immigrant from Romania, is now co-owned by Canada's very well-known singer Céline Dion. Montreal residents and the family of restaurateur Paul Nakis (involved in the Baton Rouge steakhouse chain and Montreal's Sir Winston Churchill Pub) and Rene Angelil's nephews (Céline Dion's late husband), Martin and Eric Sara, are taking Schwartz Deli to the next level with Céline at the helm.
It's not only about smoked meat though. With Arab citizens in Montreal coming nearer to doubling in just five years from 102,625 to 68,600 in the 2011 Canadian Census, so has the demand for Arab food. Middle Eastern food is increasingly emerging as a food choice for tourists too, seeking to eat out at the very finest of fooderies across the city. With literally dozens of restaurants from Arabesque Lounge in Rue Guy to Falafel Du Nord (Falafel of the North) in Jean Beraud Avenue and Le Sultan in Rue Dufferin, then visitors are given a wide choice.
Other food outlets that Montrealers choose often include gastrobrew pubs such as Le Saint Bock where diners can enjoy a pint from a choice of 40 beers on tap to 1,500 bottles. The draw is clear, people stop for a drink, but end up staying much longer when they see what is on the menu – onion soup with Offense beer, vegetarian beer chilli and beer-battered onion rings (yes, they do beer fairly well).
Rotisserie Romados is a great example of a menu that is really diverse, with Portuguese food as its main staple.
Café Venosa's first stop in North America was in Montreal. This Japanese trend of cat café only serves vegan foods and drinks, and it doubles up as an adoption service for the cats they foster.
All in all, Montreal's food tastes are very diverse indeed!