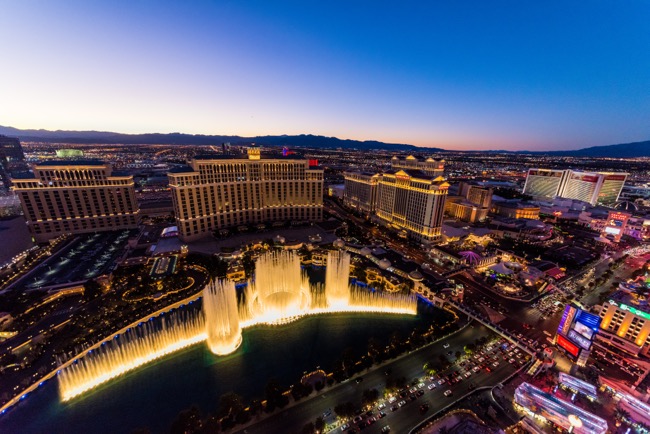 Las Vegas is world famous for being the casino capital of the world (though Macau will say otherwise). It was always the go-to destination of choice if you wanted to have fun gambling.
Things have changed though in the internet era, as you can now visit online casinos and play games online. There are more games to choose from, and you can do it from the comfort of your own home (or anywhere with an internet connection). Online casinos also have the advantage of being able to offer welcome bonuses and promotions to attact new players.
With this additional competition, Las Vegas has stepped up its game when it comes to offering free entertainment beyond gaming. Here are some of the fun things to see and do in Las Vegas that won't cost you a penny.
Free light and water shows
Just outside of Bally's Hotel, there's a sound, water, and light show every 20 minutes after the sun goes down. Catch another spectacular water, light, and music show every half hour at the famed Fountain of Bellagio. The fountains are always performing new dances that are choreographically complex and beautiful against the skies of Las Vegas. You'll recognize some of the Broadway and classical tunes.
The Caesars Palace water show implements animatronic figures in its mythical Fall of Atlantis Fountain Show. Get ready to be amazed for some entertaining drama with the fall of a 20-foot dragon, thunderous sounds, neon lights and blazing fires. It's a jaw-dropping show. Get a real bang out of the Volcano Show in front of the Mirage Hotel. Smoke, fire, and lava shoot from the 54-foot volcano in sync with a soundtrack from the Grateful Dead.
Free live performances
Enjoy a live performance of Italian folk and opera music every day at the Venetian's Grand Canal Shoppes. With a costumed troupe, jugglers, and gondoliers, it's both fun and free entertainment. Enjoy a real circus experience at Circus Circus. Acts include clowns performing antics, flying trapezes, jugglers on high stilts, and much more. Garbed in medieval costumes, the magicians, jugglers, and fire-eating jesters put on a daily performance at the Court Jester's Stage in Excalibur Casino. It's pure knightly magic!
Complimentary nature and marine exhibits
Expertly arranged by horticulturists for a theatrical effect, the Conservatory & Botanical Gardens is a spectacular display of beautiful plants, blooming flowers and majestic trees. Stroll through bridges and quaint gazebos as you capture the wonder of Mother Nature. It's an unrivaled attraction. At the Flamingo resort, you can walk along the 15-acre Wildlife Habitat and spy colorful parrots, Chilean flamingoes, graceful swans and singing hummingbirds. Marvel at more than 4,000 tropical fish at Silverton's massive saltwater aquarium. There's even an interactive feeding show.
Free museums
East of the strip, learn about American Indian history at the Marjorie Barrick Museum of Natural History. There are impressive displays and artifacts from ancient Mexico and American Indian cultures. If pop art is your thing, head for the open-air Neon Museum. Strung along Fremont Street, the museum has set up Vegas' yesteryear neon signs. Prepare to be dazzled. Car buffs will enjoy a visit to the Auto Collections at the Quad Resort & Casino. There's a nice lineup of special-interest cars, muscle cars, and antique cars like the 1949 Buick Custom Sedanette and the 1962 MKII Deluxe Roadster.
These are just some of things things that you can see and do for free in Las Vegas.