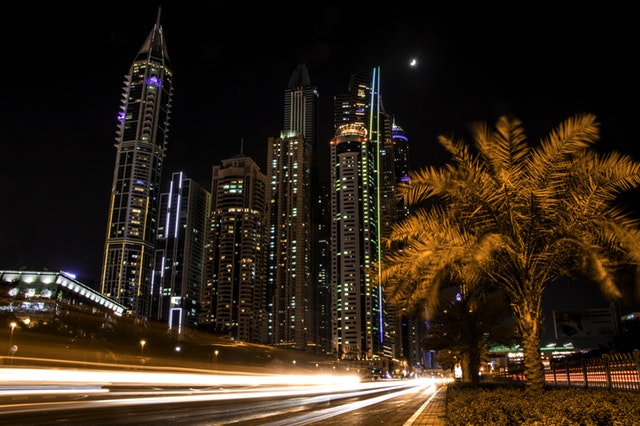 More than just a transit point for air passengers heading between Europe and Asia/Australia, Dubai is a modern metropolis situated in a tropical desert. As such, it is a destination worthy of a winter getaway. In this post, we'll share several attractions that will make your stay here an entertaining one.
1) Burj Khalifa
Not long after landing at Sharjah International Airport aboard Air Arabia and getting settled at your accommodation, you'll want to head out ASAP to see the Burj Khalifa. The world's tallest building at over 2,700 feet, this needle-shaped tower soars high enough into the sky that even gawkers on the ground get vertigo looking up at it.
If you would rather get dizzy gazing down upon Dubai from the Burj's observation deck, get in line to buy a ticket for the elevator to the world's highest observation deck (on the 148th floor at 1,821 feet above ground level). Even if your fear of heights prevents you from following the crowds up into the tower, check out its fountain park after dark, as a dazzling show will make the trip out here more than worth it.
2) Dubai Mall
After getting more than your share of photos of the Dubai skyline from an elevated perspective, descend to the base of Burj Khalifa, where you will find Dubai Mall. With over 1,200 stores spread over 5.4 million square feet of leasable space, it is the world's largest shopping center. Aside from boutiques, you'll love their skating rink, aquarium, amusement park (SEGA Republic), and movie theater.
Got a sweet tooth? Make sure to drop by Candylicious. With a sales floor of over 10,000 square feet, it is easily the largest sweets shop in the world.
3) Hit the beach
While it can be a tad chilly in the evenings during the winter, this season is one of the best times to go for a swim at one of Dubai's many spectacular beaches. The average January water temperature in is in the mid 70s, making it cool enough to be refreshing on a warm day without being too uncomfortable.
Bathing at Sunset Beach will grant amazing views of the Burj Al Arab Hotel, JBR Beach will allow easy access to a wide variety of shore side cafes and other services, and Kite Beach will permit you to practice the exciting sport of kitesurfing without putting other swimmers at risk.
4) Go skiing (no, really!)
Surely, we mean water skiing, yes? No, it is possible to get in a few turns on snow during your winter getaway to Dubai. Ski Dubai is a 242,000 square foot indoor snow park filled with artificially created snow.
Boasting a 279-foot high "mountain" serviced by two tow bars and one four-person chairlift, this hill won't exactly put your skills to the test, but if you are looking to insert something offbeat into your vacation, this excursion definitely qualifies.